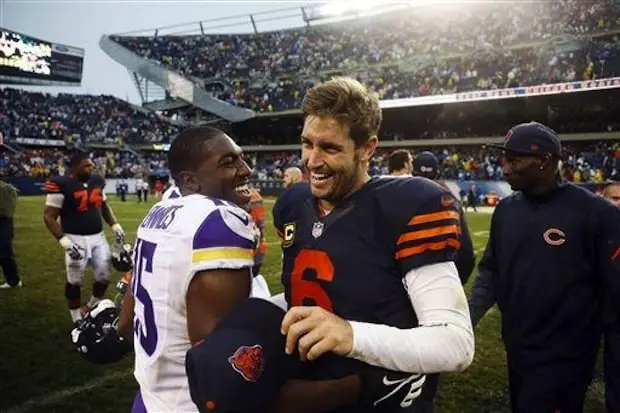 There was no shortage of mistakes in Sunday's game against the Minnesota Vikings. But there was also no shortage of thrill, as the Chicago Bears took home the win in the final seconds.
From start to finish this game had Chicago fans going through alternating spurts of thrills and chills. Literally, it began at kickoff. WR Cordarrelle Patterson began 5 yards deep in the endzone and ran it back for a 105-yard kickoff return.
Yet the Bears beginning in the hole was no problem for RS Devin Hester, who almost matched Patterson's return, settling for 76 yards. By the end of the day, he would return 5 kickoffs for 249 yards. RB Matt Forte took it from there rushing for a few times before QB Jay Cutler connected with TE Martellus Bennett for a short touchdown pass to tie it.
On their first and second chances, the Bears defense held Minnesota to just one first down before earning the ball back.
With two minutes to go in the first quarter and great starting field position, Cutler connected with Bennett for 14 yards and WR Brandon Marshall for a 34-yard touchdown. Sandwiched in between those catches was WR Alshon Jeffery, who rushed 38 yards to set it up nicely.
The one-possession lead held only until midway through the second when upon being sacked by DE Jared Allen, Cutler fumbled the ball, and it was recovered by DE Bryan Robison who ran it back 61 yards to tie it back up at 14.
That certainly seemed to rattle Cutler a little bit as, moments later on the Minnesota 1-yard line, his first and goal pass attempt was deflected by DE Everson Griffin and intercepted by DT Kevin Williams for the touchback. Given the success of the previous running plays, it was a questionable play call from coach Marc Trestman.
When back in the hands of QB Christian Ponder, he was intercepted on third down by CB Tim Jennings for a 44-yard pick-6 to take a 21-14 lead. Back to work, RB Adrian Peterson would take over for a few successful rushes, including one for 36 yards, before Ponder completed a 20-yard pass to TE Kyle Rudolph for the touchdown. That would be Ponder's lone touchdown while finishing 16-of-30 passing for 227 yards.
On the following and final drive of the half, Cutler had success with a few different receivers, yet had to settle for a 20-yard field goal from kicker Robbie Gould after the Vikings made three defensive stops at their own 2-yard line.
The break cooled both teams off as the action slowed down. Despite a huge fumble from Peterson and recovery from DE Corey Wootton, Chicago couldn't cash in. The Vikings would keep moving, however, scoring on a field goal from kicker Blair Walsh.
Shortly after getting back on offense, Cutler threw his second interception just after making it into Minnesota territory. The Vikings would turn that into Walsh's second field goal.
On the next drive, DT Letroy Guion took it right out of Forte's hands for a fumble around mid-field and that would turn into, guess what, another field goal for the Vikings with under 4 minutes remaining to give the Vikings a 30-24 lead. Despite allowing three unanswered scores, Chicago did hold all three to just upright-scores, maintaining a strong red-zone defense.
With the rain beginning to pour, the clock winding down and just one Bears timeout left, Trestman and company had just one more chance to score 7. Beginning on the Chicago 34, it was all Cutler, as he completed 6 passes for 78 yards and finally hit Bennett in the endzone to tie it with 16 seconds left on the clock. Gould was good for the extra point and for the win.
It ended on the kickoff to Minnesota, when TE John Carlson would fumble on the return, only to be recovered by Chicago LB Blake Costanzo with three seconds left.
In spite of his mistakes, when it came down to it, Cutler pulled it out and finished 28-of-39 passing for 290 yards and 3 touchdowns. Marshall had 7 receptions for 113 yards and Bennett caught 7 for 76. Forte mustered up a slightly better performance than the one he put up against Cincinnati, obtaining 90 yards on 19 rushes to go along with 11 receptions for 71 yards. One of the big keys was containing Peterson, who rushed for just 100 yards on 26 carries.
On a scarier note, S Major Wright was taken off the field after a tackle to Jarius Wright to be assessed for a possible concussion early in the second quarter. He would return to play later in the game, seeming to be cleared.
The Bears next matchup is against the Pittsburgh Steelers next Sunday at 7:30 CST on NBC.
Make sure to check out our Bears forum for the latest on the team.