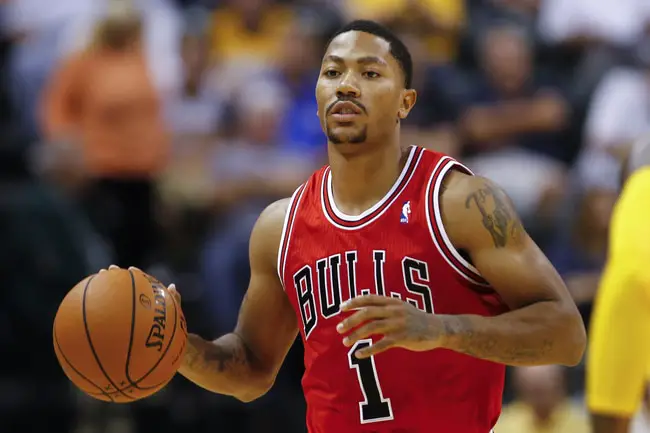 The wait is finally over. We can finally wash the taste of another LeBron ring out of our mouths and forget that Ray Allen three pointer ever happened. An irregularly active offseason (along with the final series of Breaking Bad, of course) made the three months since the season ended go by fast. We saw Kevin Garnett and Paul Pierce get shipped to Brooklyn, Doc Rivers take over the Clips, Anthony Bennett taken with the No. 1 pick and Dwight Howard be Dwight Howard. And of course, no part of the offseason has been more satisfying for Bulls fans than the preseason.
That's right, on October 5th, #TheReturn finally stopped being a punch line and became a reality. It's still early, but Derrick Rose has been a mad man in the preseason and doesn't look remotely like a man who hasn't played in an NBA game in over a year. He's shooting 52% from three and has drawn double digit free throws in each of his last three games—yep, you can wear you're DRose jersey in public again.
With Derrick Rose healthy, the Bulls are subject for my first prediction for the 2013-2014 NBA season.
The Bulls will have the best regular season record
Call me a homer, but Chicago returns the core of Rose-Deng-Boozer-Noah from the Bulls team that had the best record in the NBA for two straight seasons from 2011-2012.
Rose has never played in a backcourt alongside a player as dynamic and athletic as Jimmy Butler and Mike Dunleavy should provide much of what Korver did (at a reduced price) from two years ago. The Bulls are already 7-0 in the preseason—which doesn't mean too much. But seeing Thibs play starters at the end of games might be a precursor to how seriously he will take the regular season (sorry Rose, no minute limit, you're being thrown into the fire). The Bulls will gladly take the No. 1 seed over the Heat, who should look to rest their Big 3 down the stretch.
One of these four teams will win the title- Heat, Bulls, Pacers, and Spurs
You might notice that I left the Brooklyn Nets off this list, but I simply don't see Brook and Co. making it past the Heat, Pacers or Bulls—who beat them last year without Rose.
I also left the Rockets off the list, mainly since they'll spend a chunk of the season building chemistry, but also since the Dwight-less Rockets from last season couldn't even make it past a Westbrook-less Thunder in the playoffs. Also, Dwight is one of those guys that can literally bring down a whole team if he wants to—so please Harden, share the ball.
The Heat lead the group of teams that made the cut. Miami didn't do much in the offseason, losing the oft injured Mike Miller and adding lottery ticket types in Michael Beasley and Greg Oden. Beasley does more damage to himself than opponents nowadays and the Heat went bananas after Oden dunked—not exactly setting the bar high. Still, Miami has the best player in the world in LeBron James and Dwyane Wade is still a top five shooting guard, bum knee and all. I'll stick with the Heat as my prediction for NBA champs, but it's definitely gonna be a close race this year, especially since three of the teams on my list are from the East.
I already explained my bias love for the Bulls if Rose is able to stay healthy. The Bulls hate the Heat as much as anyone, with Rose even calling them rivals. The home opener between the two teams in Miami might foreshadow a potentially epic Eastern Conference Finals.
Let's stay on the topic of teams that hate the Heat. Indiana will return their feisty group from last season led by the NBA's newest superstar, Paul George. George is emerged as one of the league's premiere two-way players, leading the league with 6.28 defensive win shares, which is unheard out of a wing player. The Pacers added some depth with C.J. Watson, Luis Scola and underrated wing Chris Copeland. Adding a healthy Danny Granger could be a major boost.
It will be interesting to see how effective the Pacers are with George at the 2 and Granger at the 3, but Granger should have to work off some rust before the combo becomes very effective. Don't forget, Granger's not afraid to mix it up with LeBron. He'll be another enforcer for Indiana, like they can use another one.
Last season Lance Stephenson went from "the guy who did the choke sign to LeBron" to an actual decent NBA player. He improved his field goal percentage by 8% last season and actually realized that good shot selection leads to more playing time. His tenacity and motor minus his occasional bone-headed shots are everything a coach can ask for.
The Pacers are deep, gritty, fun team to watch and can win if Frank Vogel learns how to keep Roy Hibbert in at the end of games.
And finally, the San Antonio Spurs. Really? The only team from the West that can win the title? Well…yes.
The Thunder's title hopes will lie in the health of Russell Westbrook, who will miss at least a month. Even Rose extended his advice to Westbrook basically telling him to take his time coming back. Young, explosive, and knee injury just don't belong in the same sentence. Expect Russell to miss extended time.
As for other teams, I actually really like the Clippers under Doc and the addition of stud shooters J.J. Redick and Jared Dudley. But the Clips success will always depend on Blake Griffin's continued development and the heath of both him and Chris Paul. I think they'll be a top three team in the West, but I don't see them grabbing the trophy.
If I had to put a fifth team on this list it would probably be the Warriors, but it would take an awful lot of luck for them to win the title. A starting lineup of Curry-Thompson-Igoudala-Lee-Bogut is scary good on paper, but it might be a long shot to be healthy come April.
Back to the Spurs. Every year we wonder if this is the year the Spurs are too old and every year we're wrong. Tony Parker, Manu Ginobili, and Tim Duncan have logged some heavy NBA minutes in their careers, but I still think they have another title run in them.
I'm pretty sure Tim Duncan is from the same foreign planet as Peyton manning. Duncan has been balling hard since he entered the league in 1997, with nearly no statistical drop off since his rookie year (he had a 24.45 PER at the age of 37!). Duncan was 4th with 4.90 defensive win shares and is still one of the most crafty post players in the league (28th in the league with .93 points per play in the post).
Of course, you can't talk about the Spurs without mentioning young gun Kawhi Leonard. Leonard averaged 13.5 points, 9 rebounds and 1.8 steals per game in the playoffs, including lines of 22-11 and 19-16 in Games 6 and 7 of the NBA playoffs.
The Spurs also added Bulls fan favorite Marco Bellinelli, as depth will continue to be one their strengths. The Spurs are old and might be retreating a bit, but they're still dangerous.
Gordon Hayward will win Most Improved Player
I want to start off by saying, I hate this award. In past years, The MIP is usually awarded to players that get an increase in minutes rather than players that actually improve. Look, I love Paul George as much as the next guy, but you can't convince me Larry Sanders and Andray Blatche, who over doubled his PER (10.63 to 21.98) didn't improve more than George. Please watch this video of Blatche trying with all his might to get a triple double if you don't believe me.
Anyways, this year's Most Improved Player A.K.A. the Player Who Will Do the Most with an Increase in Opportunity will be Gordon Hayward. With Trey Burke out at least two months for the already depleted Utah Jazz, Hayward will carry the load in both the backcourt and the wing.
Hayward can do a little bit of everything. Hayward averaged a career-high 19.3 points per 40 minutes, got to the free throw line at high rate (4.1 FTA's  per game), and shot lights out at 42% from beyond the arc, making 100 three's for the first time in his career last season. Hayward ranked 102nd in the league in points per play and has no real weaknesses on the offensive end.
His long arms make him a solid, yet unspectacular defender, still, on most nights he'll lock up against the opposing team's top wings. With Derrick Favors and Enes Kanter clogging up the lane, Hayward should have tons of space to operate and score on the perimeter. Don't be surprised if you see Hayward get some looks at point guard, as he's averaged at least three assists per game each of the last two seasons.
MIP Stat Line- 18 points, 4 rebounds, 4 assists per game with 150 three-pointers.
Some other guys in the running for MIP: Enes Kanter, Jimmy Butler, Thaddeus Young, Eric Bledsoe, Jeff Green, Iman Shumpert, Brandon Knight
Anthony Davis will make "the Leap"
Last season James Harden, Stephen Curry and Paul George all made "the Leap," thrusting themselves from budding prospects into the upper echelon of the league. Each year there's usually one to two players that make this jump—this season Bradley Beal, Kawhi Leonard, Gordon Hayward, Derrick Favors and Andre Drummond will have big seasons, but I proclaim that Anthony Davis will stand out from this group.
The Uni-brow had a disappointing season of sorts as a rookie, missing 18 games and losing Rookie of the Year to Portland's Damian Lillard. Davis hasn't been getting as much love as some of the other up and coming young players, but he still showcased his potential last season. Anthony Davis was 15th with a 21.80 PER and only Josh Smith, Joakim Noah and Davis averaged at least 1.8 blocks and 1.2 steals per game last season.
Davis was 56th in points per play, with his only real weakness coming in spot up opportunities, which was still a positive area for him as a big man. Davis surprisingly struggled on the defensive end, ranking only 401st in points per plays allowed and allowing a 21.1 opponents PER, which might be more of a knock against the less-than-stellar New Orleans Pelicans (weird typing that for the first time) defense than anything else. He averaged 4.7 blocks per game in college and injures slowed him down throughout last season, so his D will skyrocket with a full bill of health.
You really don't need all these stats to show why Davis is a great player, just watch him. Not many big men in the NBA can swat a shot, collect the ball, run the break and finish it with a huge slam on the other end. It's almost weird seeing a 6'10" guy so comfortable dribbling the ball in transition—he's really something special. Davis will appreciate having an actual team next season with the additions of Tyreke Evans, Jrue Holiday, and a (hopefully) healthy Eric Gordon.
With an increase in minutes, expect Davis to average close to 18-12-2 a night with 2.5 blocks and 1.5 steals with a polished post game, a developed jumper and a terror of a defensive game…. and of course, I couldn't resist saying this—FEAR THE BROW!