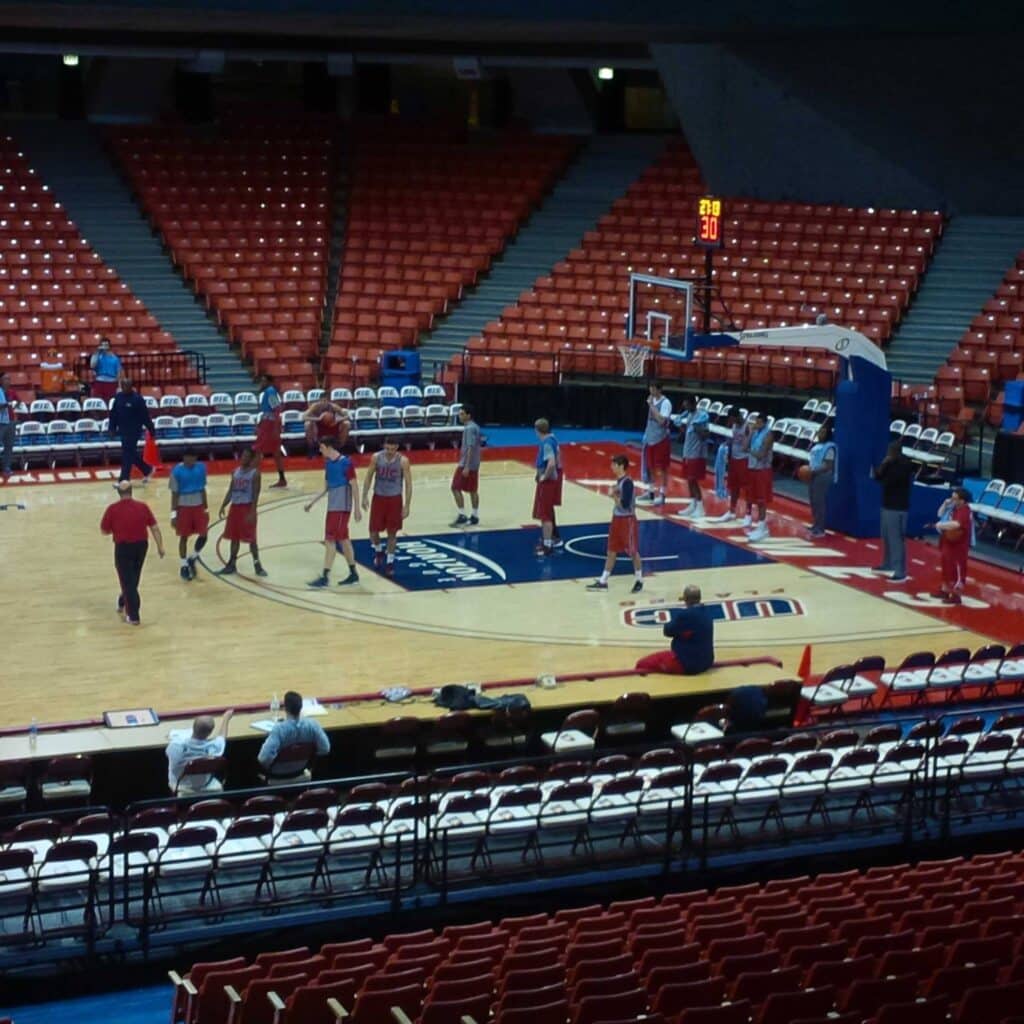 CHICAGO- When the UIC Flames took the court for practice at the UIC Pavilion on Wednesday, you couldn't tell they were coming off of a 22-point victory. Last weekend, Division III University of Chicago came to the Pavilion for an exhibition and were sent back to Hyde Park with a 79-57 loss. But that wasn't enough to satisfy head coach Howard Moore as the Flames head into their season opener this weekend.
" As a coach, you're never satisfied and there are a lot of things that we still need to work on, but I thought today was a good first step" Moore said after that game.
The Flames shot 40-percent from the field, had three players score in double figures and outscored U of C in the paint 38-18 that day. But the Flames refuse to pat themselves on the back for their efforts. When they practiced on Wednesday, it was all business and no smiles. During the rigorous three hour workout the Flames worked on fundamentals, defensive drills, perimeter shooting and player development.
"Our defensive intensity has improved a little bit (since the U of C game). Guys are starting to understand how ball pressure helps, it really allows our team to defend certain actions" Moore said about the emphasis of today's practice.
Ball pressure will be extremely important when UIC opens the regular season against Drake on Saturday night. Last year the Bulldogs had four players who shot for over 500-percent from the floor. "We're gonna try our best to negate (the high percentage shooting) as much as possible" Moore said about Drake's shooting ability.
Another issue the Flames will have to contend with is size. Drake currently has three players who are 6-11 and they weigh between 240-260 pounds. That could create some problems for a Flames team that no longer has Josh Crittle in the paint. "We no longer have that bigger four or five man in the paint for us" Moore said about Crittle's departure, he added "We're gonna try some different things in the post."
Perhaps the fourth-year head coach was referring to the fact that he has more speed and flexibility in the front court now. But the Flames will need to call upon their three best post players to try and contain Drake's size. Sophomore Jake Wiegand (6-8, 240), junior Will Simonton (6-10, 230), and senior Hayden Humes (6-8, 216) will be the first line of defense on Saturday.
You can also expect to see solid minutes out of transfer Jordan Harks (6-8, 220) as well. While the Flames will have to rely more on speed and zone defense this week, it is a challenge they are willing to meet head on. And no one is more willing than Simonton. He was the only Flames player that didn't take the court against Chicago last weekend, but he is ready to take on Drake this week.
"I'm pretty confident" Simonton said about embracing his bigger role with the team, "I have a great set of guys around me, honestly there's not a whole lot of pressure on this team. We're continuing to get better" he added.
One of those guys in that "great set" is Jake Wiegand. The sophomore will see more minutes this year compared to last, although he did get plenty of experience as a freshman. After the dismissal of Matt Gorski, plus the many instances where Josh Crittle found himself in foul trouble, the Virginia native earned his stripes and proved himself worthy of taking on more responsibilities.
"He believes that he can play now that he's had some success" said Moore of Wiegand's development, "He was able to get on the court as a freshman and now he's more understanding of what to expect and how he can help this team."
Simonton has also praised Wiegand's growth, "He's gotten a lot better, he's always in the gym. He's finishing around the rim, he's more talkative and he's really stepped up."
Despite all of the praise and positivity, the Flames are not taking anything lightly and are treating Saturday's game as if it were a Horizon League game in the middle of February. That is the seriousness that Coach Moore has instilled in his players and that is why the Flames made it to the postseason last year.
"They got a good 40 pounds on our big men" Simonton said about Drake's massive centers. In regards to how his team plans to defend them he said, "We just gotta move our feet, be quick, and find a way to get around them."
"We're always going to be a defensive minded team first" Coach Moore said, "We're going to be a quicker team that pushes the tempo a little more. We got some different things lined up, we can't give them easy touches inside, but it's going to be a team effort" he added.
Team efforts are what pushed the Flames to success last year. Now that UIC has more speed and better shooting to work with, those team efforts could wind up with bigger numbers than last year. The Flames host Drake at the Pavilion this Saturday with tip off scheduled for 7pm. Follow me on Twitter @GabeSalgado82