Ways the Bulls Could Land Carmelo Anthony
By: Luke Stanczyk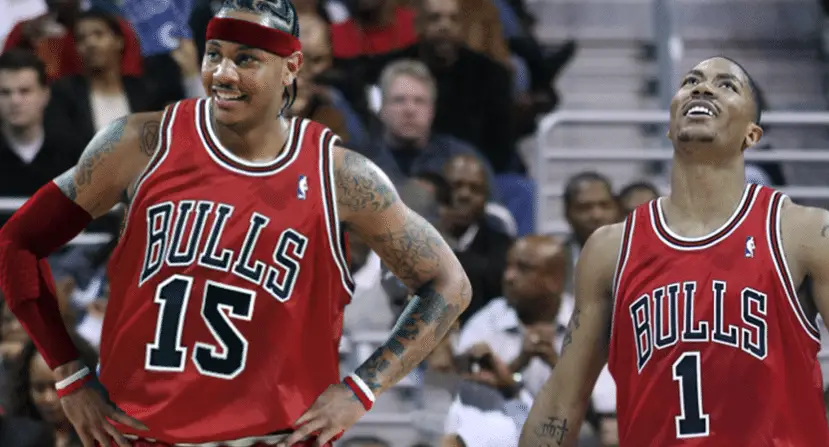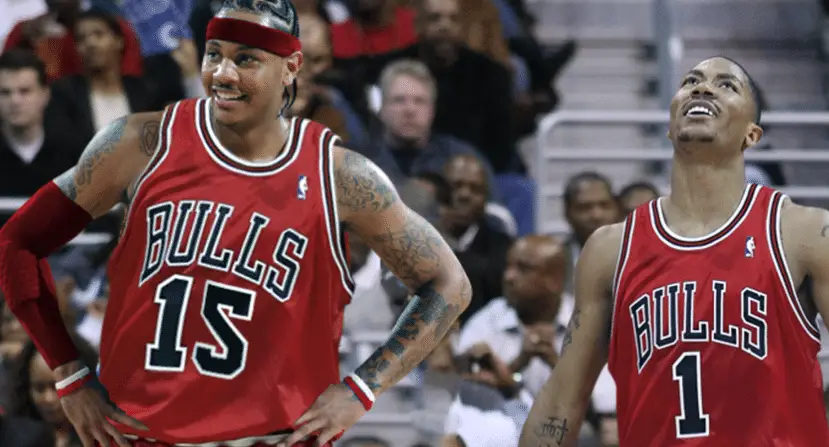 The Luol Deng trade is the beginning of what's likely a large overhaul for the Chicago Bulls. John Paxson and Gar Forman know that the goal now needs to be adding a second superstar, one that can create his own shot and supplement, if not overtake, Derrick Rose as the go-to guy on this team. All one had to do was listen to John Paxson address the media today, as he stressed acquiring a star player adamantly, and even cited that the team may need to build "with" Rose as opposed to building "around" him.
Stars can be acquired and groomed through the draft, but while the Bulls have potentially multiple picks over the coming years, none figure to be in the top half of the 14-team lottery. The Bobcats look to be well on their way to finishing outside of the Top 10, which would give the Bulls their draft choice this summer. Sacramento's pick is Top 12 protected this summer and Top 10 protected for the next two, and the Kings don't look like they will get themselves out of that hot mess anytime soon. Really, the best Bulls draft choice in this upcoming draft will likely be their own, but even after the Deng trade, the Bulls are likely too good to land a draft choice in the top half of the lottery.
Because of that and the desires of a quick re-build, the name being thrown around by fans and others in the blogosphere in the aftermath of the Deng trade is Carmelo Anthony. It's been known for a while now that Anthony wants to test the free agent market this off-season, and a recent report said that Melo had the Bulls on his shortlist of teams.
Sure, Melo to the Bulls may seem like a fantasy, but if we've learned anything about the NBA over the past half-decade, it's that superstar players get what they want. Heck, Anthony is an example of that himself, as the whole saga of him leaving Denver happened in large part because he wanted out. We've also heard that Anthony has a lot of respect for Tom Thibodeau, which would lead me to believe he's at the point where all he wants to do is win.
All of that only helps the Bulls chances of courting Anthony if they want to do so, but even with the Deng deal, there still are a lot of financial hold-ups to bringing the Syracuse product to Chicago. Still, if there's a will, there's a way, and there are a few ways the Bulls could financially make this work.
The Numbers
First off, we have to understand what the Bulls' situation is with the salary cap. When the Bulls enter the off-season, they will have a payroll of approximately $63.8 million, as the contracts of Kirk Hinrich, Nazr Mohammed, and D.J. Augustin all come off the books. However, if the Bulls deal Mike Dunleavy (as expected at this point) and decide to amnesty Carlos Boozer after the season (which, if they are serious about this process, they will), that takes the cap figure down by over $20 million and puts the Bulls at approximately $44.4 million, comfortably below the salary cap (which figures to be in the range of $60-63 million next season). The team can also knock that number down even more if they decide to let go of Erik Murphy, whose deal of about $0.8 million is not guaranteed for next season. Then, the roster would look as follows:
Derrick Rose ($18.9 mil)
Joakim Noah ($12.2 mil)
Taj Gibson ($8.0 mil)
Jimmy Butler ($2.0mil)
Tony Snell ($1.5 mil)
Marquis Teague ($1.1 mil)
So, if all happens that's expected to happen, the Bulls hit the off-season with somewhere around $16-18 million to spend. The problem with that is Carmelo Anthony, who can make a maximum of 105% above what he's earning yearly now, can command as much as $23.5 million in free agency. That's still at least $5 million more than the amount of salary cap room the Bulls should have.
 The Scenarios
Given that, the Bulls have three courses of action they can take if they want to pursue Carmelo Anthony:
1.     Try and court him with what figures to be the available cap space ($16-18 million, as stated above)
The Bulls can decide to roll the dice and bank on the idea that money will not be Anthony's main priority. Compared to Anthony's other suitors (the Knicks and the two other teams on his shortlist, the Lakers and Clippers), the Bulls would have the third most financial flexibility heading into the off-season. The Knicks can offer him more than any team based on the Larry Bird Exception (teams can offer maximum deals to their own free agents as long as they have been with the team for three seasons), and the Lakers will have more than $25 million in cap space this coming off-season. However, the Bulls still have more financial flexibility than the Clippers, as their payroll figures to be around $69 million heading into the off-season barring some drastic moves, which isn't all that likely considering they are in the thick of the playoff hunt at this point.
Gar Forman and John Paxson could certainly pitch to Anthony that he will make more money in endorsements in this town than the extra few million dollars he'd make signing with the Knicks or Lakers. I'd bet that some companies and corporations would love to associate the name and face of a Bulls superstar with their product, as Derrick Rose really hasn't done that along with really any Bulls player since the Jordan years. However, who knows if Anthony will take that bait even if he really does respect Thibs, and New York and Los Angeles are two cities who can probably offer many of the same opportunities.
2.     Clear even more cap space to prepare a larger offer for Anthony
This is a legitimate option for the Bulls, but the problem is if the Bulls want to get themselves to the level of financial flexibility the Lakers and Knicks have pertaining to Anthony, they'd have no choice but to deal Derrick Rose, Joakim Noah, and Taj Gibson to do it.
Despite the qualms of a few fans out there, Rose isn't going anywhere. While the Bulls may realize they cannot build "around" him anymore, the belief is still there that he can be at least a very good player in this league. Plus, who is going to want to trade for a guy that is making almost $19 million and has played only a few more games than Greg Oden over the past few seasons? Also, the team likes Joakim Noah way too much to trade him for just a salary dump, which is what the team would essentially be doing if they chose to go this route.
Taj Gibson is by far the most legitimate option here, and could become an even more legitimate one if the possibility of Nikola Mirotic coming to America becomes real. Even if the Bulls hang onto Gibson, Mirotic could still come over via the Mid-Level Exception (a little over $5 million for non-taxpaying teams like the Bulls now), but there's also a chance Mirotic could command more.
Either way, trading Gibson would be the best bet here, but how attractive do the Bulls really look to Anthony at that point? There's still more on this team than the Lakers (basically just Kobe) and the Knicks (cricket, cricket), but it's just a banged up Rose, Noah, and a role player in Butler (at least it looks that way, but who knows, maybe he blossoms into more). At this point, we are figuring Anthony's main priority is money, and he may just sign with the Knicks because they can offer him more than anyone else.
3.     Trade for Anthony as long as he signs an extension
Melo hitting free agency is a gamble in of itself, as if the Knicks could very well elect to trade Anthony and get assets for him to avoid losing him for nothing. If that's the case, the Bulls could be potential suitors here, as the contracts of Carlos Boozer, Mike Dunleavy, and Kirk Hinrich match-up with that of Anthony's. However, who knows if the Knicks have any interest in any of those guys, and the Bulls would likely have to part ways with a lot of your draft pick assets as a part of this deal, which even if they land Anthony, is still a big component of this rebuilding process.
This, of course, is also all contingent on Anthony signing an extension with Chicago, as there is no way the Bulls would trade for Anthony unless they were certain he wasn't hitting free agency.
How Likely Is It?
Bulls fans all over Chicago are understandably sad over Deng's departure, as he was a hard-nosed player who really embodied this Bulls team and this city over the past few seasons. However, it was a necessary move, and acquiring a second star cannot happen without Deng being elsewhere.
As far as Anthony being the guy, who knows? Lots of moving parts have to come to fruition between now and the summer for it to happen, but again, superstars get what they want. If Melo really wants to come here and the Bulls really want Melo, there's a chance it could happen. The bigger question will be how bad the Bulls want Melo to be that second guy, and I'm sure we'll find out more about that in the coming months.
Sources:
On the Bulls being on Anthony's short list: http://probasketballtalk.nbcsports.com/2014/01/02/report-carmelo-anthony-wants-to-stay-a-knick-but-if-he-leaves-likes-bulls-lakers-clippers/
On Anthony wanting to hi free agency: http://espn.go.com/new-york/nba/story/_/id/9834846/carmelo-anthony-new-york-knicks-says-wants-free-agent
On Anthony having respect for Thibodeau: http://nypost.com/2014/01/01/malice-toward-marbury-could-affect-melos-decision-to-re-sign/
Bulls contract numbers: http://storytellerscontracts.info/?page_id=1548
Info on exceptions and max contracts: http://www.cbafaq.com/salarycap.htm#Q25