Wisconsin outlasts Illinois as they drop their 8th straight game for first time in 40 years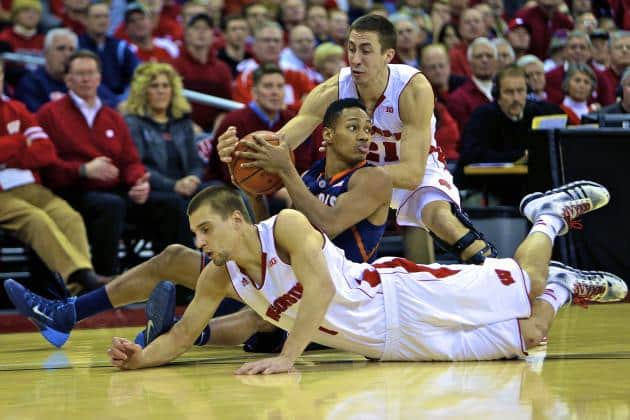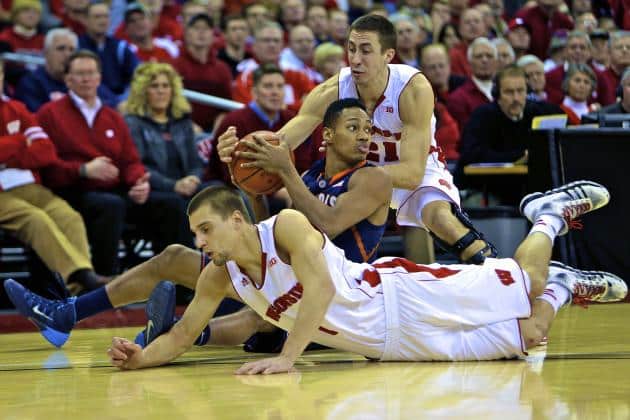 The last time the Wisconsin Badgers faced off against the Fighting Illini it wasn't pretty. The January 8th matchup at the Kohl Center was dominated by the Badgers throughout as they came away with a 95-70 victory.
The Badgers made their way over to Champaign for a rematch despite a Winter Storm Warning that left many fans at home. Wisconsin was never able to break away in this one, but timely shooting from sophomore forward Sam Dekker helped them to a 75-63 win.
The Illini's loss earlier in the season to Wisconsin started a seven game skid, but both teams have struggled since their last meeting.
After starting 16-0, the Badgers have lost five of their last six games.
Illinois is coming off of a heartbreaking defeat against Iowa where they rallied from down 21 but fell short in the end.
The Illini didn't quite keep up the same energy from the Iowa game, but they kept the game much closer this time against the Badgers.
"All in all, a little bit different tonight," Coach John Groce said. "I think maybe two weeks ago offensively we weren't playing quite as well."
Illinois senior Joseph Bertrand didn't think his team was able to sustain the same level of intensity from the Iowa game.
"I don't think we had as much as we should've to win the game," Bertrand said. "We definitely had glimpses of it where we were tough around the ball and down in the stance harder, but once we can get the whole game like that I think we'll make a lot of strides."
After trailing by as much as ten in the second half, Bertrand kept the Illini in the game on a desperation heave at the end of the shot clock buzzer to make it a 51-49 Wisconsin lead with 7:21 left.
Transfer Junior Rayvonte Rice had himself a big game, finishing with a game high 24 points and nine rebounds.
Rice's biggest shot came with 5:38 left in the game, as he sprinted on a diagonal cut to the basket to finish an and-one. After making the free throw, Illinois trailed 55-52.
Just as Illinois started to nudge their way towards taking over the game, the Wisconsin shooters took over.
Dekker followed up a three from junior Josh Gasser with two of his own, pulling the Badger lead out to 66-57 with 2:38 remaining.
Groce praised Dekker, who finished with a team high 16 points and four three-pointers.
"Difference in the game was the three point shot," Groce said. "We gotta defend better than that to be the best basketball team that this team can be."
Neither team really got out ahead for most of the first half, as both teams started the game shooting 2-8 from the field.
Wisconsin pulled out to their biggest lead of the first half after Dekker made his first three of the game and then found freshman Bronson Koenig in transition after a steal on the other end.
On their next possession, freshman forward Nigel Hayes scored four straight points as the Badgers shot out on a 9-0 run to make it 33-24 with 2:25 left in the first half.
Hayes finished with a game high ten first half points in 12 minutes and finished with 14 points on the night.
Illinois point guard Tracy Abrams went from coast to coast to finish a drive at the buzzer, cutting the Wisconsin lead to 36-30 at half.
At the end of the day, Groce put it simply, "they just beat us."
"We threw everything at them tonight, we trapped them, changed coverage, played zone, tried any and everything to try to slow them down."
The loss extends the Illini's losing streak to 8 games, their longest losing streak in 40 years.
Bertrand said the team "needs to get their offense and defense going at the same time."
"Everybody has to be hitting all cylinders," Groce said. "We're not the type of team in this particular year where two or three veterans can have an off night."
With only eight games left, the team will need to start hitting on all cylinders sooner than later.