The White Sox may have won the Crosstown Cup, but the series itself has lost its spark.
Now don't get me wrong. Watching Paulywood slam a 3-run double had me jumping around like we won the World Series, but if you've listened to Ken "Hawk" Harrelson the past three nights or have actually gone to a Crosstown Cup game yourself, you know that the big: "It just ain't what it used to be."
The White Sox have already won the cup with another game to go tonight, but no one is partying. No one is lining up for tickets. Even the White Sox—everyone except for Paul Konerko, that is—are kind of just like "Eh…whatever" (for instance, listen to Gordon Beckham's post-game).
After thinking about it and talking to other fans, here is a compiled list of all the possible reasons the Crosstown Cup lacked that competitive groove this time around, and may continue to do so:
Scheduling. The most obvious of them all—and the one that makes Hawk the most angry. Major League scheduling is tough, but I agree with Hawk that rivalry games should be better accounted for. You stick four weekday games in a row when it's still cold out and kids are in school, of course no one wants to go! The height of the rivalry saw three games in June and three games in July, but combining those games and sticking them in May really cools things off (and sells MUCH fewer tickets).
The Blackhawks. The second most obvious. Who cares about the Crosstown Cup when the STANLEY CUP is on the line.
A.J. Pierzynski. Probably the biggest troublemaker in the series. We lost him two years back and the rivalry has never been the same.
Or even Ozzie Guillen. He treated the Crosstown Cup like the World Series.
Memories…
New players might see this as "just another game." While veterans like Paul Konkero or Alexei Ramirez still remember the home plate beat-down of 2006, players like Jose Abreu, Tyler Flowers, and even the injured Adam Eaton might not see the vital importance of winning some hardware this early in the season.
Chicago traffic. Sure, you've got public transportation, but not everyone lives in the city. Personally, I'd rather gouge my eyes out with a Sammy Sosa bobble head than drive to Wrigley or U.S. Cellular Field through construction and rush hour on a Monday.
Ticket prices. I had planned on going to the game last night, but instead bought tickets for Friday night. Why? Friday night features the Miller de Mayo party, a Shakira-inspired fireworks show, and the tickets were $40 cheaper. Seemed like a no-brainer to me.
The Cubs are that bad. I'm not judging here, but maybe Cubs fans are sending a message to their higher-ups by not buying tickets. As I said, these tickets aren't cheap—who wants to go watch Jeff Samardzija left hang to dry again?
Neither team sits at the top of their divisions. Remember the Crosstown Cup games of 2008 when both the Cubs and the Sox were both in first place? Those games were so intense, and both teams swept the other on their own turfs. Home field advantage was everything.
Social media takes the fun out of everything. I feel like the Northside vs. Southside hostility mainly lives on Twitter these days. Sometimes Facebook, but mainly Twitter. Just follow #CrosstownCup and you'll come across a lot of hate, bad sportsmanship, and bad jokes from both sides. As someone who is active on Twitter, I'll go ahead and admit that the hostility ruins some of the fun for me.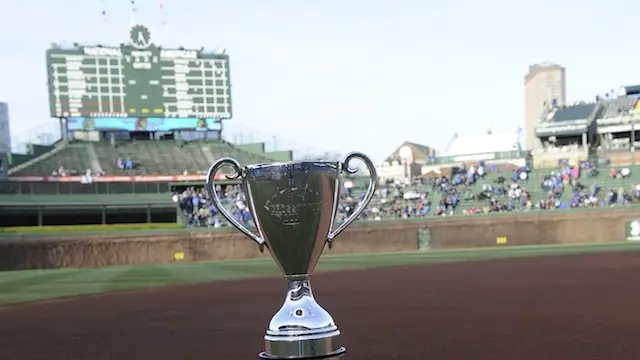 Photo Credit: David Banks, Getty Images
Buy hey. Excuses, excuses—am I right? There are plenty of people who have taken these games seriously, and I don't mean to discredit their passion at all. But you can't deny the low numbers and lack of overall enthusiasm by two neighboring fan bases that are undergoing rebuilding years.