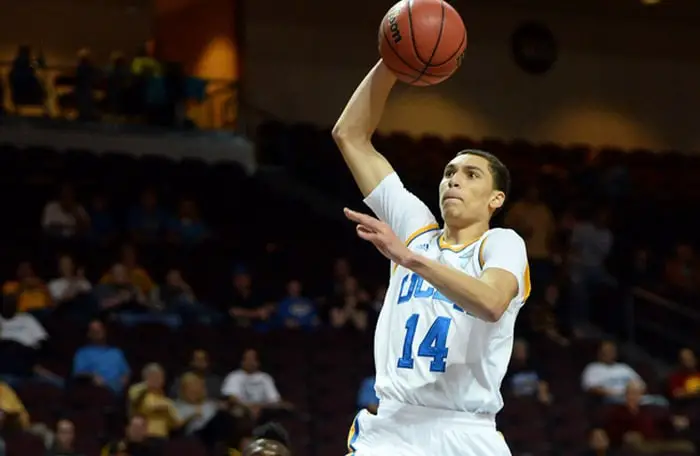 This is Part 3 of a three-part series outlining potential targets for the Chicago Bulls this off-season
Part 1: Carmelo Anthony and Kevin Love
The NBA draft is just over three weeks away. It's Christmas (or Hanukkah for Jews like myself) in the summertime for any NBA fanatic. It's also the time where all those rumors you've been hearing about for the past few weeks actually happen or—usually don't. The draft on June 26th is the unofficial league wide start to the offseason, when the Heat are finally done winning and the offseason festivities commence.
Following the draft, free agency starts July 1st, the Orlando Summer League starts July 5th, the Las Vegas Summer League starts July 11th, and finally, the FIBA Basketball World Cup starts August 30th, where Derrick Rose might actually play (don't hold your breath). So basically, get excited because there's plenty of basketball to come even after the NBA finals.
The 2014 NBA draft has been anticipated for several years and has already been donned as one of the greatest draft classes ever. Despite the big names at the top of the draft and the draft's depth, there's still plenty of uncertainty.
Andrew Wiggins, with his mega shoe deal offer and unofficial 44 inch vertical, was supposed to be the clear cut number 1 pick prior to stepping onto the University of Kansas campus. Wiggins averaged an impressive 17.1 points per game and put up good athletic numbers (6.5 FTs, 1.0 BLKs, 1.2 STLs per game), but was disappointing overall. Wiggins, Jabari Parker and the highly debated Joel Embiid are at the top of the draft and each one of them has question marks of their own. So while this draft deserves high praise, there is still plenty of research that needs to be done by NBA front offices between now and the draft.
Luckily, the Bulls won't have to make the tough choice between Wiggins, Parker and Embiid—that is, unless they're willing to part ways with the recently announced NBA first teamer Joakim Noah, as ESPN's Chad Ford reports.
Noah is coming off a career year where he averaged a stupid 5.4 assists per game and won Defensive Player of the Year. Still, Noah is 29, has some injury history, and his value couldn't be any higher right now. Will the Bulls trade Noah? Hell no. Should they trade Noah if it's for a top 3 pick? Hell yes. Give me Wiggins, Parker, or Embiid any day, who are all 9-10 years younger than Noah with more upside. Plus, those guys are whole lot cheaper than Noah and give the Bulls a necessary boost of youth. There's no way this trade is going to happen anyways but I figured I'd simply address it, by the off chance the Cavaliers are dumb enough to offer it.
With that being said, Chicago will have plenty of options come draft day. The Bulls have the 16th, 19th, and 49th pick in the draft. Don't be surprised if Chicago decides to trade a couple of those, if not just to shed some salary.
In the summer of 2010, the Bulls shipped off Kirk Hinrich and the 17th pick (Kevin Seraphin) to the Washington Wizards to save up some money for a run at LeBron James. Chicago could package both of their first rounders to move into the lottery, sell Mike Dunleavy packaged with a pick, or simply sell their second round pick for cash.
For now, let's look at who the Bulls could take with either the 16th or 19th pick:
Guards:
James Young
It's difficult to peg who the Bulls will take in the first round. With Gary Harris, Nik Stauskas, and Doug McDermott looking like locks for the lottery, I decided to keep them off the list of potential candidates. Think of them as good trade targets if the Bulls decide to move up.
I've contemplated back and forth about who the Bulls should take with the 16th pick, which is a good thing. Jimmy Butler played fantastic defense and played major minutes as usual under Thibs. He took a step back this year offensively and is better suited as a small forward. I think Chicago's best bet is to go after a shooting guard who can actually shoot, which seems to be who they should go after each and every year (sorry Tony Snell, you aren't cutting it).
For now—and understand this is subject to change at least five times before the draft—my pick is Kentucky's James Young. Young was ranked as a top 10 player before the season and he had the makings of a prototypical wing player. All everyone talked about was his pretty jumper and endless length. Young was part of the highly dysfunctional season for the Wildcats; a team that had potential to be one of the all-time greats yet failed to fulfill their potential time and time again. Kentucky was basically the Indiana Pacers of college basketball. Man do I give them credit for how they finished off the season—and Young was at the center of that.
Young shot a disappointing 35% from deep and only 71% from the line, but he has a smooth, almost unblockable lefty jumper. Young is prone to mental lapses and he can float around at times, but he has massive, massive potential. Young played at his best when Kentucky needed him most.
Young had 13 points against Michigan in the Elite 8, 17 points against Wisconsin in the Final Four, and 20 points against Connecticut in the Championship game. Young will need to find some consistency, especially on the defensive end. He isn't the most agile player, needs to show some more grit, and has a harder time picking up quicker guards. He'll need to learn how to create for himself and get to the rim more often—the rim isn't safe once he gets there.
Young played for a stacked Kentucky team where he wasn't always called upon and he didn't get to showcase his full potential. He has an incredible 7'0" wingspan and all of the physical tools to go along with a sweet stroke. He's one of only three players in Ford's top 100 that is 18. Young has loads of potential and would address some immediate needs for the Bulls. He won't be a star in one day. Give him time and he has about as much upside as you can get with the 16th pick.
Zach LaVine
Just a couple of months ago I definitely wouldn't be endorsing Zach LaVine as Chicago's pick. LaVine played for a UCLA team that made the Sweet Sixteen not because of his play, but actually in spite of it.
Lavine shot 3-15 in three NCAA games and scoring a total of 8 points. Oh yeah, and he shot 0-8 from three. His stats for the year were by no means impressive either, averaging 9.4 points and 1.8 assists per game, and he was a 69% free throw shooter. I know, this all sounds horrible—and it is. But LaVine is a freak.
LaVine is only 19, he's a legit 6'6" and has a 6'8" wingspan. At the combine LaVine not only showed off his freak athleticism, but also his agility and speed. Draft Express even ranked LaVine as the top athlete at the combine according to their Athletic Testing Composite Rankings.
LaVine has a sweet looking jump shot to go along with his endless hops and he has shown the potential to play some point guard. LaVine isn't going to contribute right away and might need to spend some time in the D-League. The Russell Westbrook comparison everyone keeps talking about might not be too crazy if this guy ever reaches his full potential. The Bulls are gunning for a superstar this offseason and need some insurance for Rose, so they can afford to wait for LaVine to blossom.
The only reason I think Chicago should take Young over LaVine for now is because LaVine might be a better fit on a team where he can be tailored as a point guard and potentially start as soon as 2015. LaVine might end up sitting on the Bulls bench for years which could curb his development, similar to what happened with Marquis Teague.
The Bulls need a true wing player who doesn't need the ball in his hands to score. Right now that player is James Young. Don't be surprised if I change my mind before the draft.
Elfrid Payton
Elfrid Payton is easily my favorite prospect in the draft. He played for the Louisiana-Lafayette Ragin' Cajuns last season—yes, that's an NCAA team. He's a 6'4" point guard with a 6'8" wingspan who can do just about everything except shoot the ball. Oh, and he has an awesome Jimmy Butler thing going with his hair times ten. He averaged 19.3 points, 6.3 rebounds and 5.8 assists per game—in the Sun Belt Conference, yes, but nonetheless impressive. He drew an insane 8.8 FTs per game—good for second in the nation.
Payton helped carry his team into the NCAA tourney putting up 19 points and 6 rebounds against George State in an OT win in the Sun Belt Conference Final. Payton scored 24 points and grabbed 8 rebounds in a 76-66 NCAA tourney loss to Creighton.
He's somehow played college ball for three years now and he's only 20 (!) years old. I think he's being heavily underrated right now and has the potential to be the best point guard in this draft. The downside is he only shot 26% from deep and 59% at the line with an erky jerky jumper, but all the physical tools are there. He's a four tool player with good intangibles and high potential—especially on the defensive end (2.4 STLs and 0.6 BLKs per game). Unfortunately, the Bulls are overstocked with defenders right now and he won't be able to provide them with the shooting they need. I think he's still a great pick, but there are better fits available.
Others:
Tyler Ennis, P.J. Hairston, Bogdan Bogdanovic (potential Euro stash), Rodney Hood, Shabazz Napier
Big Men:
Jusuf Nurkic
Jusuf Nurkic is one of the top international players in a draft stock full of European players. Nurkic played in the Adriatic league, the same league top ten prospect Dario Saric played in. Nurkic is a potential Euro stash pick since he might not come over right away, but the Bulls have found success stashing Omer Asik and Nikola Mirotic in the past. Nurkic put up video game numbers in 28 games for Cedevita. Just look at this:
28 points, 13.6 rebounds, 1.7 assists, 2.6 steals, 2 blocks per 40 minute with a 35.2 PER in 16.6 MPG.
This wasn't in some cupcake league either—the Adriatic League has been known to have some stiff competition with experienced European players. 28 games is no small sample size either.
Nurkic will be 20 before next season and his age shows. He averaged 7.7 fouls and 4 turnovers per 40 minutes and he'll need to cut down a bit sitting at a heavy 280 pounds. He also has some character issues and doesn't always bring it. His 23 inch max vertical isn't anything to write home about either.
He's close to 7 feet tall and has shown the potential to be a Demarcus Cousins type bruiser if he gets his act straight (then again Cousins never did). I think Nikola Pekovic with more defensive potential is a realistic comparison for Nurkic. He would be the perfect backup big for the Bulls and he can also save them some money by staying overseas for a few more years. I think Nurkic and Payton are the draft's biggest sleepers.
Adreian Payne
Adreian Payne seems like he's been around forever, yet his game improves each and every year. He's already 23 and played college ball for four years. Still, he hasn't reached his peak. With a 7'4" wingspan, Payne can be a rare legit stretch center if he puts on some muscle. Payne made 44 threes shooting 42% and shot 79% from the line last season.
He's played against the top competition the NCAA has to offer and he's done it under one of the best basketball minds in the business under coach Tom Izzo. Payne has great hops for a player his size and he's all about playing a team game. He has some of the best intangibles in the draft—he's a hard worker and lets the game come to him. And, if there is any question about his character—his relationship with Princess Lacey, an 8 year old girl who passed away from nerve-cell cancer on April 8th—will pretty much answer that.
There's nothing flashy about Payne's game, but he should be a role player in this league for a long time.
Others:
Jarnell Stokes, Mitch McGary Clint Capella (potential Euro stash), Kristaps Porzingis (potential Euro stash)
A few final notes:
Outside of those options, the Bulls will take a long look at SF/PF's T.J. Warren and Jerami Grant. Even though I love the offense that Warren brings to the table and I think he's one of the most underrated players in the draft, there's really no need for him at power forward with the emergence of Taj Gibson and with Mirotic potentially coming over. Grant is a big time athlete but hasn't shown much else through two years at Syracuse—I'd pass on his services.
If the Bulls do decide to trade up, I think it will be for either Harris, Stauskas, or McDermott. Of those three, I think Harris is the best fit. He's prototypical two-guard that can play both sides of the ball and loves to complete. It might not be the best value to trade up for one of those three players since there is a chance they could actually drop to 16, but if Chicago is looking to save money it isn't a bad option.
Also, if Aaron Gordon slips out of the top 10, it would be smart for the Bulls to pounce. I have him higher than most at number 4 on my big board. I love his intangibles, competiveness, ability to play on both ends and of course—his freaky, Blake Griffin-like athleticism that might be the best in the draft. Other than that, the Griffin comparison is unfair.  Unlike Griffin, he can defend right away but he has a lower ceiling than Griffin has. I think Gordon can be a better version of the Manimal Kenneth Faried. Even if Gordon isn't the best fit in Chicago right now, he could be valuable trade piece down the road.
As for the number 49 pick, it's hard to gauge who will still be on the board and the pick largely depends on who the Bulls take first round. The Bulls can use that pick to stash a European player or take a waiver a player who's stock has fallen. I think Patric Young, Jordan McRae, Markel Brown, Nick Johnson, Jahii Carson, Joe Harris, Khem Birch, and Isaiah Austin will all get a look.
Now that all of the draft options have been laid out, here's my first big board for the draft. I'll post a new big board in each of my articles leading up into the draft. Thanks for reading my Bulls Off-Season Preview. Feel free to offer up any of your criticisms or opinions.
Jabari Parker
Andrew Wiggins
Joel Embiid
Aaron Gordon
Dante Exum
Julius Randle
Marcus Smart
Noah Vonleh
Gary Harris
Dario Saric
Elfrid Payton
Zach LaVine
James Young
Doug McDermott
Nik Stauskas
T.J. Warren
Jusuf Nurkic
Tyler Ennis
Adreian Payne
P.J. Hairston
Bogdan Bogdanovic
Kyle Anderson
Jarnell Stokes
Rodney Hood
Shabazz Napier
Jordan Adams
Jerami Grant
K.J. McDaniels
Glen Robinson III
Mitch McGary
Next in: Cleanthony Early, Vasilije Micic, Kristaps Porzingis, Clint Capela, C.J. Wilcox