Day five of training camp was a little slow today and that seemed by design. There was no drama or competition with the punters though and practice seemed to flow at a slightly slower pace than on previous days. Alshon Jeffery and Jerimiah Ratliff were back in the line up with the only notable spectators still being Kyle Long and Chris Conte. Tim Jennings suited up and performed some drills but remained on the sidelines for most of the day as well.
Competition it still wide open for quite a few roster spots and today's focus seemed to be on shaking things up a little, especially on defense. So far Brock Vereen has looked a little lost adjusting to the speed of 11 on 11 and today was replaced by Danny McCray. McCray saw all of the first team reps with Ryan Mundy at the safety positions performing well. Vereen was paired with Adrian Wilson on the second team, which was by no means a demotion. Working along side the 5 time Pro Bowler can only help Vereen make the adjustments need to be successful in the NFL.
Pass defense was the clear winner today with no interceptions but quite a few successful passes defensed and no long scores by the offense. The only exception was when Chris Williams split the seam and Cutler found him wide open in the end zone in seven on seven drills.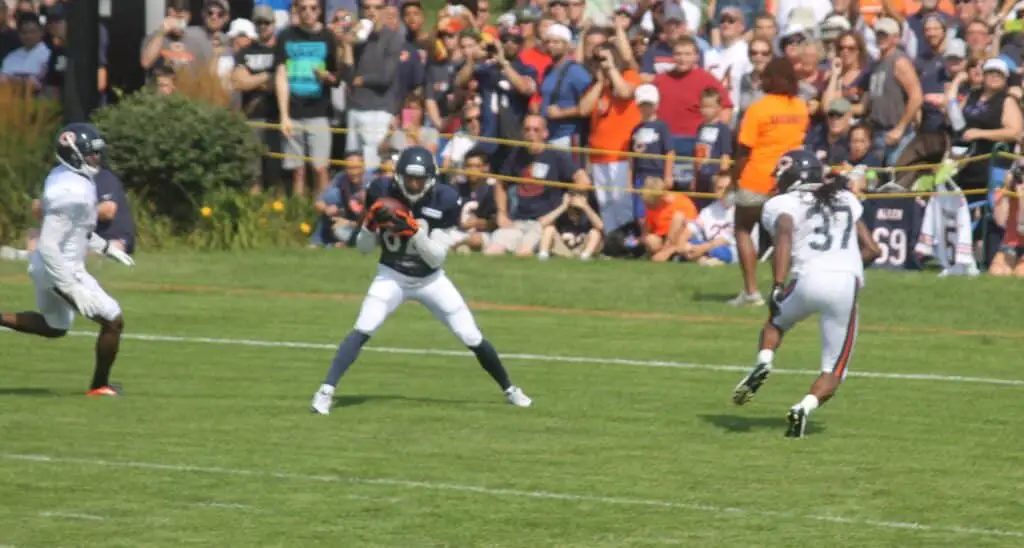 As the pass defensive backfield showed improvement so did the pass blocking by the offensive line. There was less pressure today by the defensive line with only a few breakdowns in protection. Rookie guard Micheal Ola saw significant time with the first team offense at right guard in place of Kyle Long. His performance today may bode well for him capturing a roster spot by the end of the preseason.
Kyle Fuller is improving with each day in camp going against the likes of Alshon Jeffery and Brandon Marshall. He was only beaten badly on an isolation play by Jeffery, letting his frustration be known by throwing his hands in the air.
Newcomer David Moss showed some skill as he corralled a ball thrown deep into the middle while draped by Bears defenders running with the third team. Overall another good day of camp with no injuries, improvements being made in several key areas, and no regression in any one area. As lots of questions are getting answered there are many remaining and many will be answered during live action preseason games.