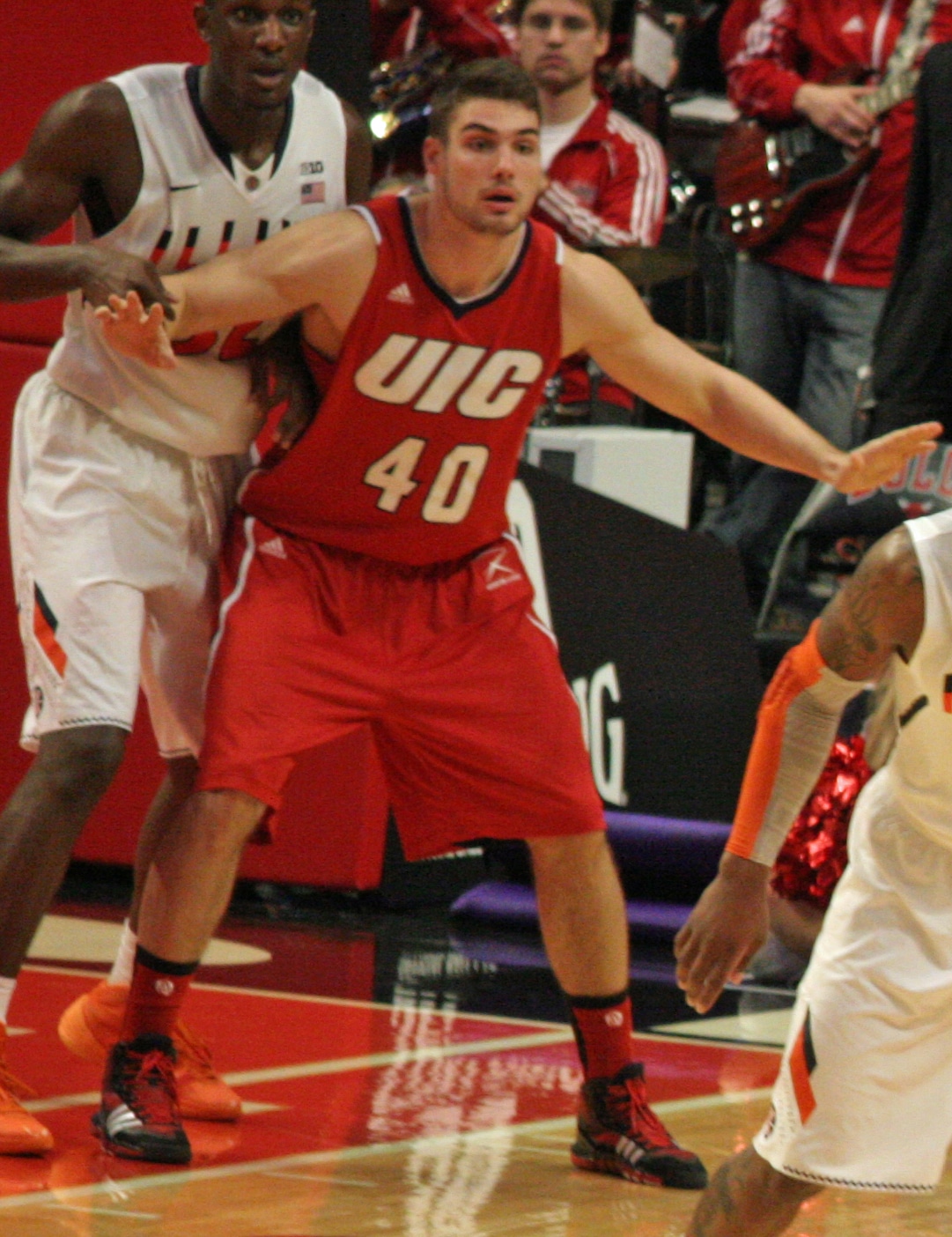 UNIVERSITY VILLAGE- Although the Illinois-Chicago Flames are struggling in the early stages of the season (2-7 record, .370 team field goal percentage, 262nd ranked offense), there is one positive that has kept this team going. Junior forward Jake Wiegand has been the driving force for Howard Moore's Flames during the last month.
"I've been playing really well" Wiegand said on Monday, "I've been looking forward to this season since last year."
The Virginia native leads UIC in scoring (15.1 points per game), rebounding (8.6 RPG), and field goal percentage (.470). He also has four double-doubles to his credit -two of those lead to victories- and he's UIC's most efficient player at the moment. But despite the individual accolades, Wiegand says that winning is more important.
"It feels great (to lead the team those important categories) but that's not my goal" said Wiegand. He added, "My goal is to help the team win as much as possible."
The 22-year-old has certainly grown and matured under coach Moore's guidance over the years. As a freshman during the 2012-2013 season, Wiegand wasn't expected to get much playing time if any at all. But when former center Matt Gorski was dismissed from the team in January of that season, it forced coach Moore to do some lineup shuffling which allowed Wiegand to finally get some minutes.
He finished the year averaging 6.6 minutes, 2.3 points and 1.3 rebounds per game. As a sophomore last season, Wiegand was expected to be part of the rotation off the bench. But an early season injury to forward Will Simonton, who has since retired from basketball, thrusted Wiegand into the starting lineup.
That year his numbers grew to 20.7 minutes, 7.5 points, and 5.1 rebounds per contest. Now that he has a full understanding of coach Moore's system, Wiegand realizes how far he's come along.
"It's coming in with experience, just learning the game (and) having a better feel for it. Each year there's more of it coming" Wiegand said.
And now that he's an upperclassman, he knows that he must now be a leader when he says, "Now that I'm finally a junior, an upperclassman, I think our confidence is really at an all-time high right now. My feel for the game is right where it needs to be."
Now the only obstacle is to turn his feel for the game into victories as the Flames have lost three straight. "(It's) just (frustrating when you're) being there every game and just coming (up) short because a few plays go the other way" said a visibly frustrated Weigand. Then he continued with a hopeful tone of voice, "But we'll push through it and come out on the other side by the end of the season."
If the Flames are to turn this thing around, Wiegand will have to lead the charge. Follow me on Twitter @GabeSalgado82