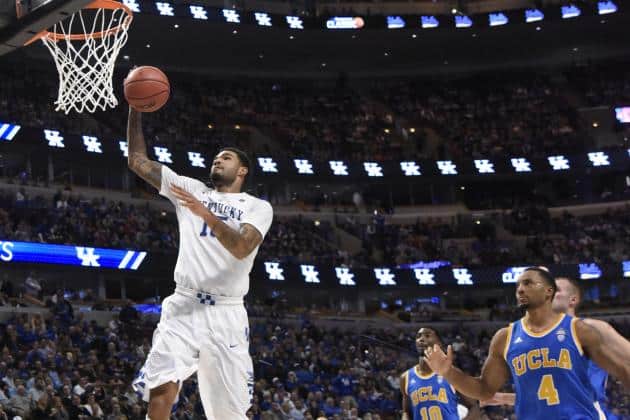 It doesn't get much more prestigious in college basketball than a matchup between Kentucky and UCLA at the CBS Sports Classic. With 19 total NCAA titles and endless iconic players and coaches between the two teams, fans packed the United Center in Chicago with hopes of another chapter getting added to this historic rivalry. UCLA did make history, but not the kind they'd want to remember.
Kentucky took a 41-7 lead into halftime, holding UCLA to their lowest first half point total ever.
It wasn't in the cards for UCLA, or for that matter, anyone against this spectacular Kentucky squad, as the Wildcats went on to win 83-42.
"That's our good game right there." Kentucky Coach John Calipari said. "That's as good as we go, and I told [UCLA coach] Steve (Alford) that, and to be honest with you, I think we're both worried about coaching our own teams. I didn't look at the score in the first half, I did not know what the score was."
The No. 1 Wildcats have been dominant early on, but no question, this was their most impressive performance of the season. Boasting perhaps the deepest team in college basketball history, Kentucky ran out to 24-0 lead, with an arsenal of length, speed and explosive on full display.
The Wildcats had more blocks (8) than the Bruins had points (7) in the first half, as sophomore guard Andrew Harrison and freshman guard Devin Booker both outscored the entire UCLA team at the break.
It was already 16-0 by the time Booker entered the game. He scored the next eight points.
"Coach always stresses that we're not playing against the other team, we're against ourselves," Booker said. "Just keep playing, and you can't look at the score, just keep going."
The Wildcats shot 12-26 from downtown, led by Booker who shot 5-6 from deep and finished with a game-high 19 points.
Aaron and Andrew Harrison combined for 5 three pointers themselves. Aaron Harrison finished with 15 points and Andrew Harrison finished with 8 points and a game-high 8 assists.
No one loves blowouts, but sometimes you have to sit back and appreciate excellence.
Four of the five "Blue Platoon" Kentucky starters were already on the board three minutes into the contest. The Blue Platoon pitched a shutout in their first stint before the "White Platoon" came in.
The Blue and White Platoon system allows for Kentucky to use every bit of their talent and keep fresh legs on the floor constantly. It's almost impossible for a team to keep up with them for 40 minutes.
Calipari stands by his platoon approach.
"I'm not married to platoons folks. I'm not," Calipari said. "I'm doing it because it's the best thing for the players. I've never done this in my life. I've never coached this way. I'll tell you the truth, I kind of like it."
Kentucky's defense smothered UCLA all afternoon, disrupting passes and swatting shots all over the place. UCLA's perimeter players were held scoreless in the first half, including point guard Bryce Alford who entered the game averaging 18 points per game.
Alford finished with 13 points, but the game was already decided by his first bucket.
UCLA shot an abysmal 3-37 including 0-9 from downtown in the first half. Kentucky shot 45.7% and 6-14 from downtown.
There's no secret to Kentucky's key to success. It starts from the inside-out.
Junior Willie Cauley-Stein and freshman Karl-Anthony Towns are the two-headed monster inside for the Wildcats and they wreaked havoc on both ends.
Cauley-Stein tried to dunk everything and had himself a couple nasty throw downs.
Cauley-Stein ran the floor all afternoon, even beating four UCLA players for a fast break dunk.
He finished with 8 points, 5 rebounds, 4 blocks, and 2 steals in 20 minutes.
As a freshman, Towns is still trying to find his game, but he has loads of talent and impressive touch both inside and out as a big man.
Towns grabbed a game-high 10 boards and finished with 4 points in 20 minutes.
It was no surprise that Kentucky was dominant inside. What was surprising was their strong perimeter play. When their three-point shot is falling, they're practically unbeatable.
Wildcat freshman point guard Tyler Ulis finished with 7 points, 7 rebounds and 6 assists in 18 minutes in his Chicago homecoming.
Kentucky looks as intimidating as ever heading into a rivalry matchup at No. 4 Louisville next Saturday.