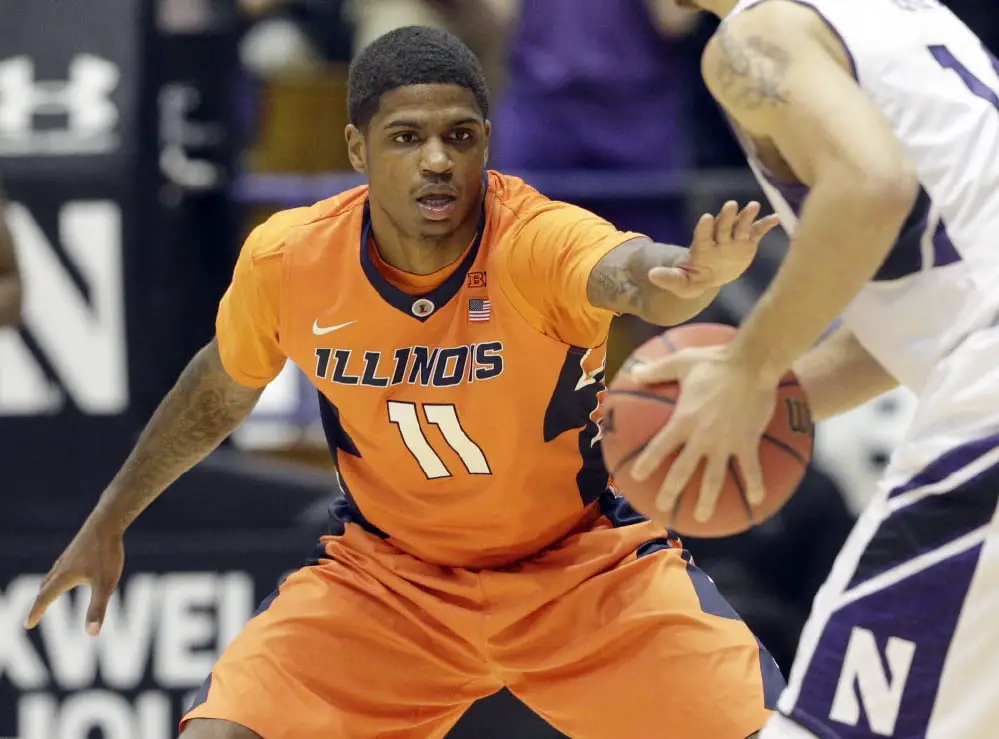 CHAMPAIGN- There was both good news and bad news coming out of the University of Illinois campus on Wednesday night. The good news is that the Illinois Fighting Illini (13-7 overall, 3-4 Big Ten) got back in the win column with their 66-57 victory over the Purdue Boilermakers (11-8, 3-3) at the State Farm Center.
The bad news is that they sustained yet another injury to their already thin backcourt. Junior guard Aaron Cosby will be out at least two weeks with a torn retina in his left eye. It turns out that he sustained the injury in last Sunday's loss to Indiana, and the timing couldn't be worse.
The Illini are already without their two best players. Senior guard Tracy Abrams -who was expected to lead the Illini offense- tore his ACL back in October and is out for the season. He received a medical hardship wavier to get a fifth year next season. And his fellow senior guard Rayvonte Rice, who's still the teams leading scorer (17.2 points per game), suffered a broken hand two weeks ago.
Cosby, who was part of the rotation off the bench at the beginning of the season, was inserted into the starting lineup after Rice went on the disabled list. And being the teams fourth leading scorer (7.8 PPG), fifth leading rebounder (3.6 RPG), and fourth leading assist man (1.7 APG) became even more important after senior Ahmad Starks -who had been starting for Abrams this season- was benched a few weeks ago because of inconsistency.
But with Cosby now on the shelf, head coach John Groce was forced to change his lineup against Purdue. Instead of employing his usual three guard attack -with one forward (sophomore Malcolm Hill) and one center (senior Nnanna Egwu)- Groce started just two guards (sophomores Kendrick Nunn and Jaylon Tate), and freshman forward Leron Black alongside Egwu and Hill.
The moved paid off as Black had his best game since beating Coppin State back in November (18 points, eight rebounds that night) with 15 points and 13 rebounds. That effort may have earned him another start. Egwu (11 points), Nunn (14) and Hill (18) also finished in double figures against the Boilermakers.
This was another solid team effort from the Illini, similar to the one they had in their win over Maryland back on January 7th. The Fighting Illini had leaned hard on the star power of Rice before his injury, especially with Abrams out for the season.
Granted Groce's team should have played more team oriented ball in December and early January like they did in November. But with Rice not scheduled to come back for at least a few more weeks, the Illini will need to continue these all-around team efforts if they want to impress the NCAA Tournament Selection Committee come March.
They'll get another chance to do so when they travel to the Land of 10,000 Lakes on Sunday to play the Minnesota Golden Gophers (12-8, 1-6), who have lost six of their last seven games. The Illini should take advantage of Minnesota's struggles and use it as a "pick-me-up" to get their first winning streak since December.
Follow me on Twitter @GabeSalgado82