The Chicago Blackhawks were not panicking heading into Game 4 but knew they had to look at this game as a must win.
The Tampa Bay Lightning announced just hours before the game that Ben Bishop, their starting goalie, would not play in Game 4 with an undisclosed injury and that rookie Andrei Vasilevskiy would start in net. Vasilevskiy is looked at as a future star goalie in the NHL and had a good overall game last night on a big stage in front of a noisy United Center crowd. However, Vasilevskiy's performance wasn't enough for the Lightning to take a commanding 3-1 series lead.
The Blackhawks wanted to get off to a good start but found themselves trying to keep up with the Lightning's fast-paced play. The Blackhawks were out-shot 9-2 after the 1st period of play and were fortunate to keep the Lightning off of the scoreboard through the first 20 minutes of action.
Johnny Oduya had a great scoring chance that just missed but Jonathan Toews was able to get the puck through Vasilevskiy to give the Blackhawks a 1-0 lead about seven minutes into the 2nd period. This was Toews' first goal of the Stanley Cup Final and his 10th goal of the playoffs. Five minutes after the Blackhawks struck first, Alex Killorn of Tampa Bay fooled Corey Crawford and found the back of the net to even the game at 1-1.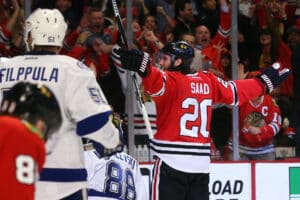 Brandon Saad, who has been one of the biggest difference makers for the Blackhawks, scored his 8th goal of the playoffs six minutes into the 3rd period to give the Blackhawks a 2-1 lead. Patrick Kane assisted on this goal to give him his first point of the Stanley Cup Final. This was also Kane's 112th career playoff point which moves him to fourth all-time in Blackhawks history for points in the playoffs.
The Lightning made a late surge in the final minutes of the game but Crawford refused to let Tampa Bay even the score. The Lightning had about five great scoring chances in last 90 seconds of regulation but could not get the puck by Crawford who was outstanding.
The Blackhawks held on to win 2-1 and even the series 2-2 heading back to Tampa Bay for Game 5 on Saturday night. The Blackhawks move to a fantastic 41-14 playoff record in games 4-7 in the Coach Joel Quenneville era. This series has been extremely close through the first four games although the Blackhawks have been outplayed the majority of this series. Both teams have never lead by more than one goal in each of the first 4 games.
Corey Crawford has to continue to be solid in the net and the Blackhawks offense has to play better for the Blackhawks to win Saturday night in Tampa Bay.