As of Wednesday night –a 2-0 win for the Chicago Cubs– the northsiders have been without Jorge Soler for exactly one month. With the Cubs mired in an offensive slump (9 runs in their last 7 games), and Soler rehabbing in Triple-A, it seemed an appropriate time to look at what exactly the right fielder means to this young Cubs team.
Pre injury, the Cubs were 27-22, slashed .239/.318/.385, and were averaging 4.1 runs per game. Post injury, the Cubs have managed a 14-13 record, are slashing .250/.319/.379, and are averaging 3.6 runs per game. The latter includes a 12 and 17 run outburst, so that skews the day-to-day results since it's a much smaller sample size. Logically, then, the numbers don't tell the whole story.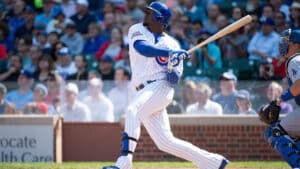 The primary issue Soler's absence has caused is making starters out of players like Matt Szczur and Mike Baxter. Not awful players, but assuredly not starters. Soler was slashing .265/.322/.402. During their time in the outfield, Baxter is slashing .259/.333/.259 (0 extra base hits), and Szczur is slashing .219/.244/.341 (3 extra base hits).
Soler wasn't slugging the way the Cubs hope he ultimately will, but with the Cubs's high strikeout rate (24.4% –2nd highest in the majors) the slugging potential becomes much more critical, as the chances of stringing together singles lessens even further. Soler provides that despite his own alarming strikeout rate (32.2%), where Baxter, Szczur, and to a lesser extent, Chris Denorfia, do not. So even when Soler isn't peaking, the threat his bat brings to the lineup is more crucial than his numbers suggest, and is more in line with the front office's overarching strategy in lineup construction. And with his .573 slugging percentage across 24 games last season, the Cubs are hoping his current .402 will trend upward upon his return.
It will also be a welcome return to have a cannon back in right field.
The Cubs are good. They are a lot better when Jorge Soler is on the field.