Lost in the hustle and bustle of the NBA Playoffs—what with Stephen Curry's return as the harbinger of basketball doom, Russell Westbrook and Kevin Durant killing the un-killable San Antonio Spurs, and LeBron James marching toward a sixth straight NBA Finals appearance—is the fact that the next crop of future stars worked out at the NBA Combine this week ahead of the NBA Draft on June 23.
The Chicago Bulls, no doubt, will have their eyes on a number of prospects from this week as they look to add talent to a talent-needy roster and ascend from basketball purgatory. Recent developments, and rumor, strongly suggest that they will especially be looking for their point guard of the future next month.
As we all know, Derrick Rose is about to enter the final year of his 5-yr, $90+ million dollar deal signed just after he led the Bulls to the Eastern Conference Finals and won the 2010-2011 Most Valuable Player award (those were the days…). The uncertainty regarding his future with the team—he has openly discussed his excitement to be part of the free agency process—appears to be leading the Bulls to prepare for life without him.
Speculation remains high that Rose could be dealt at some point before next year, but given the $21 million he is owed for the 2016-2017 season, it's hard to believe a team will take that burden on knowing that Rose fully intends to hit free agency, even with the influx of cash coming from the new TV deal.
As such, the Bulls will, in all likelihood, have Rose on their roster throughout next season, but if I had to guess right now, I'd say the hometown kid will be finding a new home after that.
Additionally, though not at all insignificant, backup point guards Aaron Brooks and E'Twaun Moore are hitting free agency this summer, and if the Bulls elect to bring back only one or neither of them, point guard could end up being a thin position for them next year. As such, a point guard selection in the first round of the draft is starting to look very likely.
As of now, the Bulls are penciled in with the 14th overall pick, though that could change if they trade up or if the ping pong balls defy the 0.5% chance that the Bulls nab the #1 overall pick and the 1.8% chance of a top-3 pick. Obviously, the Bulls have recently beaten the odds to land franchise-changing talent recently, overcoming 1.7% to magically land Rose in the 2008 NBA Draft, but in all likelihood, the Bulls will have to rely on other means to grab guard talent in the draft.
A combo guard projected as a top 10/possibly top 5 pick, his measurables (6'4"/205 pounds/6'9" wingspan), playmaking, and ability to get to the rim have some talking about him as a potentially Russell Westbrook-like player, something that has the Bulls very intrigued.
Not to mention that he's a self-labeled defensive enthusiast and could find playing time right away if he shows this kind of ability to disrupt offenses.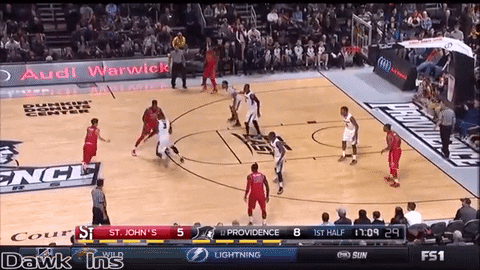 In order to land Dunn, though, the Bulls would almost certainly have to trade into the top 10 (maybe top 5), which would mean some future draft picks and possibly one of their interesting younger players (Nikola Mirotic, for example) would have to be packaged in a deal. Should they be aggressive enough to pull off that move, it could pay dividends very early on for Chicago.
After Dunn, the point guard class is not considered to be particularly strong, though intriguing options projected to be around at #14 include…
I'll try to keep my Notre Dame bias to a minimum. Interestingly enough, the 6'1", 195-pound Jackson is currently projected by DraftExpress to go right to the Bulls at #14. Though Jackson could use some seasoning as a true point guard/playmaker, one thing can't be ignored about him is his elite athleticism, strength, and his potential as a scorer. Just for fun, here's Jackson jumping out of the gym, setting the fourth-highest mark ever recorded for the NBA Combine vertical leap at 43.5"…
and exploding over Stephen F. Austin star Thomas Walkup during the March tournament.
Sorry. The bias could not be contained.
Like a pre-injury Rose, Jackson can play above the rim and also has a frame that enables him to play through contact. His upside as a defender could also help him find playing time early in his career as he learns the position at the NBA level.
Ulis is 5'10" and 150 pounds (maybe), so just calling him undersized would be an understatement. That said, he projects as a classic floor general (something Bulls have been lacking at the point guard position for a while), overcoming his physical limitations through tenacity, effective jump-shooting, and great decision making; his 11.3 assist-to-turnover ratio last year was outstanding. There's always a place in the NBA for people that can consistently make passes like this…

He also won an SEC Defensive Player of the Year award his sophomore season, providing value on both end of the floor that belied his size.
One NBA team asked each Kentucky player they interviewed "which UK teammate would you pick to go to war with?" All answered same: Tyler Ulis

— Jonathan Givony (@DraftExpress) May 18, 2015
Either Jackson or Ulis could be a nice consolation prize if the Bulls opt to stay #14, though their futures as lead guards in the NBA do not inspire as much confidence at this point as Dunn's does.
Speculation aside, the Bulls could really use a lasting presence at point guard after struggling for years to find one behind Rose, failing with Marquis Teague and then cycling through the likes of Nate Robinson, DJ Augustin, Brooks, and Moore. Though point guard is not the only need that the Bulls have to fill on their roster—they could really use another wing player to offset the athletically limited Mike Dunleavy and Doug McDermott and the enigma that is Tony Snell—they appear to be wise in not waiting to find Rose's potential successor.
Until then, we're in for another year of hoping he regains his circa 2011 MVP form and helps lead the Bulls to their first championship since 1998. While we're at it, let's hope Curry, LeBron, Durant, and Westbrook all retire at the end of this season. That would help.