After a shameful beat down of 119-95 at home to the Milwaukee Bucks in Game 4 to fall behind 3-1 in the series, the Chicago Bulls take another big loss ahead of Game 5. And that is in the form of star guard Zach LaVine.
The Athletic's Shams Charania, indicating Zach LaVine will be out for Game 5 on Wednesday due to COVID-19 protocols. A huge loss for the Bulls as they face elimination in Milwaukee.
Zach LaVine is expected to miss Wednesday's Game 5 vs. Bucks in COVID-19 protocols, sources said. https://t.co/WDxP09qxCF

— Shams Charania (@ShamsCharania) April 26, 2022
LaVine has been playing injured all season, with a lingering knee injury that has kept him from playing at 100 percent. With his absence going into Wednesday's game, the Bulls will miss out on the obvious scoring and playmaking skills he's been giving them all season.
During this grueling series against Milwaukee, LaVine averaged 19.3 points, 6 assists, and 5.3 rebounds. His 42.9% shooting from the field was among the best in a team struggling to keep up with the Bucks' firepower. LaVine was also one of the few 3-point shooters for Chicago that was at least averaging 2.3 threes made in each game.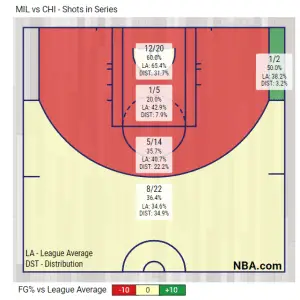 With Chicago down in the series 3-1, The Bulls will now have to contend without their two-time All-Star in Milwaukee with their season on the line. As for LaVine, he is already being heralded as potentially the best free agent available heading into the 2022 NBA Free Agency class.
Make sure to check out our Bulls forum for the latest on the team.