Ask any NBA fan around the world to name a Chicago Bulls player, and chances are, the response will be Michael Jordan. His name is synonymous with the franchise, and for good reason. Not only was he a perennial All-Star who led the Bulls to six World Championships and remains the team's all-time leader in nearly every major offensive category, he became the face of several prominent name-brands from Nike to McDonalds to Chevrolet and beyond.
Jordan accomplished feats of wonder on the court that few athletes before or after him were capable of duplicating. His arrival in the NBA essentially marked the "modern era" of the league, but given his talent, it feels as if Jordan could've put up such numbers no matter when he played or the competition he played against.
It would've been interesting to see how some of the best defensive teams today would try to contain Jordan. Could they? It would also be curious to see what kind of prop bets bookmakers would offer on Jordan, given the spread of legalized sports gambling. Non-existent in Jordan's playing days, online sportsbooks, including the best betting sites in Canada, today post odds on every individual player's nightly scoring output. Given Jordan's propensity to drop in 30+ points on any given night, he may have been a liability to many sportsbooks week-in, week-out.
In fact, scoring average is one of ten individual NBA records Michael Jordan still retains which may never be broken. It's likely his career 30.1 points per game average will remain unmatched, no matter how many threes a player like Steph Curry drops in or how lackadaisical NBA defenses become. Coupled with that 30.1 ppg average, Jordan led the NBA in scoring for a record seven consecutive seasons, a remarkable achievement. As the icing on this cake, Jordan also led the NBA in scoring a record 10 times total. The next closest player to Jordan is Wilt Chamberlain with seven scoring titles (and he once scored 100 in a game!), so, yeah, it's likely that all three of MJ's scoring records are carved in stone.
Of course, those numbers are just his regular season stats. Jordan always seemed to find a second gear when the playoffs commenced, and a third gear when he reached the NBA Finals.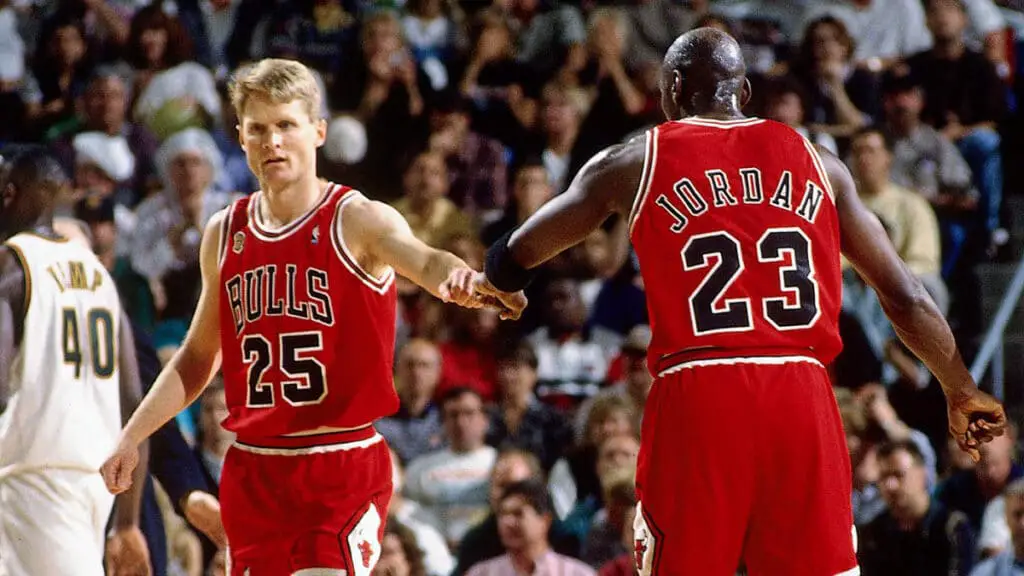 While LeBron James managed to eclipse Jordan in 2017 for the most career points scored in the playoffs, Jordan is still No. 1 all-time when it comes to average points-per-game in the playoffs with 33.4. That's right. Jordan averaged 3.3 points more per game in the playoffs than he did in the regular season. Of course, when you drop in an all-time record of 63 points in a single playoff game, it won't hurt your career averages.
On five different occasions, Jordan averaged over 40 points-per-game for a playoff series. More remarkably, he averaged 41.0 ppg in the 1993 NBA Finals versus the Phoenix Suns. He did that while averaging 8.5 rebounds and 6.3 assists per game in the series. But that 41 ppg average in the Finals is yet another record number that may never be touched.
Not surprisingly, Jordan was named the MVP of the 1993 NBA Finals. He won the NBA Finals MVP award in all six of the Bulls championship runs, a record that may stand the test of time in basketball or any sport for that matter.
Yet, Michael Jordan as a player was about more than just scoring. Often forgotten given his gaudy offensive numbers, Jordan played defense as well. He was named to the NBA's All-Defensive First Team a record nine times (he led the NBA in steals three times), he's the NBA's career record holder for Box Plus/Minus at 9.21, and his PER (player efficiency rating) stands at an all-time record of 27.9.
Yes, Michael Jordan could do it all. As a player. As an NBA team owner? Well, that remains to be seen.
For More Great Chicago Sports Content
Follow us on Twitter at @chicitysports23 for more great content. We appreciate you taking time to read our articles. To interact more with our community and keep up to date on the latest in Chicago sports news, JOIN OUR FREE FACEBOOK GROUP by CLICKING HERE