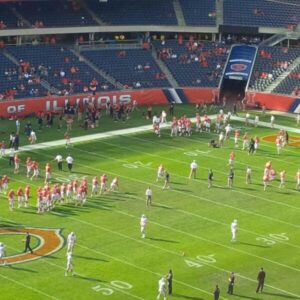 The Illini look to go 3-0 today.
CHICAGO- It's being labeled a "Chicago Homecoming" as the Illinois Fighting Illini are making their first trip to Solider Field since 1994. Today, the Pac-12's Washington Huskies (1-0) make their way to the Windy City to challenge the Illini.
The focus will be on the Illini offense versus the Huskies defense. The Illini have scored almost 90 points and gained nearly 1,000 yards of offense this season. Washington's defense on the other hand, has only given up two field goals and 346 yards of total offense in 2013.
Chances are that which ever side wins the battle at the line of scrimmage will win the game today. Illinois offensive coordinator Bill Cubit will need to get creative against a defense that is fundamentally sound.
One thing that could help Illinois is to attack Washington's defense the same way they did against SIU and Cincinnati. Senior quarterback Nathan Scheelhaase will need to a have a near flawless game if his team is to have a chance.
The Illini will also have to get everything they can out of duel-threat Sophomore running back Josh Ferguson. Another big plus would be if Junior tight end Jon Davis could pitch in. He only has six catches for 39 yards and a touchdown this year.
The biggest concern will be with the Illini offensive line which has seen their fair share of injuries this season. They have to protect Scheelhaase at all costs and they need to create holes for the running the game.
They will also need to win the battle in the trenches against a defensive line that is built for speed. If the Illini can accomplish these things then they will be in good shape to win the game today.
You can follow me on Twitter for game updates @GabeSalgado82 #Illini