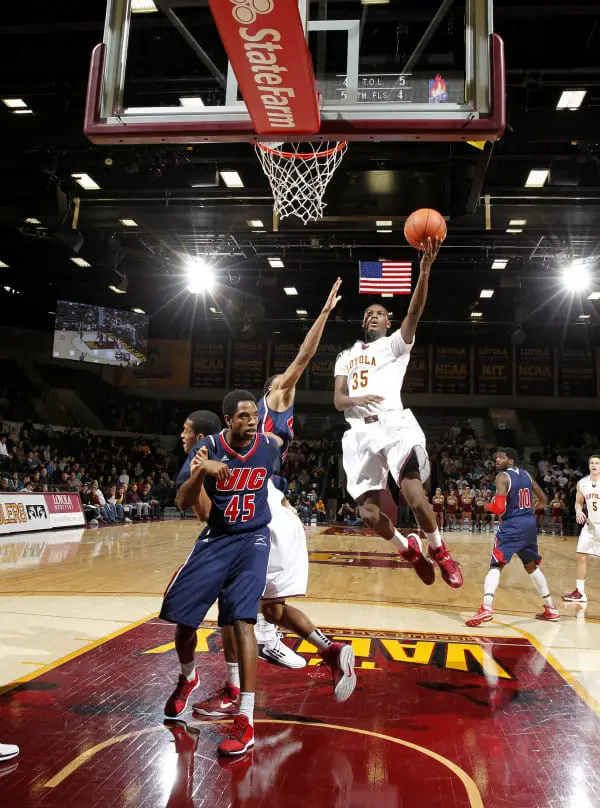 As the old saying goes, "what a difference a year makes". That statement definitely holds true for the Loyola Ramblers. After posting a 15-16 record in 2013, it would appear that the Ramblers took a step back this year by finishing with a 10-22 record. But I wouldn't consider that to be the case and here's why……
For starters; switching conferences is tough for any program, just ask teams like Notre Dame and Butler. After spending over a decade in the Horizon League, the Ramblers moved into the Missouri Valley Conference looking for a new challenge. They also replaced Creighton to who moved to the Big East.
The MVC is home to one of the best teams in the country in undefeated Wichita State (finished the season 34-0 and is a No. 1 seed in this year's NCAA Tournament), as well as underrated Indiana State, a surprising Illinois State squad and a scrappy Missouri State team. The new atmosphere was bound to have it's challenges. The other issue for the Ramblers this year was not having any seniors on the team.
Forward Ben Averkamp along with guards Jordan Hicks and Cully Payne accounted for almost half of the teams offense last year. This year, the Ramblers looked to juniors Christian Thomas (forward), Joe Crisman and Jeff White (guards) for guidance. But it was a freshman who took upon the burden of scoring the bulk of the teams points.
Guard Milton Doyle began the season on the bench but found his way into the starting lineup in no time. His ability to score at will, carry his team on his back, and fearless style of play garnered him numerous awards including MVC Freshman of the Year. He finished the season averaging 14.9 points per game, leading the team in that category.
Thomas, Crisman and White did their parts as well. All three men finished in the teams top five in scoring, rebounding, assists and minutes played. Crisman showed that he is a solid shooter, White was a dependable sixth man off the bench, while Thomas proved that despite having a shooting guard's body (6-6, 220), he isn't afraid to mix it up with bigger guys in the paint. All four of these men will be this team's leadership next year, especially with White, Thomas and Crisman becoming seniors.
Another reason why Loyola struggled more often than not was the lack of a "big man". Standing at 6-8 and weighing 230 pounds, sophomore forward Nick Osborne was expected to provide the toughness and size underneath the rim. He only played 17 minutes a game and only managed averages of five points and four rebounds per contest.
There were also times where he lacked the toughness and intensity needed to be more productive at his position. Fellow forwards Cody Johnson and Matt O'Leary (sophomores) along with freshman Jeremy King tried their best to fill in but all three men are still developing their own skill sets.  The biggest flaws for the Ramblers however were turnovers and poor second half defense.
In 21 of the team's 22 losses they committed double digit turnovers. Nine times out of ten, turnovers lead to points for the other team, and that's exactly what happened to Loyola. In 10 of those losses, the Ramblers either had the lead or were tied at halftime only to falter in the second half. If Loyola-Chicago had been able to hang onto those leads, or limit those turnovers, they could have easily been a .500 team.
Heading into next year, the Ramblers need to improve their second half defense, cut down on turnovers and get better efforts from their guys up front. The good news is that barring any transfers, everyone should be returning next season (with some new recruits of course). They'll have another year of experience under their belts, they'll have another year to prepare, they'll become more familiar with the MVC  and hopefully their skills will be improved as well.
Follow me on Twitter @GabeSalgado82
For More Great Chicago Sports Content
Follow us on Twitter at @chicitysports23 for more great content. We appreciate you taking time to read our articles. To interact more with our community and keep up to date on the latest in Chicago sports news, JOIN OUR FREE FACEBOOK GROUP by CLICKING HERE