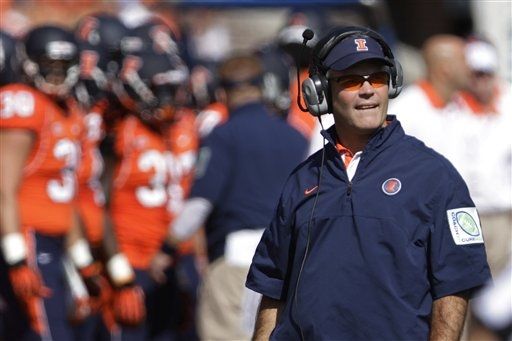 Success is defined by Merriam-Webster dictionary as "a favorable or desired outcome." No matter how you define success, going 2-10 and failing to secure a Big ten win for the first time since 2005 is anything but successful for the Fighting Illini football team. Nobody understands that more than second year Illini coach Tim Beckman.
After leaving Toledo and inheriting an Illinois team that owned back to back bowl victories, Beckman failed to meet expectations. Illinois finished last in the Big Ten in Total Offense (3,530 yards) and passing (2,026 yards), second to last in rushing (1,504 yards), and third to last in team defense. It also doesn't help that the Illini are losing two All-Big Ten second team selections (defensive end Michael Buchanan and offensive tackle Hugh Thornton) and three All-Big Ten honorable selections (cornerback Terry Hawthrone, center Graham Pocic, and defensive tackle Akeem Spence).
In addition to key losses, a bevy of coaching changes, including adding Bill Cubit as offensive coordinator, have raised even more question marks for the team heading into this season. With the criticism of last season weighing Illinois down, the team can only look forward.
"One of the things that we talked about also as a group is we're taking one challenge at a time in a very, very positive way," Beckman said. "We're not going to let negativity infiltrate our program. We're going to be positive with a great passion towards what we want to get accomplished."
Senior quarterback Nathan Scheelhaase had a busy offseason as he earned a bachelor's degree in communications and also got married—he will return for his senior season as he works towards a master's degree in recreation, sport and tourism. Scheelhaase missed two games with a sprained ankle, but the injury wasn't his biggest concern last season.
With so much going on for Scheelhaase off the field, his on the field performance left something to be desired. Scheelaase threw for a career-low 1,361 yards and 4 touchdowns and was replaced by junior Reilly O'Toole in various games throughout last season. As quarterback, Scheelhaase is at the center of the offense and responsible for running the Fighting Illini attack.
With a Big Ten leading four selections in the 2013 NFL Draft, the fourth straight year the Illini have had four players drafted,  Illinois usually isn't short on talent. As Scheelhaase says, what they lack is chemistry.
"I think we relied on talent too much," Scheelhaase said. "Obviously people speak about our draft picks and how much talent we've had—and yeah, we have had a whole lot—but I don't think we've really found that togetherness and figured out what it is to play together as one. When you do figure that out you really can see a lot of big changes happening."
Senior defensive lineman Tim Kynard says one thing has already changed.
"Just the simple mindset of the team," Kynard says. "People are hitting career bests in the weight room, we're smashing our conditioning tests, guys in the winter and spring ball showed they are ready—less mistakes, learning the system. Year two is always the improvement year."
Senior offensive lineman Corey Lewis may have had the most difficult season of any Illini player—and not because of poor performance on the field. Lewis battled back from three torn ACLs and five knee surgeries to return to the field November 3rd against Ohio State.  Lewis was out for 31 months and was approved for a rare sixth year of eligibility for this upcoming season. Lewis's 6'6" 310 pound frame will give the shaky Illini O-Line a much needed boost. Even though Lewis was barely in pads last season, the losses still hurt.
"2-10 is unacceptable anywhere you go," Lewis said. "Everybody feels like they have a great offseason and then they go 2-10 and what'd you work that hard for? I could've went home and did nothing and went 2-10."
2-10 is certainly a tough pill to swallow for the Fighting Illini, but it's not uncharted territory. In 2005 under new coach Ron Zook, the Illini only mustered two wins in each of Zook's first two seasons. Zook, like Beckman, was criticized and questioned left and right and his job was hardly secure. Seemingly out of nowhere, led by quarterback Juice Williams and running back Rashard Mendenhall, Illinois won nine games in 2007 and made their first Rose Bowl since 1983. The Rose Bowl is a little farfetched for the 2013 Fighting Illini to say the least, but success isn't only about wins.
"A successful season to me would be a season of us becoming a team," Kynard says. "Last year we were living in the past and guys weren't 100% buying into the new system. I believe if we become a team the sky is the limit for our team."
For More Great Chicago Sports Content
Follow us on Twitter at @chicitysports23 for more great content. We appreciate you taking time to read our articles. To interact more with our community and keep up to date on the latest in Chicago sports news, JOIN OUR FREE FACEBOOK GROUP by CLICKING HERE