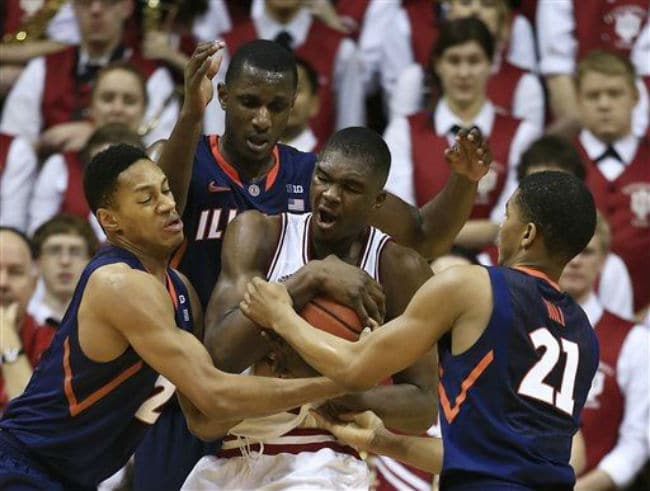 2014 just hasn't been the Illini's year.
The Fighting Illini were 11-2 when they took on Indiana at the State Farm Center on December 31st. The game on New Year's Eve was a Big Ten opener for both teams, a fitting way to kick off what seemed to be another big year in the Big Ten.
Offense wasn't hard to come by in that game, with Rayvonte Rice scoring 29 and Tracy Abrams and Joseph Bertrand combining for 30.
Illinois held off 30 points from sophomore Yogi Ferrell to hold onto the 83-80 overtime victory.
The Illini's group of young overachievers looked athletic, fast, tough, and ready to take the Big Ten by storm.
Then, just like the past few years, the Illini faced a harsh reality.
The Big Ten is an unrelenting conference that forces even the most consistent of teams to falter under pressure. Even Big Ten staples Ohio State and Wisconsin suffered losing streaks in the hyper competitive conference this season, much less young, vulnerable teams like the Illini.
It's seems like the same narrative each and every year for the Illini. Even with a new group of players, Illinois has failed to remain afloat in the Big Ten.
When Illinois faced Indiana yet again, this time at Assembly Hall in Bloomington, the Illini looked like a shell of the team that started 12-2.
Illinois entered the game losing five straight games, and that's exactly what they looked like throughout the first half.
The Illini were held scoreless for over seven minutes and were held to five points almost half way through the first half.
Indiana freshman sensation Noah Vonleh used his freakishly long arms to disrupt shots inside and dominate the glass. The Hoosiers outrebounded the Illini 42-28 and seemed to get the better of every 50-50 ball.
During their five game losing streak, Illinois has gotten off to slow starts causing them to play from behind throughout. Illinois has averaged 24.6 points per game in the first half and finished with 24 first half points in this one.
After failing to register a single point against Ohio State, Rice looked like the lone Illini player with a sense of urgency.
Rice finished with 20 points on 7 of 11 shooting and was the only Illini player to finish in double digits.
Illinois shot only 18-54 for 33.3% from the field. Take away Rice's shots and the Illini were only 11-43 from the field for 25.6% from the field.
You can't win many games hitting just a third of your shots, especially when you're only able to convert on five shots from behind the arc.
After scoring 19 points at Ohio State, Bertrand finished with 2 points on 1-11 shooting.
It's hard to win a game when someone else is expected to carry the load from one game to the next.
After being held to 2 first half points, Ferrell scored 15 points in the second half as Indiana separated from the Illini to take the 56-46 win.
It's not like Illinois has been getting blown out either. In the six game losing streak, besides the 25 point blowout at Wisconsin, Illinois has lost by an average of 9.4 points. Slow starts, combined with mistakes down the stretch and failing to find a scorer in the clutch has plagued this team.
The six game losing streak has been full of air balls, travels, turnovers, missed layups, and missed assignments. It was wishful thinking to believe a young team like this one would be exempt from committing mistakes, but it's discouraging to see the same mistakes happen each game.
Each year the Fighting Illini seem to find a way to turn the biggest of slumps around at the flip of a coin—and maybe that's what people expect from this team.
When Illinois lost six of seven games last season, a Tyler Griffey buzzer beater lifted the Illini past the No. 1 Hoosiers and gave the team the spark they needed.
This time there was no buzzer beater, no heroics, no comeback, and there is certainly no winning streaking on the horizon.
Coach John Groce has been a magician at times, but it will take something more tangible for this team to turn it around. Maybe Illinois will have to embrace the word they've been avoiding all along. Rebuild.
For More Great Chicago Sports Content
Follow us on Twitter at @chicitysports23 for more great content. We appreciate you taking time to read our articles. To interact more with our community and keep up to date on the latest in Chicago sports news, JOIN OUR FREE FACEBOOK GROUP by CLICKING HERE