Small sample sizes are a big reason as to why baseball fans and analysts scoff at any positive performances in spring training. Andrew Cashner's spring doesn't offer any exception, as his 3.97 ERA is certainly good enough to be the Cubs' fifth starter on the surface, although his peripheral statistics offer evidence that he should return to Triple-A for more seasoning.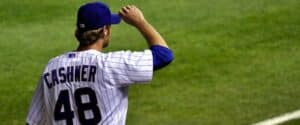 Cashner has had a spring training that offers some things to improve, while also a few areas that he can sustain moving forward into the 2011 season. His WHIP is a horrendous 1.59, elevated mostly due to his high walk rate. He currently has walked seven batters, with only six strikeouts.
Cashner does sport a modest .262 batting average against, and if he can continue that success, he could see a modest 2011 campaign. He is also making hitters pound the ball into the ground, as evidenced by his excellent 3.00 ground-out/air-out. If Cashner could focus his 2011 campaign towards pitching to contact, rather than the strikeout, he may see some success in the year. He can then build upon this year, and progress towards limiting contact with his pure stuff in the coming seasons.
His poor K/BB ratio helps elevate his fielding-indpendent pitching (FIP) statistic, which is currently a 5.08 this spring. Cashner could simply be focusing on his third pitch – a change-up – which would diminish his K%. He is throwing about eight pitches per inning, so this could be the reason for a limited amount of strike-outs. If he continues to be economical with his pitches, and work on his free passes, he could see a lot of innings in his first season as a starter, while also suppressing his pitch count.
While 11.1 innings certainly isn't the statistical sample you want to garner sufficient evidence towards a conclusion, the performance that Andrew Cashner has shown thus far in spring training gives a hint as to how he can improve moving forward into 2011.
For More Great Chicago Sports Content
Follow us on Twitter at @chicitysports23 for more great content. We appreciate you taking time to read our articles. To interact more with our community and keep up to date on the latest in Chicago sports news, JOIN OUR FREE FACEBOOK GROUP by CLICKING HERE