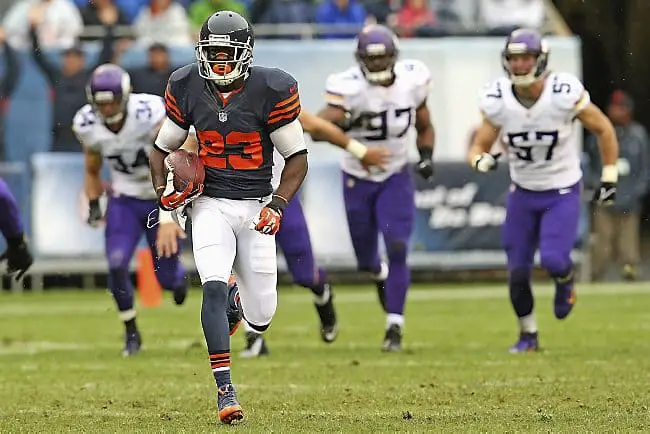 Devin Hester has been responsible for more than his fair share of Bear wins over the years. While spending 3 million dollars on a player just returning kicks isn't economically feasible. Hester still provides value to the Bears solely as a returner.
According to NFLTradeRumors.com, the Bears aren't interested in re-signing Devin Hester, and that potential decision requires accessing what Hester did last year returning kicks.
Forum member Slacker did a great job breaking down all of Hester's returns in 2013 here
Out of the 38 times Hester took a kick out of the endzone, he got to the 20 yard line or further 21 times, and 17 times he didn't reach the 20. So Hester taking it out of the endzone resulted in a net positive more than 50% of the time, and often times the positive was much more than 20 yards.
Despite not being as effective returning kicks back for touchdowns, Hester still requires teams to game-plan around him, and was responsible for the Bears defeating Minnesota in 2013, with a Bear record 249 kick return yards.
Hester led the NFL in kick return yards with 1442 yards, while also having the most returns with 52 in 2013.
Looking at Devin Hester's punt return stats in 2013, he returned 18 punts for 256 yards, good for 16th in the NFL. His average of 14.2 yards per punt return ranked sixth in the NFL.
The argument comes down to whether or not its worth it for the Bears to carry one member of the 53 man roster to focus solely on returning kicks. As much as I love Hester, I don't think that is optimal roster construction.
However, an oft-injured Percy Harvin played in only 3 games during the 2013 season, made 11 million dollars, but his fresh legs on his kickoff return against Denver put the proverbial nail in the coffin for any potential Denver comeback.
The Bears should bring Hester back solely for the reason that he still has to be accounted for in the opposition's gameplan and if teams don't have a gameplan to contain him, he can still do a lot of damage to opposing special team units. I'm not sure a player like Michael Ford commands that same respect.