Rapid reaction from the Bears' selection of Georgia's Leonard Floyd after trading up to select him with the #9 overall pick in the NFL Draft:
Earlier in the day, I heard a soundbite from former Bears and New York Giants executive Greg Gabriel saying that the Bears would likely be choosing between Sheldon Rankins, Shaq Lawson, or Leonard Floyd at #11. Looks like they clearly had Floyd on their mind the whole time and weren't willing to wait for him.
The Bears traded up in the draft for the first time in 20 years, giving up the 11th overall pick and one of their 4th rounders to the Tampa Bay Buccaneers to grab Floyd in an effort to bolster their pass rush. Considering how little the Bears gave up on the back end of the draft (they still have one 4th round pick and maintain seven picks over the rest of the draft), the trade was a small price to pay for the Bears to get their guy.
At the same time, while I like the pick the more I dive into Floyd's potential trajectory, I still don't love it yet.
Floyd is one of those players that fits in the "need" category I wrote about yesterday and make no mistake, the Bears do need a  pass rusher off of the edge. Floyd, to me, seems like the kind of player that would remind the Bears brass (and defensive coordinator Vic Fangio) of Aldon Smith: a long, rangy, athletic outside linebacker that can consistently beat tackles off the edge with pure speed and ultra-quick counter moves, as well as using length to keep blockers at bay. Here, he absolutely torches his man off the edge for the strip sack…
And right here, he freezes a running back with a ridiculously smooth move:
That remind you of a certain someone that used to play for Fangio?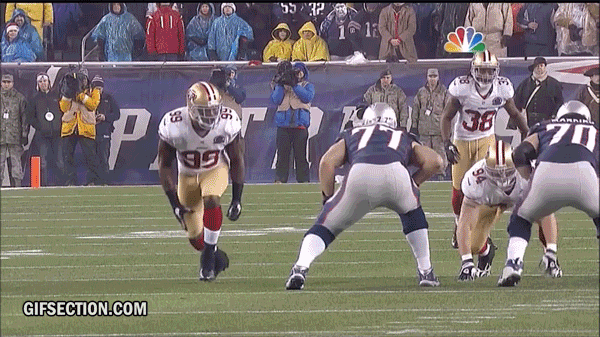 In fact, Floyd's athletic measurables surpass Smith's in a few aspects: Floyd is faster, more explosive, and taller than former 49er that Fangio coached into a monster. His speed and agility have also allowed for some positional versatility with Floyd, as Georgia sometimes utilized him at inside linebacker as well.
This in particular draws some comparisons in my mind to the Patriots' Jamie Collins, who essentially acts as a Swiss Army knife for New England due to his ability to cover down the field and chase down running plays from the middle of the field. Here's Floyd running stride for stride with a slot receiver down the field:
Now watch Collins doing it, and perhaps you can see what the Bears might be envisioning besides just pass rushing ability:
Collins also happens to be a very similar athletic comp to Floyd, so you get an idea of what the Bears can be hoping for with the Georgia linebacker. And if that's what we get from him, then Floyd might just be one of the steals of the draft, even at #9.
One big factor in both Collins' and Smith's favor, though, is weight (both checks in around the 250-260 pound range while Floyd is rumored to play closer to 230-235), and Floyd's lack of it—plus the fact that he opted not to bench at the combine, suggesting a lack of upper body strengh—is something that concerns me about him, especially early in his career.
While he clearly has elite speed and athleticism off the edge as well as a good feel for pass rush moves, what happens if an offensive tackle gets leverage on him? Also, is he going to be a dominant force against the run at this level? My gut is telling me that until he spends some time in an NFL weight room and has time to add some beef to his frame, the answer is going to be no.
That's not to say that it will never happen, as I do have a great amount of trust in the Bears staff will get him up to speed and put him in positions to succeed. This could include using him a little bit at inside linebacker behind Danny Trevathan and Jerrell Freeman in possible three linebacker sets if the Bears decide to mix up fronts.
Similar to Smith in San Fran, Floyd is probably going to be a designated pass rusher his first season while he gets stronger and develops his body. But I think that while we're going to see some flashes from him this year, Floyd's snaps are going to be limited as he experiences growing pains against more elite competition.
Also, though I mentioned that trading the 11th pick and one 4th rounder wasn't too much of a ransom to make the selection they really wanted, I'm not totally convinced that Floyd would not have still been there at #11. Truthfully, in trading up to #9, I thought it was possible the Bears could be trying to select Laremy Tunsil, even in light of the fiasco involving him in a gas mask apparently taking in a bong hit of some kind. After all, Tunsil was considered by some to be the #1 pick in the draft when the Titans still held the pick.
Anyway, it seems the Bears felt something that we didn't and weren't willing to risk Floyd being plucked by another team ahead of them. Ultimately, only time is going to tell if Vic Fangio help him replicate the kind of success that Smith enjoyed during his years in San Francisco (or see if he has some Collins-type versatility). At the same time, Floyd could turn out to be a Barkevius Mingo/Dion Jordan-type player: freak athletes that haven't been able to turn their upside into production.
For right now, I'm thinking that this is more about what Floyd will become in a few years as opposed to what he is going to be when the season starts. And I'm not quite sure yet whether that was worth giving up a pick to find out if it wasn't totally necessary. Then again, if Floyd becomes a multi-dimensional terror in two years, none of this will matter.
For More Great Chicago Sports Content
Follow us on Twitter at @chicitysports23 for more great content. We appreciate you taking time to read our articles. To interact more with our community and keep up to date on the latest in Chicago sports news, JOIN OUR FREE FACEBOOK GROUP by CLICKING HERE