Bears trade Justin Fields in new mock draft
The Chicago Bears need a quarterback in 2023. Justin Fields spent most of last week talking about his plans to become more of a quarterback. A new mock draft came out with a scenario where the Bears abandon the Fields experiment and draft a new quarterback.
The 33rd Team scouting department came out with a new mock draft Monday where Justin Fields and Aaron Rodgers are traded to new teams. The 33rd Team scouting department is comprised of former NFL scouts. But one wonders why they're not currently scouts after reading this new mock draft.
Bears trade Fields for his former teammate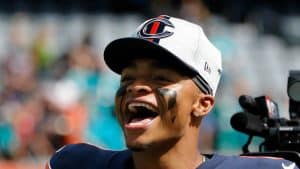 The Bears trade Fields to the Carolina Panthers for their 9th overall pick in the draft. (Since the Bears drafted  Fields with the 11th overall pick in 2021, his value would have gone up two spots. But the Bears would still be short on the original deal by just over a first-round pick) The 33rd Team then has the Bears drafting quarterback Bryce Young with the number one pick:
"The Chicago Bears pull off a shocking trade sending Justin Fields to the Carolina Panthers for the ninth pick of the draft, and here they pick Young (scouting report). The Bears feel like Young is just too talented to pass up and hand the keys to the franchise to the rookie."
With the 9th overall pick, the Bears receive Fields' former teammate Paris Johnson Jr.: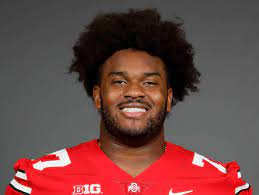 "The Bears have two picks in the top nine after trading Fields to the Panthers. They pick Johnson (scouting report) to protect their new rookie passer."
This is a pretty ridiculous concept by the 33rd Team. They likely made some exciting trades for attention and clicks. The Bears need a Paris Johnson and some receiver help for a quarterback that's over six-foot tall with an NFL frame. Drafting Young to throw for Johnson would be another step back for the franchise.
The team has way too many holes to draft a quarterback in the first round this offseason. The Bears need to get a true number-one wide receiver and some pass blockers, then we'll see if the Bears should start Shopping in the draft for a quarterback in the 2024 draft.
For More Great Chicago Sports Content
Follow us on Twitter at @chicitysports23 for more great content. We appreciate you taking time to read our articles. To interact more with our community and keep up to date on the latest in Chicago sports news, JOIN OUR FREE FACEBOOK GROUP by CLICKING HERE