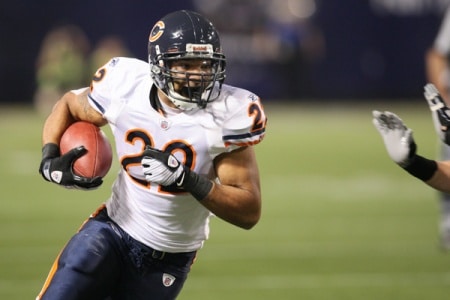 Jay Cutler, Matt Forte, Brian Urlacher and the rest of the Chicago Bears showed the football world that they are not to be overlooked in this season's Super Bowl Contenders discussion.  After dominating the Atlanta Falcons, a team considered one of the favorites to represent the NFC in the Super Bowl, there may be several "experts" reconsidering their stance on the Monsters of the Midway.
Let's get to the grades!
Quarterback:  A-
Cutler completed 69% of his passes for 312 yards and two touchdowns.  He did have an interception when a pass was deflected by one defensive lineman and grabbed by another, but all things considered, Cutler looked very, very good.  The Falcons pressured him several times, but he seemed to make very smart decisions about throwing the ball away and he trusted his Offensive linemen to keep him upright.  If Cutler looks this good all season, we're going to be very, very happy fans.
Running Back:  A
Forte amassed 68  yards on 16 rushes (4.3 ypc) and led the team with five receptions and 90 receiving yards.  He also found pay-dirt once when a screen pass from Cutler found Forte late in the 1st quarter.  Thanks to some tackle-breaking and down-field-blocking, Forte scampered 56 yards on that reception alone.  He was stuffed in the backfield a few times, but overall, a very, very impressive 158 yards from Matt Forte today.  Now it's time to pay the man.
Wide Receiver:  A-
Roy Williams caught more passes than any Wide Receiver did for Chicago (4) today, Johnny Knox got open deep several times, and Devin Hester had the bubble-screeen-turned-school-yard-football reception that really set the tempo for the Bears offensively.  The Receivers really seemed to click today.  They even blocked downfield better than they'll ever get credit for.
Tight End:  B
Spaeth caught a Touchdown in his Chicago debut, and Davis showed why trading Olsen really wasn't a very big deal.  Both players made plays in the passing offense and blocking as well.  Neither of them are going to have a 10-reception game, but with all the weapons Cutler utilized today, they won't need to.
Offensive Line:  C+
A C+ grade last season may have been the best grade the Bears Offensive Line earned all year.  This game, I thought they played admirably, but not great.  Cutler had time on most plays, but still took 5 sacks (he slid while running the clock down for one of them) and received brutal hits after getting rid of the ball.  Ed Hochuli's muscles blurred his vision on a non-called late hit once, but he returned the favor a couple of quarters later.  Overall, we need to run-block better, but the Offensive Line already looks better than last season's OL.
Defensive Line:  A
The only thing keeping the Defensive Line from earning a perfect grade was the fact that the Falcons ran for 110 yards on only 14 carries.  However, Julius Peppers forced a fumble and recovered another to go along with two sacks, Henry Melton had two sacks in his first career start, and Amobi Okoye recorded a sack as well in his first game with The Beloved.  Matt Toeaina also seemed to be involved in everything, and even Nick Reed made a play late in the game.  Not to be lost in the great DL play was the effort of Israel Idonije and Anthony Adams.  Neither had amazing games, but both did everything they were expected to.
Linebackers: A-
Urlacher, Briggs and Roach all had great games.  Urlacher led the team in tackles, had the first interception of the season for Bears defense, and scored a TD when he picked up a fumble deep in Atlanta Territory.  Briggs and Roach were good in coverage, and good against the run for the most part.  We had a couple breakdowns in the 2nd half on filling lanes against the run, but the Bears were comfortably leading at that point.
Defensive Backs:  B-
Overall, they played okay.  Major Wright continues to break late against passes, and we saw first hand Brandon Meriweather go in for the kill on a pass he probably could have intercepted.  But they did what they  needed to do today.  I hope to see a better performance out of them against the Saints.  The standout of the D-Backs today was easily Charles Tillman, who forced a fumble and played excellent pass defense on Atlanta's two big receivers.
Coaching Staff: A-
It took a while, but in my honest opinion, Mike Martz had a better game plan than Rod Marinelli.  The defense played very well today, but the offense was nearly perfect.  Perhaps the best play call of the day was one where we didn't even complete a pass — Late in the 1st half while the Bears were in the red zone Cutler rolled out to the strong side and the entire defense followed him.  TE Kellen Davis stayed on the other side of the field (along with Chris Williams to block) and Cutler turned and threw a blind pass across the field.   The pass sailed a couple of yards over Davis' head, but had it been on-target Davis could've walked into the endzone.  Overall, it was an excellent play call, along with most play calls the Bears executed on the field today.
(This article is written for ChiCitySports.com.  Like the article? Like talking Chicago Sports? Sign up here!)
For More Great Chicago Sports Content
Follow us on Twitter at @chicitysports23 for more great content. We appreciate you taking time to read our articles. To interact more with our community and keep up to date on the latest in Chicago sports news, JOIN OUR FREE FACEBOOK GROUP by CLICKING HERE