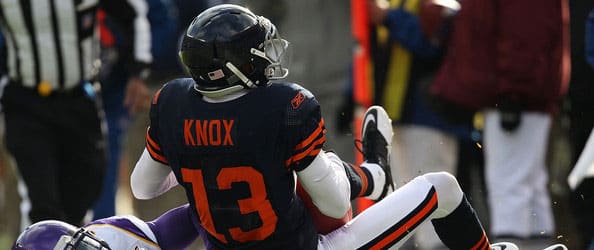 Johnny Knox isn't going anywhere Bear fans. Thursday started off with a lot of speculating that Johnny Knox was seeking a trade. News that Johnny Knox had been relegated to 2nd team behind Roy Williams, left the internet rattling that he was looking for a way out of Chicago.
Take a step back off the ledge Bear fans, it was all speculation
Although frustrated at the decision, Knox vows to work hard to regain his role in the offense. Knox stated "I'm a Bear, and I want to stay a Bear for life." Knox attributed all of the trade talk to "people trying to stir something up."
Knox vowing to work hard to regain his role says a lot about his character. In this day of professional sports when a player doesn't get playing time, they demand a change of scenery. Knox has left a good impression on Bear fans. This is the type of attitude I wish all players had.
Roy Williams is the #1 X WR in Mike Martz's system but, Knox should still see the field often as the Bears have a rotation of WR's. Knox was the big play receiver in the offense last season and the Bears still plan to utilize him in the offense. He led the team with 960 receiving yards and 5 touchdowns. Knox has the speed to be an absolute threat in the NFL, he just needs to work on his route-running. Knox was directly responsible for several Cutler interceptions last season where he broke routes off/ran them short.
Mike Martz and WR's coach Darryl Drake both said he needs to work to regain his starting job. Both did note that he would still be "an integral part of the offense".
For More Great Chicago Sports Content
Follow us on Twitter at @chicitysports23 for more great content. We appreciate you taking time to read our articles. To interact more with our community and keep up to date on the latest in Chicago sports news, JOIN OUR FREE FACEBOOK GROUP by CLICKING HERE