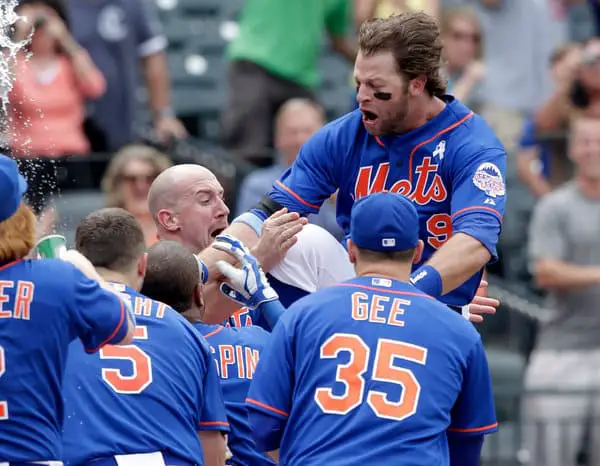 Cubs were set up to complete their first road sweep of the Mets since 1991, "set up" being the key phrase. 8 innings of shutout baseball going into the ninth, 2 homers and 4 runs coming out.
It seemed to be in the bag as the Cubs got ahead early with great hitting from Luis Valbuena and Starlin Castro in the first against Mets starter Jeremy Hefner. Alfonso Soriano put the Cubs on the board 1-0 knocking in Valbuena from third when he drove one into left.
In the fifth following a single from Castro and a walk to Nate Schierholtz, Soriano reached first safely from a throwing error by David Wright at third. That would be only the first Met blunder of a wild scoring play. First baseman Daniel Murphy corralled the ball and threw passed John Buck at home. By the time shotstop Omar Quintanilla snatched the ball near the Cubs dugout and threw into no-man's land, both Castro and Schierholtz scored to make it 3-0.
The Cubs felt more than comfortable with a slight cushion due to the stellar performance on the mound that Matt Garza was cooking up. Through the seventh, Garza was letting the Mets have another bitter taste of the Cubs starting rotation. He would even bail out Castro in the sixth when a throwing error would eventually lead to a dangerous situation with men on second and third. Garza went on to fan both Marlon Byrd and Lucas Duda to get out of it. Despite rebounding from Tuesday's horrific outing against the Reds, Garza left New York with a no decision from a 7 inning gem where he allowed just 3 hits collecting 6 Ks. Here's how that happened.
Kevin Gregg had pitched four straight days which earned him a rest. The staff then put the save opportunity in Carlos Marmol's hands. That choice became questionable immediately. The Cubs shutout quickly diminished with a solo shot by Byrd to begin the ninth. Marmol then walked Duda and gave up a single to Buck. Kirk Nieuwenhuis stepped up to the plate, blasted one to right, and it was over. Unable to sweep, Marmol and the Cubs would take the loss. Bobby Parnell took the win and the Mets salvaged the series for themselves.
Tomorrow the Cubs visit St. Louis to battle Majors League's best. Travis Wood (5-5, 2.65) will face Cardinal Shelby Miller (7-4, 2.21) at 6:05pm.
For More Great Chicago Sports Content
Follow us on Twitter at @chicitysports23 for more great content. We appreciate you taking time to read our articles. To interact more with our community and keep up to date on the latest in Chicago sports news, JOIN OUR FREE FACEBOOK GROUP by CLICKING HERE