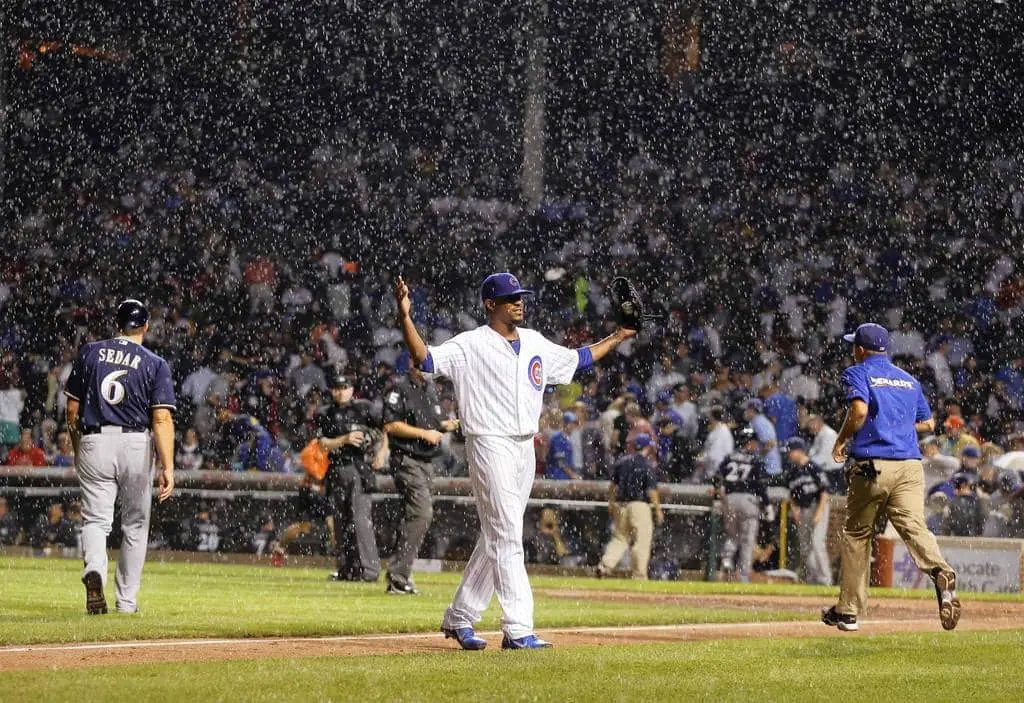 We got a taste of the future tonight as three key players locked in for the next several years did their part to make the rain go away. Starter Edwin Jackson appeared determined as ever to let nothing get in the way of tonight's Cub's victory.
Anthony Rizzo gave the Cubs a two run lead in the third after he took one out to center (14), plating David DeJesus. Starlin Castro would follow suit homering in the fourth (6).
Shortly after, Cody Ransom earned a free base and eventually touched home following an error by shortstop Jeff Bianchi and an infield single from DeJesus to make it a 4-0 lead.
Two outs into the top of the sixth the rain came, the tarp came on and put the two teams out of business for approximately 66 minutes. By now Jackson was 66 pitches deep.
The hour delay didn't seem to matter much because when play resumed, Jackson took back the mound and picked up right where he left off, getting his man to end the inning.
The Brewers, however, did remove starter Wily Peralta and replaced him with Alfredo Figaro. Didn't matter the pitcher, Cubs went to work again with hits from Wellington Castillo and Cody Ransom. DeJesus would knock them both in on a line drive into center to make it 6-0.
The only shot Jackson gave the Brewers was in the eighth when he got a lazy start covering a play to first. Rickie Weeks would later score on a double from Jonathan Lucroy. Jackson would exit upon inning's end, collecting just the lone run on 8 hits. 4 Ks and zero walks for the man who has won 4 of his last 6 decisions.
Web gem of the night goes to Nate Schierholtz, who in the sixth made a stellar diving play to get Norichika Aoki in right. Julio Borbon righted his wrong after he mis-fielded a one hopper in left. The sloppy play, though, was cause for Lucroy to be sent at third. Borbon gunned him down and, with Castillo's swiping tag, got his man.
The Cubs hope to take this momentum into tomorrow when they begin another four game stint at home, this time against the Los Angeles Dodgers. Starters will be Ricky Nolasco (1-1, 3.13) and Chris Rusin (1-0, 2.93) at 7:05pm.
For More Great Chicago Sports Content
Follow us on Twitter at @chicitysports23 for more great content. We appreciate you taking time to read our articles. To interact more with our community and keep up to date on the latest in Chicago sports news, JOIN OUR FREE FACEBOOK GROUP by CLICKING HERE