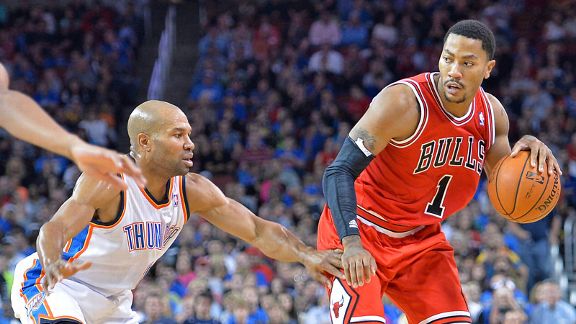 Derrick Rose was seen wearing a right arm shooting sleeve which may have contributed to his slow start and semi-off night. Not to worry Bulls fans, in a post game interview Derrick stated he was merely sporting the sleeve due to soreness in his arm. He has been shooting the ball so much during practice and shoot around to knock the rust off as quick as possible he has a sore arm because of it. This is not a part of his new game-time attire. Thank goodness.
He had a less than impressive start to this game but, ended on 6-15 shooting with 26 points. Like a lot of professional sports, it's how you finish. Derrick was strong, scoring 13 points in the fourth quarter, hitting three huge 3's in the final 4 minutes to seal the win, 104-95. Chicago is now the only remaining undefeated team in the preseason at 7-0. An accomplishment that will soon be forgotten during the opening tip on Oct. 29th.
Both teams battled throughout the first half before Chicago was able to pull away, heading into the locker room with an 11 point advantage. The dogfight continued throughout the third and for part of the fourth until Chicago put the Thunder away for good. It is important to know Durant and the starters were on the bench down the stretch.
Boozer scores 20 points and adds 14 rebounds, while Loul Deng proved to be yet again an asset on the offensive side of the ball with 20 points and 1o rebounds in 36 minutes. Jimmy suited up in his first game since hurting his knee in Rio, contributing 12 points and 4 rebounds on 4/6 shooting. Gibson added 8, while Dunleavy knocks off the cobwebs with 9 points.
Kevin Durant finished with 22 points followed by second year man Jeremy Lamb with 19. A very chippy Reggie Jackson pitched in with 14. He was seen at times during the third quarter going at it verbally with Derrick, which ultimately proved to be the Thunders biggest mistake of the night. Derrick would drive hard to the rim and take a punishing foul from NBA tough guy, Kendrick Perkins. After seeing the replay Kendrick told Derrick who at the time was shooting his free throws,
"You come in here you gonna have to roll with the punches", says Perkins.

While going through his patented free throw procedure Derrick replied, "I will come in every time, every time."
Two plays later, Derrick was crossing over Jackson off a screen and penetrated right to the rim straight at Perkins. Perkins failed to challenge Derrick, who obviously was unfazed by the threat.
Not one of these preseason games for the Bulls have been anything less than entertaining. It could be due to the return of Rose, the buzz surrounding this team, or the fact that Thibs will not ever come into a game, expecting to lose. What ever the case may be Chicago and it's fans are in for an amazing ride this season.  There is only one game left this preseason before the real games begin.
Both teams were without their starting big men tonight as Serge Ibaka sat out, and Noah continues to nurse his injured groin. He is now being called questionable for Tuesday nights opening game against the Miami Heat. Kirk Hinrich is "real close" according to Thibs and should make his return soon. Chicago will tip-off at 5pm against the Denver Nuggets on Friday to wrap up the preaseason. This game should be fun to watch as Nate Robinson makes his return to the UC.
Follow me on Twitter: @BullsZoneJason
For More Great Chicago Sports Content
Follow us on Twitter at @chicitysports23 for more great content. We appreciate you taking time to read our articles. To interact more with our community and keep up to date on the latest in Chicago sports news, JOIN OUR FREE FACEBOOK GROUP by CLICKING HERE