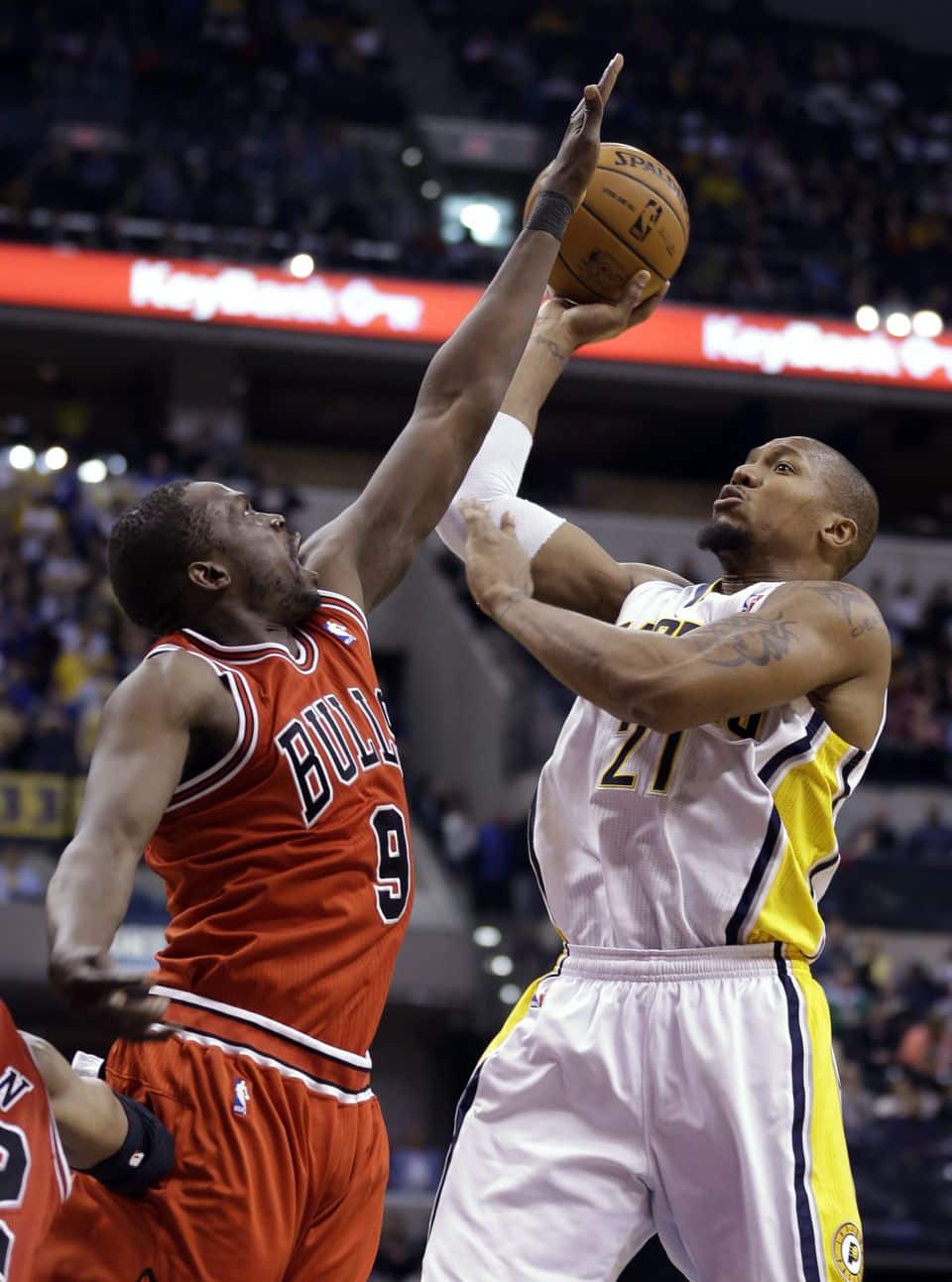 The Bulls Show (@TheBullsShow) is on a break this week, but to fill the void, I've decided to make my own #TheReturn to blogging with this debut post I'm calling "Nillz Hitz" (it's a working title). Hopefully more times than not, I'll be offering some quick thoughts on recent and noteworthy events on Derrick Rose and Company. As each podcast episode disclaims, I'm no expert, no insider, no journalist – just some dude that loves talking about your Chicago Bulls.
Small Ball, Small Defense. Despite a valiant effort, the short-handed Bulls fell short to their division rival Pacers Monday night in Indianapolis, 111-101. In a game not expected to generate much offense due to both teams' defensive identities, the Pacers scored a season high 111 points on nearly 53% shooting. Indiana's production and efficiency appeared to be the result of their physicality inside the paint – a dominating presence accentuated by Joakim Noah's absence due to injury. David West (29 points) and Lance Stephenson (15 points) oftentimes took advantage of the Bulls' 3 to 4 guard lineups by bullying their way into the lane and converting from short distances.
 The Italian Willis Reed. The Bulls were led by Marco Belinelli who scored a season high 24 points off the Bulls bench. Marco's nearly heroic performance largely came after he sprained his ankle in the first quarter. No word on the severity of the injury, but concern still lingers given the roster's recent wave of injuries and suspect training staff.
We Still Get Big Macs, Right? The Bulls loss ended their streak of 41 consecutive victories when scoring 100 or more points. On the flip side, Indiana continued a streak of their own by winning their 14th home game in a row this season.
Throw the Challenge Flag. The Bulls have lost twice to the Pacers this season and in both instances, the game arguably hinged on a controversial call/no-call. With 1:30 left to play and the Bulls down 4 in Monday's game, a loose ball was deflected out of bounds and awarded to Indiana when replays clearly showed the Pacers' Roy Hibbert touched the ball last. No review was conducted and Paul George subsequently drained a three for Indiana on the other end. The ruling in the Pacers' favor brought back memories of the teams' December 4th game at the United Center where Hibbert was not charged with a foul on a lay-up attempt by Luol Deng in the closing seconds.
Wardrobe Malfunction. Perhaps the highlight of the game (outside of Paul George's alley-oop dunk) was the fashion of Joakim Noah. The sidelined center was disciplined mid-game by the NBA for his choice of attire that did not comply with league rules. As a result, Joakim was required to change clothes if he wanted to remain on the team's bench. Joakim obliged going from homeless man garb to corporate chic. This wardrobe makeover was truly one of the better rags to riches stories of this NBA season (picture via @beyondthebuzzer).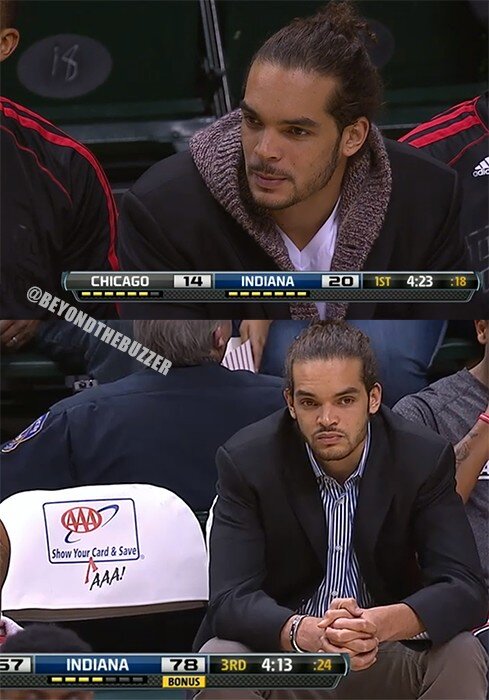 Pacers Are A Problem. It's amazing how much sports hatred I have for an Indiana team whose roster doesn't feature Jeff Foster. The animosity likely stems from my personal belief that the Pacers are full of the worst kind of goons – the goons that can actually play. I also have to acknowledge the possible jealousy that might come with realizing your opponent is a more athletic version of you. That all being said, the Bulls need to find a way to secure a top 3 seed and ensure the Pacers match up with the Heat in the 2nd round. While I still like a healthy Bulls team (including Rose) in a 7 game playoff series against Indiana, the playoff path of least resistance is always preferred and the Pacers remain a formidable opponent with serious upset potential. Unfortunately with Monday night's loss, the Bulls are now positioned behind the Pacers as the 4th seed in the East.
Moral Victories or Just Actual Defeats? This is the Bulls second loss in their last 3 outings, which is less disappointing when you consider the location, available personnel, and competitiveness of each game. The Bulls were still within 2 possessions under 2 minutes to play on both Friday night in Brooklyn and Monday night in Indiana with the majority of Chicago's starters missing in action. These impressive efforts on the road with highly limited resources are a huge testament to NBA coach of the year frontrunner Tom Thibodeau and the incessant execution of his defensive schemes and principles. I've almost become jaded by Thibs' wizardry and refuse to accept close losses as moral victories anymore, regardless of how many minutes Nazr Mohammed or Vladimir Radmanovic play.
Walking Dead. The Bulls have proven with their recent performances that they can remain competitive even in the absence of key contributors. I'm much less worried about the team's record during this injury epidemic compared to my concerns for the adverse effects on the players that currently remain healthy. A thin front court is testing the limits of endurance for Luol Deng & Taj Gibson and forcing these workhorses to play out of position. The fatigue may not be immediately reflected in February box scores, but could become more of a factor in the playoffs when this marathon of an NBA season reaches its finish line. The responsibility of defending bigger or quicker players could also make Gibson & Deng more susceptible to injury.
Silver Linings. If there is any consolation to all these injuries, it's that other teammates now have the opportunity to produce in expanded roles. We've been witnessing this all season long with Noah, Boozer, and Deng. As Rose continues to rehab, each of the Bulls starting front court have stepped up considerably this season and earned all-star recognition/consideration. More recently, Jimmy Butler took advantage of an ailing Deng to record career highs as a starter and emerge as a possible "Most Improved Player" candidate. Taj Gibson has also established himself as a consistent double-double threat when given starters minutes and Nate Robinson, fresh off his Eastern Conference player of the week honors, could have the highest value of any NBA contract at the league minimum. Depending on who you ask, the development and sudden depth of the Bulls' roster has either raised title expectations with Rose's impending return or just created more trade assets. With trade season upon us, I'll try to analyze a few Bulls rumors and speculation next time on Nillz Hitz (?) brought to you by the Bulls Show.