I am not one that usually agrees with Chicago Cub's pitcher, Carlos Zambrano, but he spoke nothing but truth yesterday when he called the Cubs "embarrassing' after being swept by the St. Louis Cardinals. I don't know if any of you have watched the Cubs lately(or any time, really) but if you have, it's hard not to agree with Zambrano's assessment.
The Cubs will most likely suspend Zambrano, but I don't see anything wrong with Zambrano's words. If anything, his words are the truth, and being a good teammate is like being a good friend: telling them the truth, though it may anger them at first, will prove helpful in the long run. Zambrano hasn't exactly been a 'lights-out' pitcher in his career in Chicago, and isn't really the sanest man or right person to be calling out his team when he's part of the problem as well, but at least he's on to something.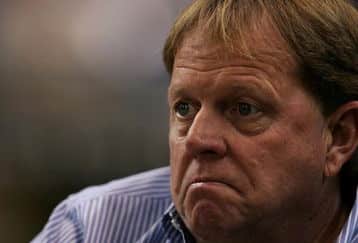 Despite the dead-on assessment by Zambrano, I highly doubt the ownership and management of the Cubs will do anything. In fact, Tom Ricketts still has his head in the clouds. When asked what was wrong with his team last weekend, Ricketts answered "Nothing. Just a lot of injuries."
Really? Just injuries? Claiming that injuries is the reason your team has sucked is a major cop-out in any sport. The problem with Jim Hendry's and Tom Rickett's team isn't the injuries, but that the injuries have shown the blatant problems with the Cubs: their farm teams. Good teams scout and develop players to fill in those voids while developing the player's talents, but Hendry has failed to grasp this concept.
Almost every player brought up could be summed up in one word:inadequate.
But Hendry and Ricketts are still acting like  crazed, balls-to -the-wall fanboys. Ricketts is  playing the fans as fools, and for once in my short life, Cub fans seem to be having enough.
The Cubs have been averaging around 40,000 people per game since 2006, but this season's average has dipped to an average of 34,818, 10th in the MLB. Cub fans are finally asking for a winning team, or at least some sign of progress before they pay for overpriced tickets to see a losing team, 11 games out of first place.
My dad always told me that if the Cub fans stopped going to the games and demand a better team, maybe the management would get off their butt and do something, but even when the fans stop showing up the organization still lives in denial.
Mark my words:as long as Hendry and the delusional management of the Cubs still have their jobs, the Cubs will never win a World Series.
For More Great Chicago Sports Content
Follow us on Twitter at @chicitysports23 for more great content. We appreciate you taking time to read our articles. To interact more with our community and keep up to date on the latest in Chicago sports news, JOIN OUR FREE FACEBOOK GROUP by CLICKING HERE