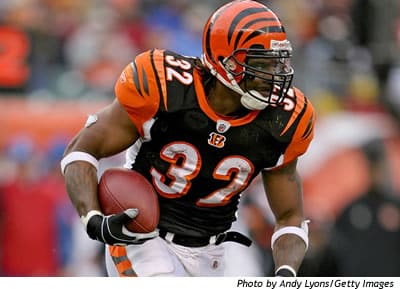 Chicago's favorite scorned RB Cedric Benson has been arrested in Austin, Texas for Assault….again. Bear fans are rejoicing across the nation. Should we feel bad for the guy? Not at all.
We gave up Thomas Jones after our Super Bowl run to make Benson our #1 RB and it failed miserably. Honest mistake however, when he left town he threw our organization under the bus. It was apparent the Cedric Benson the Bears had and the Cedric Benson the Bengals wound up with were two completely different players. Well…outside of crime preference.
Ricky Doyle, the sports director at Your News Now in Austin, reports Benson was arrested "early [Sunday] morning" and charged with "assault on a family member."

Per Doyle, Benson is currently in Travis County Jail and is facing a Class A misdemeanor.

Benson will be an unrestricted free agent (assuming a reversion to old CBA rules) in 2011, and there's was a good chance that he could land a nice contract because of the market's demand for running backs.

This reported arrest — along with the fact that Benson has a previous assault charge from June 2010, in Austin — won't do much to boost his value.

And depending on what we learn about the incident and on whether commissioner Roger Goodell and the league can enforce the personal conduct policy while the players are locked out, Benson could end up facing a suspension, something he miraculously avoided the last time he was arrested for assault.