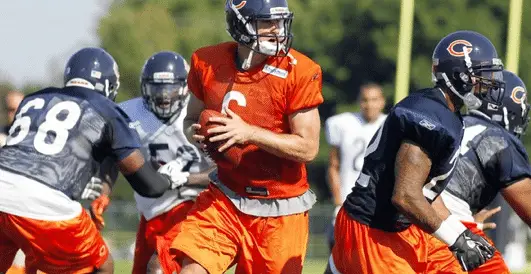 Thursday marked the day that newly signed free agents could participate in practice with NFL teams. This meant Roy Williams, Marion Barber, and crew would finally take the field with the rest of the team. Many Bear fans were excited and painfully awaiting this day for over a week. Here is a collection of brief news & notes from Day 6.
Of the new guys, Marion Barber made a big first impression.  He was popping pads and doing a little smack talking with Chris Harris during inside run drills.  Nice to see he's fitting in with his new teammates.  Just save a little something for the regular season Barbarian.
There seems to be some stiff competition for the last wide receiver spots.  The Top 5 (in no particular order) are Roy Williams, Hester, Knox, Bennett and Sam Hurd.  Newcomers Sanzenbacher, Jimmy Young, Onrea Jones Kris Adams and Andy Fantuz keep getting a lot of buzz.
New center Chris Spencer was snapping with the 2′s tonight while Roberto Garza rolled with the 1′s.  No big surprise there.  This could shape up to be an interesting battle to watch as camp goes on.
Lovie's Marcus Harrison update: "He's getting in better shape & before long he should be on the field. He's working hard to get back out there."
Caleb Hanie's 1st pass of 7-on-7 perfectly threaded ball down seam to Dez Clark.
Marion Barber and Chris Harris having some fun jawing in inside run drills.
Rod Marinelli on Corey Wootton: "He's got great tempo and is smart. He's really trimmed himself down."
For More Great Chicago Sports Content
Follow us on Twitter at @chicitysports23 for more great content. We appreciate you taking time to read our articles. To interact more with our community and keep up to date on the latest in Chicago sports news, JOIN OUR FREE FACEBOOK GROUP by CLICKING HERE