The 2012 NFL playoffs are under way. Unfortunately the Chicago Bears are not a part of the playoff pool. Fans can now look forward to the off-season. It will definitely be an interesting one to say the least. Former general manager Jerry Angelo was relieved of his duties, offensive guru Mike Martz resigned, and Mike Tice was hired as the offensive coordinator.
Regardless of who is hired as the new general manager, one would expect they will be much more competent than Jerry Angelo ever was. Angelo's major flaw was his inability to draft well year in and, year out. For the Bears to be remotely competitive in the next couple seasons, there are areas of concern that need to be addressed.
First of all, these are the draft selections that the Bears are working with. By winning a week 17 game against the Minnesota Vikings, that dropped the Bears from the 13th pick in the draft to the 19th slot in the NFL draft. Eve when the Bears win, they lose.
Round 1, Pick 19
Round 2, Pick 50 
Round 3, Pick 72 
Round 3, Pick 81 
Round 4, Pick 114
Round 5, Pick 146
Round 6, Pick 178 
Round 7, Pick 210 
The Bears made it easy on their new general manager by highlighting areas in need with abysmal play. Let's take a look at these areas of concern by highest priority.
1.) Wide Receiver. 
The last 1,000 yard WR in Chicago was Marty Booker in 2002. It's no surprise that Wide Receiver is listed as #1 on the list of needs. The Bears need a playmaking WR that can go up and get the ball. Since Jay Cutler has been in Chicago, he has lacked the Brandon Marshall type WR he had in Denver. The Bears thought they were getting that in former Cowboy WR Roy Williams. Calling Williams a flop would be a serious understatement.
Cutler has done well considering the best WR on his team the past 3 seasons has been his RB Matt Forte. Forte led the team in receptions this season with 52, Roy Williams and Johnny Knox were tied for 2nd with 37 catches each. This stat is all the more disappointing because, Forte didn't even play the last 3 games of the season due to injury.
The Bears absolutely need to draft a big play WR such as Michael Floyd (ND), Alshon Jeffery (SC), or Justin Blackmon (OKLA ST). If any of these 3 guys drop to Chicago at the 19th pick in the 1st round, it will be a miracle. Any one of these WR's will elevate Jay Cutler's game and put a playmaker at the WR position in Chicago once again.
2.) Offensive Line
The offensive line wasn't as bad this past season. The addition of Gabe Carimi did wonders until he was injured early in the season. Moving the ball on the ground wasn't an issue for the Bears this season but, pass protection at times seemed spotty. After injuries to Gabe Carimi and Chris Williams, the Bears faced minor setbacks. Anytime that Frank Omiyale saw the field, all fans cumulatively put on their stink faces.
While the offensive line play was considerably better than the abysmal 2009-2010 campaign, there is still much work to be done. Chicago must pick up a linemen in the first 3 rounds of the draft this season. The return of Gabe Carimi, with added depth on the offensive line, will be a nice addition.
Since moving to guard, Chris Williams performed at a much higher level. Specifically the Bears should go after a tackle, so Frank Omiyale has no way of ever getting o the field in a Bears uniform again. 7th round draft pick J'Marcus Webb has performed alright considering he was a late round pick-up thrust into the action early in his career. However at times Webb was easily overpowered and was the weakest part of the line. Picking up a OT in the 2nd/3rd round looks to be the best move. If the Bears can sign a veteran presence in free agency, coupling that with the addition of a 2nd/3rd round OT, the line will be in good shape.
3.) Linebacker
As much as some fans think it's true, Brian Urlacher is not immortal. He is 33 years old and has probably aged a little more than he would have, had he not faced a knee injury in Week 17 against the Minnesota Vikings. Lance Briggs is also 31 years old. The Bears absolutely need to have a strong draft by looking for eventual replacements for these guys. If they can pick up a solid LB in the middle rounds and, give them 2-3 years to be groomed by Briggs/Urlacher, replacing those guys will be much easier.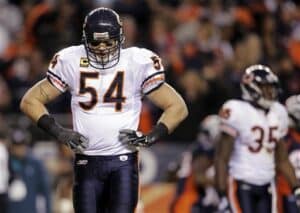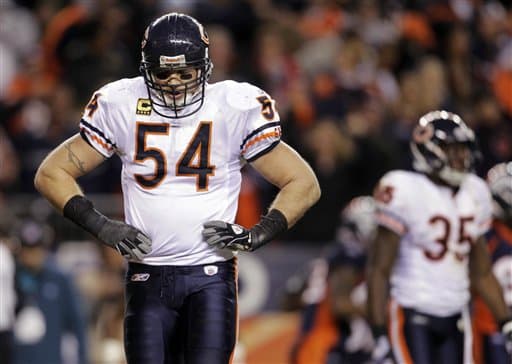 We were blessed with a healthy Urlacher/Briggs this past season. If either of these guys would have gotten injured, our defense would have fallen apart. I hope the new general manager will be competent enough to plan for injuries. A LB in the middle rounds is an absolute must in this draft.
4.) Cornerback 
Charles Tillman was elected to his very first pro bowl this season. One side of the field is taken care of. However the other side of the field was claimed by Tim Jennings or Zach Bowman depending on who was playing that week. Jennings and Bowman took turns seeing who could be the weakest part of the defensive secondary. Sometimes Brandon Meriweather and Major Wright would take part in that competition from the safety position as well.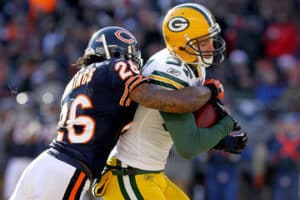 Charles Tillman definitely needs a strong corner opposite him to restore the roar in this Chicago Bears' defense. Look for the Bears to find a quality CB in the middle rounds.
5.) Safety
The Bears let Danieal Manning walk to the Texans, wound up releasing Chris Harris mid-season, and put all of their faith into Chris Conte and Major Wright. Major Wright for the most part, was Major Wrong. Brandon Meriweathers' decision to launch himself as a human missile was counter productive to preventing touchdowns.When the Bears signed Meriweather, I figured we had the position patched up. Then he lost his job several different times.
The revolving door of safeties really needs to come to an end, regardless of who is back there. Chris Harris and Danieal Manning played every single game 2 seasons ago together and the safety play was elevated. With no continuity in the defensive secondary, these young guys aren't being given the ability to progress. Chris Conte performed well and seemed to have some upside. He'll get better as time goes along. Major Wright just made too many head-scratching plays that made me question why he was on the field.
Trying to write objectively o the issue, it's still very frustrating at the lack of continuity at the safety position in this organization.
2012 Chicago Bears Mock Draft Database 
Every year forum member X-Factor compiles the latest in mock drafts for the Chicago Bears from all of the major draft websites. Click this link to be taken to the database located on our message boards.
For More Great Chicago Sports Content
Follow us on Twitter at @chicitysports23 for more great content. We appreciate you taking time to read our articles. To interact more with our community and keep up to date on the latest in Chicago sports news, JOIN OUR FREE FACEBOOK GROUP by CLICKING HERE