A report recently by the editor of Pro Football Weekly, Hub Arkush, that Chicago Bears players are unsure if Justin Fields is the franchise guy at quarterback. Arkush named tight end Cole Kmet as a possible source who's frustrated Fields didn't pass the ball to him enough. Bears fans who heard or read the report wanted to hear from Kmet on the issue.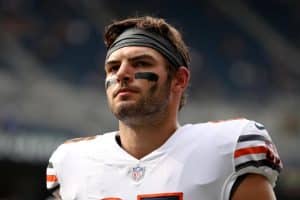 What Arkush said on his podcast is what could be described as a cowardly and weasely way of reporting. Arkush never said that Kmet was the person who said that directly, but that a source said Kmet "could be" the person who aired grievances against Fields.
The same tight end, by the way, who had the most receiving yards on the team and the most touchdowns (7) in 2022. Seven touchdowns ties Kmet for the third most touchdowns by a tight end for the 2022 season. Kmet did have one of the lower target rates last season, which could cause some irritation for the pass catcher.
As of this publishing, Kmet has not responded to the comments in a report or on social media.
Chicago Bears fans urge Cole Kmet to comment
Bears fans responded not long after Arkush's report or rumor, whatever one wants to make of his babble, came to the public. Here are the best takes of fans wanting Kmet to answer if he's unsure of Fields as the team's quarterback.
hey @ColeKmet i heard you think justin fields sucks. can you comment?

— Sean, Terrible-ish Golfer. (@Seanxfagan) April 27, 2023
If @ColeKmet has any dignity, he'll come out and call Hub a liar straight to his face. If I was named in a dumb rumor like that, I would want to embarrass the everliving hell out of whoever said that.

— Kneel (@NPBM745) April 27, 2023
@ColeKmet – tell these fools this is made up. lol.

— John needs a new baseball team (@Mr_Jay369) April 26, 2023
@ColeKmet put this to rest

— R.W. (@AYPLOSION) April 27, 2023
@ColeKmet – tell these fools this is made up. lol.

— John needs a new baseball team (@Mr_Jay369) April 26, 2023
Wonder if @ColeKmet can chime in and clear this up?

— Otty (@BearsOtty) April 26, 2023
@ColeKmet thoughts?

— SecretNFLInsider (@NflSecret) April 26, 2023
So how fast does Kmet have to call Fields and try to refute it and save face?

— Manuel De La Cruz Jr (@m9delacruz) April 27, 2023
Hey @ColeKmet hub throwing you under the bus 😂 down on our boy @justnfields ???? https://t.co/0JM8BNzfc0

— Jacob (@MkeKid134) April 26, 2023
For More Chicago Sports:
Follow me on Twitter at @JordanSig, and follow us @ChiCitySports23. You can also reach out to Jordan Sigler via email at [email protected]. To read more of our articles and keep up to date on the latest in ALL of Chicago sports, click here! Chicago Bears, Chicago Bulls, Chicago Cubs, Chicago White Sox, Chicago Blackhawks.
For More Great Chicago Sports Content
Follow us on Twitter at @chicitysports23 for more great content. We appreciate you taking time to read our articles. To interact more with our community and keep up to date on the latest in Chicago sports news, JOIN OUR FREE FACEBOOK GROUP by CLICKING HERE