As everyone knows, the lockout ended earlier this week, jump starting a wave of signings, releases, and trades from almost every NFL in the league. I assume almost every NFL fan was excited to finally know and see the upcoming NFL season unfold, but my beloved  Bears have, so far, made it really difficult to seem optimistic about the upcoming season.
The Bear's faults last season were very obvious and plain to see. The numbers don't lie. The Bears were ranked 21st in points per game, 30th in yards per game, 28th in passing yards per game, and 22nd in rushing yards per game.
Add the fact that Jay Cutler, for the most part, was running away from defenders, looking like a chicken with his head cut off because his offensive line seemed to forget their job every single snap, and you can see why the offensive numbers are so bad.
The offensive line also couldn't open any holes for Matt Forte to run through, limiting the effectiveness of the Forte.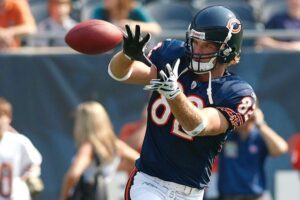 On the defense side the same story was being played over and over again. No one doubts the potential of the Bears defense. They are phenomenal in the defensive line and linebacker positions, ranking second in the league in rushing yards allowed last season.
But once again, the pass defense performed below average, ranking 20th in the league, allowing an average of 224.2 passing yards per game.
So has Jerry Angelo or anyone in the Bears management done anything to solve the obvious problems that plagued the Bears last season?
I don't see it. In fact, I see a far worse Bears team compared to last season. One word can sum up the Bears free agency moves(or lack thereof): confusion.
It wasn't until Friday that the Bears made a splash and reportedly will sign former Cowboys wide receiver, Roy Williams. Williams's only season in which he garnered over 1,000 receiving yards was in 2006 with the Detroit Lions. That, also, was the only season Williams played all 16 regular season games, so staying healthy could be a problem, but it's nice to see the Bears going after a semi-proven receiver instead of believing that Devin Hester is going to the number one receiver they want him to be.
But that single signing still doesn't make up for the fact that the offensive line is practically the same players. What fans wanted was a signing of a proven offensive lineman to at least give us some security in the offensive line unit, but it seems Angelo and management  are content with developing the players they have now, which worries me a little even though there was some sign of improvement late last season.
But the potential loss of Olin Kreutz at center could really harm the offensive unit. Kreutz isn't as good as he once was, but there's no denying the presence and experience he brings to the field and to the offensive unit every game. Losing him would only hurt the Bears, and make this free agency experience much worse.
And then there's Greg Olsen. Olsen was a first round draft pick in the 2007 draft. Immediately, Olsen began producing for the Bears. In four seasons Olsen had 1,952 receiving yards and 20 touchdowns. His best season  coming in 2009 when Cutler first joined the team. Olsen led the team in receptions(60) and touchdowns(8).
And then Mike Martz came into town. Martz's system is known not to favor offensive tight ends, and so Olsen's numbers dropped significantly Not because he played worse, but because he didn't get the attention in Martz's system compared to Ron Turner's. Still, Olsen played a huge part in the Bears winning their playoff game against the Seattle Seahawks, catching three passes for 113 yards and one touchdown.
Fans loved Olsen and for good reason. He is an offensive threat on the field but he can also be a blocking tight end as well. He's not perfect, but he's the best draft steal the Bears have had recently, only behind Forte.
So to trade him the Carolina Panthers for a third round pick not only seems completely stupid but also insulting.
Do I understand that his abilities aren't going to be maxed in Martz's system? Yes, but that doesn't mean you get rid of a great talent. You could always find a way to fit him in the offensive game. But if you must trade him away, AT LEAST get something for him. I can say with 99.9% certainty that third round pick will not be half as good or productive as Olsen was.
Angelo is right there with Jim Hendry of the Chicago Cubs in managers who get lucky with some good signings but know how to completely screw everything up.
The season is still young, but I can't help feeling a little pessimistic towards this new Bears season. Could things change for the better? Sure, but knowing Angelo's very conservative stance, I wouldn't hold my breath.
For More Great Chicago Sports Content
Follow us on Twitter at @chicitysports23 for more great content. We appreciate you taking time to read our articles. To interact more with our community and keep up to date on the latest in Chicago sports news, JOIN OUR FREE FACEBOOK GROUP by CLICKING HERE