Chicago Bears questioned a quarterback signing
The Chicago Bears made a few improvements to their roster in free agency. To use a poor baseball analogy right after the MLB Opening Day, the Bears spent March hitting singles instead of home runs. The Bears added another head-scratcher to their roster Thursday when the team signed veteran backup quarterback Nathan Peterman. Peterman was considered the quintessential quarterback for a tank job at the end of last season. Some Bears fans were curious why they'd sign Peterman again.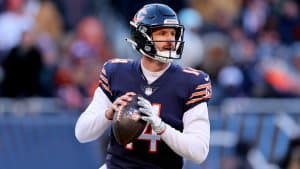 Presumably, the Bears had lofty hopes in 2023, although chairman George McCaskey didn't offer much hope for a playoff run this season at the League Annual Meeting. The Bears can still add vital pieces in the draft and free agency.
But, according to Adam Jahns with The Atheltic, head coach Matt Eberflus hinted free agents were biding their time before wanting to come to Chicago. Whether that's because of the Bears' roster outlook or last season's record isn't exactly clear. We just know money alone wasn't the sole factor in free agency:
"A lot of times these guys want to see the landscape," Eberflus said. "Sometimes it's after the draft. They want to see the landscape of where teams are and what they look like. That's certainly an option. Again, we're always trying to add players all the way through, even up to training camp. We're always going to do that."
One player the Bears didn't wait until after the draft to sign was Peterman, even though the Bears are looking at other backup options in the 2023 NFL Draft.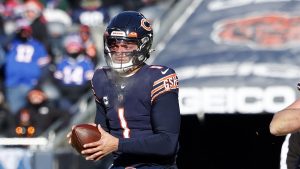 Bears fans react to signing Peterman
Fans reacted to the news not long after the Bears kept Peterman. Most fans were surprised by the re-signing. Here are the best takes on Twitter after Peterman cemented season number two in Chicago.
We are so back. https://t.co/44m6S7XyP3

— J. Schwaba (@YoungHistorical) March 31, 2023
Ryan Poles masterclass.

— Jeff (@JeffsBearsTakes) March 31, 2023
A valuable member of the greatest tank of all time

— Larry Price (@WhatRUDoing34) March 31, 2023
You can't tell me he's better than Kaep. https://t.co/h7dcXhagtE pic.twitter.com/h2gIDeF3OK

— MSP Athletics (@MSPAthletics) March 31, 2023
Let's ride https://t.co/WUgPBD2nkk pic.twitter.com/Y5YwXpm4EW

— Joe DiBiase (@SneakyJoeSports) March 31, 2023
Back-up QB continues to be undervalued or poorly addressed despite QB injuries rising the last few years and anecdotal evidence of how important it is to have competent depth.

Smh why, Bears. What have we seen from ol Peterman to show you he's a quality add? https://t.co/yd05xdoWc9

— Tyler (@Emo__Cowboy) March 31, 2023
Kings of the North pic.twitter.com/ck5QB7JUxW

— Joe Luna (@UrFavoriteMexi) March 31, 2023
He's there for the off-season program/training camp and will be replaced by a developmental QB that they draft, I assume?

— D. Falcini (@dfalcini) March 31, 2023
So instead of a mobile veteran backup to mentor Fields…. https://t.co/yooEvS79qY

— Do Better 💯💪🏾🔥💰 (@SmookyRondo) March 31, 2023
Feels like Poles isn't interested in using a day 3 pick on a QB with so many other needs left on the team. Makes sense for this year. https://t.co/u5j39xjz9w

— Louie Penna Jr (@Louie_Penna) March 31, 2023
For More Great Chicago Sports Content
Follow us on Twitter at @chicitysports23 for more great content. We appreciate you taking time to read our articles. To interact more with our community and keep up to date on the latest in Chicago sports news, JOIN OUR FREE FACEBOOK GROUP by CLICKING HERE