The Chicago Bears need to add to the defense
The Chicago Bears' defense was pitiful last season, and the team has addressed some glaring needs in free agency. But much more work still needs to be done this offseason to make the defense even competent next season. One NFL writer named the Bears the most logical option to land a trade for a former first-round pick by the Washington Commanders.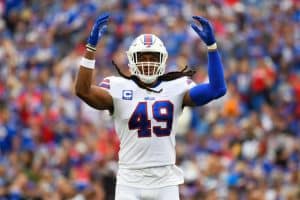 The Bears signed defensive end DeMarcus Walker and defensive tackle Andrew Billings recently. Neither of the defensive lineman are stars but will be upgrades from the 2022 bunch. The rest of the Bears defensive free agency signings have been for linebackers, including Walker's former Tennessee Titans teammate Dylan Cole. The Bears defense could use more help in the trenches, and a trade might be the best way to bring in for sure help this season.
Cody Benjamin with CBS Sports wrote a piece on where 14 trade candiates would likely go this offseason. Benjamin wrote defensive end Montez Sweat would be the most logical fit in Chicago:
"In an ideal world, Sweat would build on a promising pass-rushing resume to earn a mega extension in Washington. But the Commanders are already paying top dollar to fellow D-linemen Daron Payne and Jonathan Allen, and Chase Young is also onboard. With 29 sacks in five seasons and a career-high 28 QB hits in 2022, he could fetch premium compensation (potentially for a future QB splash) even entering a contract year. His departure would also save Washington an immediate $11.5M."
The 26-year-old pass rusher earned a 86.4 overall grade by Pro Football Focus last season. Sweat has a total of 30 sacks, six forced fumbles, 105 solo tackles, and 107 stops in his four-year NFL career. Sweat recorded eight sacks last season.
Why the Commanders would trade Sweat
The Commanders recently signed defensive tackle Daron Payne. They will have to make a decision on how to allocate resources for their defensive line with Sweat hitting free agency next offseason and defense end Chase Young being up for a fifth-year option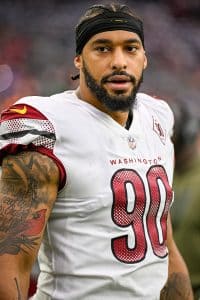 Trading Sweat this offseason could give the Commanders value for a player they might not have the cap space to sign next year. The Chicago Bears would have a top-tier pass rusher if they could pull a trade off with the Commanders.
For More Great Chicago Sports Content
Follow us on Twitter at @chicitysports23 for more great content. We appreciate you taking time to read our articles. To interact more with our community and keep up to date on the latest in Chicago sports news, JOIN OUR FREE FACEBOOK GROUP by CLICKING HERE