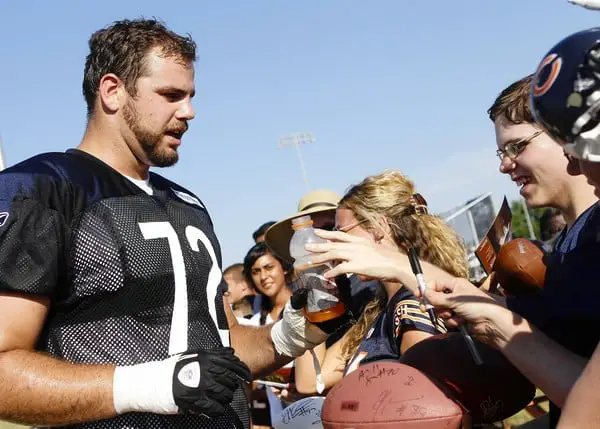 Chicago Bears Offensive Line preview
By: Nick Gentile
Looking at the team last year that was 1 game away from making the Super Bowl, what was our achilles heel? The offensive line.
Can the Bears get past the Packers with our current band of merry men up front? Is this the year that the Bears first round lineman picks finally pay off? Can J'marcus Webb and Gabe Carimi hold up the respective spots and make up for the loss of veteran Center Olin Kreutz? These are many of the questions Bear fans have on their mind's going into the season.
Here is a basic outlook of the Bears offensive line categorized by position:
Left Tackle:
J'marcus Webb
Webb lined up at right tackle this past Monday for the Bears first padded practice and was said to have looked very comfortable in his roll at left tackle. Webb, a 7th round draft pick, was thrown into the fire early and often last season. As a rookie he played in 14 of the Bears 16 games last season and he started in 12 of those as well. The 6'7 333 pound Webb certainly has the size that we want on the outside and he should work in well with a full year of experience now under his belt. Webb has a lot of potential and Bear fans are hoping he can make the most of it this season.
Left Guard, Center, and Right Guard:
The interior of the Bears line this year we be almost like a game of musical chairs. With the loss of Olin Kreutz in the middle of the line the is no certainty as to who will start. The three best options for Mike Martz and Mike Tice in this area would have to be Roberto Garza, Chris Williams and Lance Louis.
Center:
Roberto Garza
Garza has been snapping the ball to Jay Cutler so far during the first week of practice. This is not to say that he is the starter, but there is a very good possibility that he will play center for the team this year. Garza signed with the Bears in '05 after a solid start with the Atlanta Falcons. He then played 5 years alongside former center Olin Kreutz, and with that said his knowledge of how the Bears center position is played might be a crucial factor in him possibly playing center in Chicago this year. It's looking as if Garza has the edge for the position over newly signed Chris Spencer from Seattle.
Left Guard:
Chris Williams
Many thought that when the Bears drafted Chris Williams they had gained a tackle for years to come. How could you expect anything else from a guy who the Bears got with the 14th overall pick in 2008? Williams has been less than impressive in his time at tackle. Offensive line coach Mike Tice currently thinks he is more suited to play the interior. With Webb and Carimi now getting the first team snaps at the tackle spots, it seems only fitting that he be moved to guard.
Right Guard:
Lance Louis
Louis is going into his third year as a Chicago Bear and so far he has yet to make the jump from a average second team guy to a first team starter. Chicagobears.com reports that Mike Martz does in fact have Louis on the first team playing right guard so far in practice this training camp.
Right Tackle:
Gabe Carimi
This one comes as no surprise, the Bears 29th overall pick in this years draft, Carimi is running with the first team at right tackle in practice. Carimi is a very versatile weapon out of Wisconsin on the offensive line. He can play guard or tackle and knows how to play each spot well. Although he played 49 games in 4 years at left tackle in college at Wisconsin, many sources have eccoed the fact that Carimi is playing like hes played the position for years. Well..that is except for his reps against Julius Peppers. Luckily getting smoked by Peppers consistently is only going to make him better and more suited for the talented speed rushers he'll be facing this season.
Somewhere in the mix:
Chris Spencer
The signing of Chris Spencer took place hours after the Bears had acknowledged the departure of Olin Kreutz. Spencer was drafted by the Seahawks in '05 and he has been a regular starter in the NFL for the past 5 seasons. Since 2006 he started a total of 70 games. Many thought that this signing meant that the Bears acquired Spencer to be their new center right away but, it is a good possibility that he may be bumped to the second team for now. He'll be fetching water for Roberto Garza, who is shaping up to be the 1st team center.
Sprinkle in some Frank Omiyale and Edwin Williams and you have yourself the Chicago Bears offensive line.
As you can see there are still many questions marks when discussing this years' offensive line. One important thing to remember is that Mike Tice has the pleasure of trial & error. With different players being able to play different positions, expect Tice to switch it up until our line displays some schred of consistency. The first pre-season game against Buffalo is in 6 days at Soldier Field.