Several players are coming into the 2023 season on a contract year with the Chicago Bears. One key starter for the offense not in a contract year said recently they are in "prove it" mode for the upcoming campaign. The Bears finally have a roster decent enough for general manager Ryan Poles to evaluate individual players.
It's a prove it year for several Chicago Bears players
The 2022 team had so many deficiencies at every unit on both sides of the ball that judging specific players' abilities seemed unfair. With decent upgrades via the D.J. Moore trade, free agency, and through the draft, all eyes will be on these players entering their fourth NFL Season: Chase Claypool, Darnel Mooney, and Jaylon Johnson.
Quarterback Justin Fields will be playing to impress for a fifth-year option or better next offseason. Fields draft class teammate, Teven Jenkins, said the 2023 season is also a big one for him.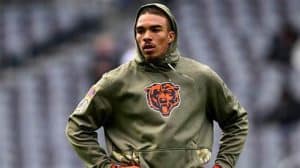 Former Bears general manager Ryan Pace traded up to draft Jenkins in the second round to be an offensive tackle. The new regime had Jenkins rotating play right guard last season. He has been penciled into the starting left guard spot after the Bears signed Nate Davis in March. Jenkins said he was open to playing wherever the Bears wanted him last year. But it's fair to say the Bears staff has taken advantage of the kindness of their best offensive lineman.
Teven Jenkins says the front office is watching him
Jenkins was recently on the ESPN 1000's Chicago Bears Weekly. Jenkins said he wanted to be a dominant force on the offensive line this year:
"I like to think of it as my prove it year, and I would assume everyone around me would think the same," Jenkins said. "For me, for this year, I'm expecting big things out of myself, and so is the people in the front office and everybody around me."
Chicago Bears offensive lineman Teven Jenkins said on Bears Weekly on @ESPN1000 that last season he gave up too many pressures and sacks and that this season is a "prove it year."

Jenkins: "I'm expecting big things this season. I want to be a dominant force."

— Daniel Greenberg (@ChiSportUpdates) May 25, 2023
Jenkins said he felt he gave up too many sacks and pressures last season. According to Pro Football Focus, Jenkins was credited with giving up two sacks and 12 pressures. His goal for every season is zero sacks.
The Chicago Bears want to improve on their run blocking
"We pride ourselves in our run game," Jenkins said. "That's going to be our bread and butter, basically. It's going to be who we are and how we set the tone. And the thing is, even though we led the league in rushing last year, we feel like we left a lot on the field last year."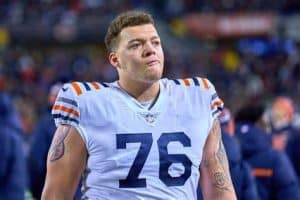 Justin Fields was the only 1,000-yard rusher for the Bears last season. Jenkins said he felt like the Bears should have had two or more 1,000-yard rushers if the offensive line had executed better technique on their inside and outside zone blocks. Leading the league in rushing last year wasn't enough for him. Jenkins believes the Bears should have had a 4,000-yard rushing season in 2022.
Those are lofty expectations for Jenkins and the Bears. But I love the attitude that Jenkins brings to the offensive line. Jenkins is confident he can switch to the left guard spot even though he said it will take some time to get used to the correct footwork and and gain muscle memory for the new side.
He's consistently been the Bears' best offensive lineman when he can play. Jenkins' ceiling thus far in his NFL career has been dealing with neck and back injuries. If healthy, Jenkins should easily prove his worth to the front office.
Here's a link to the interview with Jenkins.
For More Chicago Sports:
Follow me on Twitter at @JordanSig, and follow us @ChiCitySports23. You can also reach out to Jordan Sigler via email at [email protected]. To read more of our articles and keep up to date on the latest in ALL of Chicago sports, click here! Chicago Bears, Chicago Bulls, Chicago Cubs, Chicago White Sox, Chicago Blackhawks.
For More Great Chicago Sports Content
Follow us on Twitter at @chicitysports23 for more great content. We appreciate you taking time to read our articles. To interact more with our community and keep up to date on the latest in Chicago sports news, JOIN OUR FREE FACEBOOK GROUP by CLICKING HERE