Tuesday's night 3-0 loss to the, already playoff bound, Boston Bruins was rather tough to watch, but it needs to be forgotten. The Blackhawks still remain on the edge of the playoff race, sitting in the last playoff spot in the Western Conference at eight.
Dallas and Calgary follow close behind with 87 points. Three behind the 'Hawks. With six games left for the 'Hawks, seven for the Stars, and 5 for the Flames, these last two weeks are going to sprint to the finish line.
In front of the 'Hawks is Anaheim(one point ahead), Nashville(two points ahead), and Los Angeles(four points ahead). The 'Hawks have a very good chance of catching up with those teams, but they're going to have to rely on other teams for the help, as both, Nashville and Anaheim have the tie-breaker over the 'Hawks.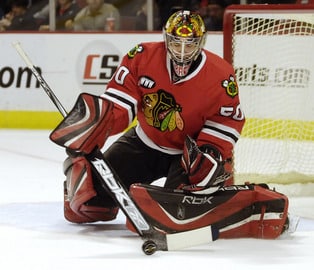 With all this in mind, if the 'Hawks can win at least four of their remaining six games, they should be set to make the playoffs. Dallas and Calgary aren't playing great hockey, but the 'Hawks can't bank on that continuing. Winning at least four games is crucial.
Those four wins aren't going to come easily though. Three out of the five teams the 'Hawks play from now till April 10th are in the playoff race, with some, especially Montreal, wanting a little more breathing room.
This makes the games against Columbus on April 1st and St. Louis on April 6th a must win. Losing to inferior teams this late in the season with the playoffs on the line is unacceptable. A team must get the "easy" games to build confidence to win the "tougher" games.
Getting Patrick Sharp as early as possible will be key to the playoff effort. If he does manage to return before the end of the season, like he says he's aiming for, he could easily help the first line return to dominance.
Like I've said before, the 'Hawks' offensive power begins and ends with the first line. Getting the team's number one goal scorer back on the ice will only help the playoff effort.
With that four games as the goal, it puts a lot of pressure on the defense and goaltender, Corey Crawford.
Crawford has proved that he can handle the pressure and the role of primary goaltender. He continues to play very well even in losing games, showing signs of maturity and great puck vision, as well as movement from post to post.
But he's lacking the support Antti Niemi got last season, and Patrick Sharp being injured doesn't help him either.
Things might come down to the wire. The 'Hawks may be called the "biggest disappointment" in the NHL, but fans knew this season wasn't going to be a breeze. With these six game left, the 'Hawks can disprove the label and find themselves one step closer to repeating their championship season.