It hasn't been a full two years since the Chicago Blackhawks won the Stanley Cup, but already the team has a different look and feel to it. The 2010 off-season brought in a whole wave of change(much of it out of necessity), but even then it didn't stop. This off-season 'Hawk fans have already seen three players go that were on the championship winning team.
With all this change happening again, one thing that still worries me is team chemistry.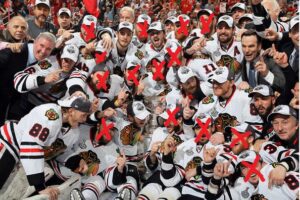 Last season, with all the new guys on the team, it took the 'Hawks a long time to look and feel like they were comfortable with their teammates, and it showed. Coach Joel Quenneville, who's usually very good at pairing the right men up, had trouble finding the right men to pair up.
The Blackhawks were a less talented team last season compared to two years ago. Plain and simple. But when players don't or can't feel comfortable in the line they are assigned to, it can create a whole wave of problems that affect the consistency and confidence of the players.
With this off-season making us say goodbye to Troy Brouwer, Brian Campbell, and Thomas Kopecky, that is now 13 players gone from the 2009-10 team. And that doesn't even include Christobal Huet(who 'Hawk fans will not see again) and Jordan Hendry, who will probably not play for the 'Hawks again.
The 'Hawks are going to have a good number of new faces this season, so does this mean another slow, problem-filled start?
My answer would be no, but there's a catch.
The 'Hawks must sign Chris Campoli and Michael Frolik for a reasonable price. Both players are unrestricted free agents, meaning the 'Hawks have until Friday until other teams can offer them deals. The 'Hawks do have the right to match the offer or lose the players for a package of draft picks, but I would really like, because of limited cap space, to see the 'Hawks avoid that situation by getting them signed without spending more money than needed.
Signing them for a right price is almost as important as actually signing them. The 'Hawks can't afford to screw themselves over again by overpaying for a player they don't need to spend a lot of money on.
On a more positive note, the news of the 'Hawks signing Steve Montador to a contract of $11 million over four years is great news, and already has the 'Hawks on the right direction this off-season. Montador brings a veteran presence that can generate points even if he isn't on the powerplay.
Bowman's focus on bringing in role players while developing the young prospects is one that I love, and one that goes back to the age-old formula of developing players, especially young players, in hopes that they'll produce big for you once they mature.
With new faces the 'Hawks have the ability to build another young team filled with role players alongside the stars they already have. It's the formula that Bowman has wanted since he got the GM job just a year ago, and it's one  that can get the Blackhawks back into Stanley Cup shape.