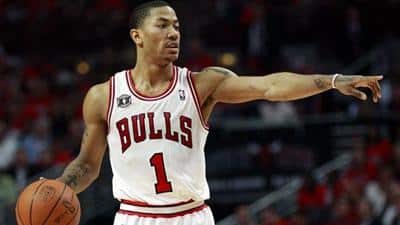 The Chicago Bulls have a roster spot open, but have likely signed every player who they expect to be in their rotation this season. There was a reasonable amount of turnover in the bench rotation, with fan favorites Nate Robinson and Marco Belinelli leaving in free agency. In response, Chicago drafted former New Mexico Lobo Tony Snell and signed veteran swingman Mike Dunleavy Jr.
With the amount of change on the roster, not to mention the return of Derrick Rose, Chicago's rotation should look substantially different next season. Heading into the season, here's what we should look for.
Without question, point guard is the strongest position on the team right now. After 18 months without playing a professional basketball game, Derrick Rose finally returns October 29 against the Miami Heat. We know that at his best, he is the best point guard in the league, and arguably one of the top three players as well. The Bulls will likely take it slow with Rose, holding him to around 36 minutes per game at least until the All-Star break. After then, perhaps he will get back into his usual minutes, around 38 a game.
This is a team that does not necessarily need Derrick Rose to play a lot of minutes however. Kirk Hinrich is one of the best backup point guards in the NBA, even if his jump shot is effectively gone. On top of that, Marquis Teague will likely be pushed back in the rotation despite showing flashes in Summer League.
Hinrich will likely average any backup minutes there are left, but Teague should have a chance, as it is almost certain that Hinrich will get injured. When that happens, have high expectations for Marquis.
After being a question mark since Ben Gordon left town, the Bulls look to have a stud at shooting guard in third year guard Jimmy Butler. After effectively redshirting his first season, Butler was asked to come and start at both shooting guard and small forward for stretches due to injury. When given the opportunity, Jimmy did nothing but deliver, averaging 14.5 ppg, 7.1 rpg and a ridiculous 45.7% from three as a starter.
Tom Thibodeau announced that Butler will be the starting shooting guard next season next to Derrick Rose. There are some players who struggle playing next to a guy like Rose, but Butler is made perfectly to complement Rose. If his three point percentage stays, then he should have a plethora of open looks and will have the opportunity to shoot a really high percentage. On the perimeter as well, Butler and Deng are as scary as any wing defensive rotation in the last decade. Butler will likely play around 36 minutes a game.
Behind him, Mike Dunleavy Jr will hopefully have an opportunity to get on the court for around eight minutes at the guard position, perhaps more. Unfortunately, Tony Snell likely will not make the rotation this season.
For two seasons in a row, Luol Deng has led the NBA in minutes. With Deng starting to get injury-prone once again, Coach Thibodeau noted to ESPN's Nick Friedell, "Luol [Deng] may come down a couple minutes." It's probably time, but Bulls fans should be skeptical that it actually happens.
The guys mentioned at shooting guard can certainly fill in at the small forward position as well. Jimmy Butler played extended minutes in the playoffs at small forward, and it is Mike Dunleavy Jr's natural position. There is certainly talent available to lessen Deng's minutes. Whether the talent will get the opportunity is a different story.
Coach Thibodeau runs Deng into the ground in most seasons, so why expect much different? I would expect Deng to play around 38 minutes a game, and Dunleavy will likely get the remaining minutes, putting him at about 22 a game. There really are not a whole lot of minutes to go around for Dunleavy, and we will have to hope that Thibodeau can find ways to get him on the court next to Derrick Rose.
Ever since he signed in Chicago, Carlos Boozer has been the whipping boy, receiving the brunt of the criticism for the Bulls' problems. Despite that, Boozer quietly had a very solid year last season, averaging 16.2 ppg and 9.8 rpg. His offese will once again be key to the Bulls being a very good team. There's no reason that we would expect Boozer to sway from his 32 minutes per game.
Taj Gibson is of course one of the best defensive power forwards in the league, and should get more minutes. Behind Boozer, he will likely get about 12 minutes more, and hopefully he can show a slightly more refined offensive game than he has shown in previous seasons.
For stretches, the Bulls will likely experience with some small ball, and play Luol Deng at the power forward position. These stretches shouldn't be terribly prevalent, but they will likely take up the remaining power forward minutes.
Joakim Noah has had the center position locked down for himself ever since Ben Wallace left town. However injuries limited Noah during the end of the regular season and playoffs, holding him out of 16 games last season. Before injuries, Noah was among the top three players in the NBA in minutes per game, and was by far the highest center on the list. A seven footer's body is not meant to move the way that Joakim Noah was, and for so long.
As mentioned earlier about Deng, Coach Thibodeau confirmed to Nick Friedell that "Jo's minutes will [also] come down." When Thibodeau says his minutes will come down, we shouldn't expect Noah to back near 30 minutes, but we can reasonably expect 35.
The issue with playing Noah less minutes is that the only other true center on the Bulls roster is aged veteran Nazr Mohammed. Mohammed isn't a terrible player, but he shouldn't be relied on to play extended minutes. Taj Gibson will likely be relied on to play center for stretches, and hopefully he can eat up the remaining 13 or so minutes. Gibson could use the extra minutes to prove himself, and I would be happy to see him near 25 minutes per game.
For More Great Chicago Sports Content
Follow us on Twitter at @chicitysports23 for more great content. We appreciate you taking time to read our articles. To interact more with our community and keep up to date on the latest in Chicago sports news, JOIN OUR FREE FACEBOOK GROUP by CLICKING HERE