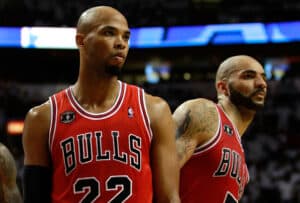 In Part 1of my rankings I covered some of the Bulls lower-end assets including the oft-injured Richard Hamilton and Kirk Hinrich along with future assets in Marquis Teague and the No. 20 pick in the 2013 draft. In Part 2 it's time to discuss some of the Bulls pricier assets. There's a chance two of these three players won't even be wearing a Bulls jersey next season.
GROUP D: "Above-average starters, but overpaid"
8.) Carlos Boozer
You either love him or hate him. After having another sub-par postseason, it's safe to say most people in Chicago are rooting for the Bulls to amnesty the last two years of Boozer's lucrative contract. Amnestying Boozer makes sense considering Gibson's four-year deal worth up to $38 million kicks in next season. That's quite pricey for a player coming off the bench. Amnestying Boozer also doesn't make sense considering he's arguably been the Bulls most durable player the past two years.
Boozer has missed just three games the past two seasons even though he entered Chicago with legitimate injury concerns (he's had three seasons of missing 30 or more games). He's also put up some of the better raw numbers in the league among power forwards since he joined the Bulls, averaging greater than 18 points and 10.4 rebounds per 36 minutes each season in Chicago. Double-doubles are great and all, but if you look deeper into the statistics Boozer hasn't lived up to his $75 million deal.
With Boozer on the court this season the Bulls were outscored by 2.7 points per 100 possessions, good for worst on the team with a minimum of 500 minutes played. Last season his net rating was better at 5.8, but with the Bulls leading the league in margin of victory, that number was second worst on the team. Even during Boozer's first season in Chicago his net rating of 6.5 was the third worst of any regular. Boozer's low net ratings during his Bulls career is a result of his dreadful defense.
This season the Bulls were nearly five points worse defensively with Boozer on the court. Although Boozer's opponent's PER at power forward was solid at 14.7, but when he shifted to center that number skyrocketed to 22.0. Without Asik this season Boozer had to play center for 15 percent of his minutes according to 82games.com. Boozer's strong opponent's PER at power forward is a testament to Noah's help defense more than anything else.
I know Jerry Reinsdorf won't be a fan of paying a player to play for another team, but sooner rather than later he will have to do just that with Boozer.
7.) Luol Deng
You're probably wondering why a back-to-back All-Star and 2012 All-Defensive 2nd Team performer is ranked only seventh on this list. Well, the $14 million final year on Deng's contract to go along with constant injury/health problems and the emergence of Butler have suddenly made the Sudan native expendable.
Deng missed the final seven games of the Bulls postseason run after suffering side effects from a spinal tap. There is no questioning Deng's will to play as he's toughed out consecutive seasons with a banged up left wrist, but it seems as if the nine-year veteran always has something holding him back. People are quick to forget that during the epic seven-game series against the Celtics in 2009, Kevin Garnett wasn't the only key player sitting on the bench. Deng also missed that series and could've been the difference had he played. Even with the nagging injuries Deng has had to deal with over the years, he's missed only 19 games the past three regular seasons. Although Deng bypassing surgery on his left wrist this offseason sounds encouraging for Bulls fans, it probably shouldn't. Deng is losing his shooting touch with the bum wrist.
My brother and colleague at Chi City Sports went into detail about Deng's recent shooting woes. In the postseason Deng's shooting completely went awry as he went 1-of-18 (5.6 percent) from behind the arc in five games while shooting 38.1 percent from the field overall. His true shooting percentage of 39.0 is the fifth worst in the league this postseason (min. of 20 MPG).
Aside from Deng's declining offense, his defensive statistics were middling this season as well. The Bulls were 1.4 points per 100 possessions worse defensively with Deng on the floor this season. Considering Deng played a league-leading 38.7 minutes per game, maybe on court vs. off court isn't the best way to measure his defense (since he was rarely on the bench). But according to Synergy, Deng only ranked 152nd in the NBA in points per play allowed. Deng does have to defend the best wing player on the opposing team game-after-game, but so did Andre Iguodala, who ranked 61st in the league in opponent's points per play.
With his drop-off in play as well as the maturation of the much cheaper Jimmy Butler, trading Deng this summer has become a serious possibility.
6.) Taj Gibson
It's time for the Bulls front office to step up and make Gibson the starting power forward next season. Clearly the front office values the 27-year old if Asik was let go in large part because Gibson was due for a healthy extension (he'll make over $7.5 million next season). Asik went on to become a double-double machine for the up-and-coming Rockets. The Bulls on the other hand are stuck with a decision to make, should Boozer or Gibson start next season?
Starting Gibson over Boozer makes sense from a basketball standpoint before even mentioning Gibson will make half as much as Boozer next season. Boozer has always had the better raw numbers as his 16.2 PPG and 9.8 RPG dwarfed that of Gibson's 8.0 PPG and 5.3 RPG. Those who are into sabermetrics would quickly realize the Bulls play better with Gibson on the floor.
I pointed out earlier that the Bulls were outscored by 2.7 points per 100 possessions with Boozer on the floor this season. With Gibson on the floor Chicago outscored its opponents by 4.8 points per 100 possessions which was the best on the team. The argument against Gibson is that the Bulls are better offensively with Boozer on the floor. Surprisingly the Bulls offensive rating with Gibson on the floor was 102.4 this season, leading the team. Boozer's was only 99.3, ranking eighth on the team. The Bulls uptick in offense with Gibson on the floor is in part because of his improved post game.
Gibson ranked 23rd in the league in points per play in the post at 0.94. This wasn't a small sample size either; post ups made up for 16.7 percent of Gibson's offense. His 45.7 field goal percentage in the post wasn't spectacular, but his shooting foul percentage of 13.6 was outstanding. His up-and-under post moves and pump fakes often made the defender jump out of his shoes. Like every year for Gibson, his percentage at the rim of 68.8 was terrific (league average was 65.1). Offense aside, Gibson is an absolute monster on the other end of the floor.

What metric do you want to use to prove his defensive prowess? His blocks per 48 minutes at 2.96 ranked 18th in the league (min. of 60 GP), his opponents PER was 15.6 (big men typically have higher PERS), he ranked 29th in the league in points per play allowed and his defensive rating of 97.6 ranked 14th in the league (min. of 20 MPG).
I think people are bit too hard on Boozer sometimes, but I'd like to see Gibson get his chance as a starter again, especially when he will be getting a huge raise next season. Oh yeah, and he averaged 16.0 points, 11.8 rebounds, 2.0 assists and 3.2 blocks per game while shooting 59.7 percent from the field as a starter in five games this season. Hopefully he'll start more than five games next year.