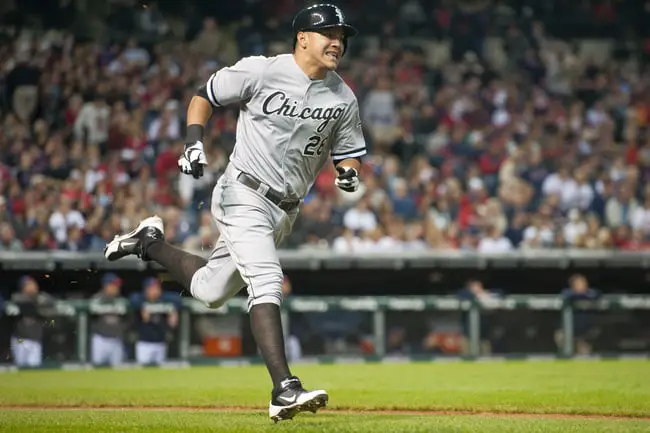 As the White Sox move into the 2014 season, they will be welcoming in a few new faces. Among those new faces is the newly acquired outfielder Adam "Spanky" Eaton.
Eaton comes to Chicago as one of two trades completed over the off season completed by General Manager Rick Hahn. Eaton brings the Sox a former top 100 prospect, along with a young, speedy lead off option that this team can desperately use.
Along with Eaton, the outfield boasts their previous season's starters Avisail Garcia, Dayan Viciedo, and Alejandro De Aza. Fighting for a roster spot will be Jordan Danks, Jared Mitchell, Blake Tekotte, Trayce Thompson and career minor leaguer Denis Phipps.
Left Field 
With a rumor of a potential "platoon" in place, there are two main players fighting to get the starting nod on opening day.
Dayan Viciedo
If "Tank" wins the job, this will be his third opening day start in a row. Last year was a very interesting season for the soon to be 25 year-old. He started the half of the 2013 season with his usual inconsistencies, while injuring himself. Tank, who is known for a violent swing had a stint on the DL before returning to the team for the second half of the season. He came back strong, batting over .300 for a good portion of the first month but slowly turned back to his inconsistent ways. While amassing a .265 batting average, Viciedo still managed to crank out 25 home runs.
Viciedo is a big guy, at 230 pounds and while he moves better than most his size, his mobility in the outfield has shown to be an issue. Having a cannon for an arm has been his "saving grace" but if he looks to lock down the starting spot, he'll need to show consistency and improvement.
Alejandro De Aza
Once a fourth outfield, De Aza broke into the starting line up in 2012 in somewhat surprising fashion. Starting 131 games, he batted .281 with 9 home runs and 50 RBI's. De Aza showed consistency with the bat, above average speed and was competent in the field. Last year brought different results, though. While bashing 17 homers, De Aza watched his on base percentage and batting average drop. He also starting seeing more time time in Left Field after Viciedo's injury. While being the faster of the two, De Aza may better serve as a fourth Outfielder as the team moves in a younger, more productive direction.
Center Field
Barring injury or a bad spring, Eaton has all but locked down the lead off and Center Field slot. De Aza may be a viable "back up" scenario but it will take an unseen catastrophe for anybody else to take Eaton's duties.
Adam Eaton
The former D-back brings a nice spark that the team felt they needed. Eaton may be the first "true lead off" man the team has had since the days of Scott Podsednik. With the Sox in need of productive left-handed bats, Eaton is a sight for sore eyes. Boasting a .450 career on base percentage in his minor league career, Eaton brings a nice "spark plug" to the top of the lineup. Outside of his playing abilities, "Spanky" has been described as a "dirt bag". To most, that would be an insult, to Eaton it's a big complement. He brings a much need spunk and grit to a team who seemed lifeless for most of last season.
Right Field
There are absolutely no doubts as to who will be starting here.
Avisail Garcia
After coming over in the Jake Peavy trade, "Avi" has been a welcomed sight to all Sox fans, alike. At just 22 years-of-age, Garcia is just getting started. Sitting at a big 6'4, Garcia brings not only good size but a nice burst of speed. Yet to tap into his true power, there is no telling what the limit is for this future great.
Garcia has had limited time in the majors so far but in those 291 at bats, he has .289 average on 7 Homeruns and 44 RBI's. Not only has he shown promise with the bat and on the base pads but he's also shown to have a good glove with another very strong arm to add to the outfield.
With nothing but improvement to be expected of him, Garcia should show growth, while still being productive in all aspects of the game.
Jordan Danks
While posting above average numbers in the minor, Danks has just not materialized at the next level. In Danks' 79 games last year, he served as nothing more than a serviceable back up. With young, promising prospects coming up in the minors, Danks may be looking at his last chance to make a lasting impression on this squad.
He provides above a 8th inning defensive replacement, an above average pinch runner and a Sunday start from time to time but that is where his contributions end. If Danks hope to keep a spot on the 25 man roster, he needs to have a productive Spring Training. If he fails to show up this month, he may very well have played his last game side by side with his brother.