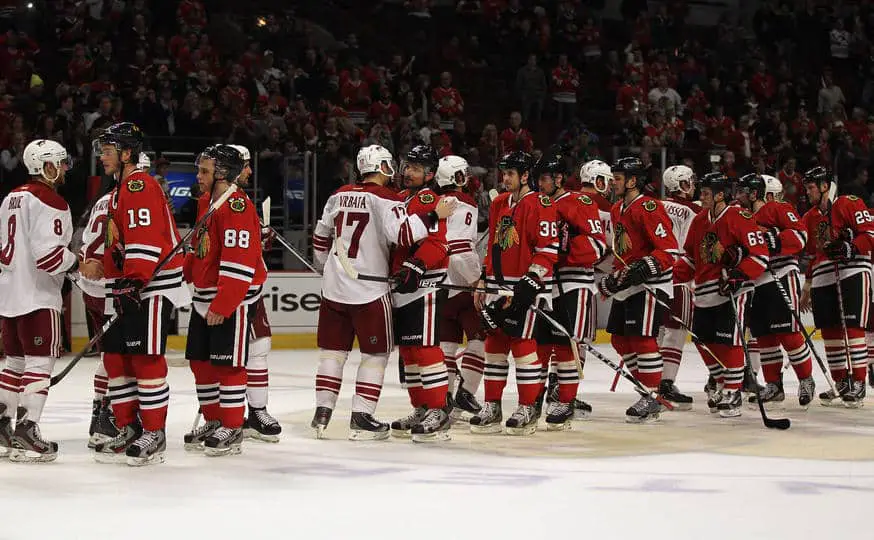 The Phoenix Coyotes have eliminated the Chicago Blackhawks in the first round from the 2012 Stanley Cup playoffs with a 4-0 victory in Game 6 at the United Center.
The first period was arguably Chicago's most aggressive period of the series as they outshot Phoenix 16-2 but failed to find the back of the net.
The Coyotes took advantage of a favorable interference penalty on Jonathan Toews as Oliver Ekhman-Larsson blasted a shot past Corey Crawford that gave them a 1-0.
The Blackhawks doubled the Coyotes' shot total in the second period, yet still exited the first two periods trailing by a goal and it didn't get any easier after that.
Gilbert Brule quickly gave Phoenix some breathing room early in the third period when Kyle Chipchura fed him a pass through several defenders and finished by Brule at the doorstep.
Less than 9 minutes into the third period, Jimmy Hayes was given a 5-minute major penalty and a game misconduct for boarding Coyotes defenseman Michal Rozsival that sent Phoenix on a 5-minute power play.
Antoine Vermette capitalized on it knocking in his fourth goal of the series and extending the Coyotes lead to 3 goals.
Kyle Chipchura added a goal of his own minutes later that sealed the game and series for the Coyotes.
It took 5 overtimes and a shutout, but the Coyotes have eliminated the Blackhawks advancing to the second round of the playoffs ready to clash with the Nashville Predators. It was the Coyotes first playoff series win since 1987 when the Winnipeg Jets beat Calgary in 6 games.
Looking back at the overall series, the biggest hole and most noticeable one all season long was the special teams. The Blackhawks only cashed in on 1 power play chance out of 19 during the 6 games, which currently stands as the worst out of any of the other 15 teams that competed or are still competing in the playoffs. The penalty kill improved after the trade deadline with the addition of Johnny Oduya, but it was still one of Chicago's weak point heading into the playoffs, especially heading in with people criticizing their goaltending.
The Blackhawks have been eliminated from the first round for the second straight season and have a long offseason to rest and recharge and you can bet every single guy in the locker room will come out hungrier than ever for the 2012-2013 season.