In a lost season that has mercilessly taken the fun out of being a Cubs fan, only a few areas of the present Cubs team present some promise moving forward. Hopeful Cubs fans-turned-pessimists can look to the bullpen–a weakness in the early 2000's–as a present and future strength.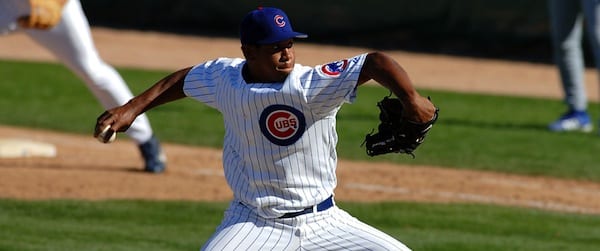 The bullpen figures to be among the most prominent of the improvements that were presented by former Cub GM Jim Hendry.
Kerry Wood was signed for a below-market deal, and has shown Cubs fans glimpses of his past when he was a dominating starter. Wood has pitched to the tune of a 3.32 ERA (3.86 xFIP) to go along with 49 strikeouts and 20 holds in 43 innings.
Sean Marshall has been spectacular since moving to the bullpen full time in 2010. Since the move, Marshall has a 2.59 ERA (2.50 xFIP) accompanied by 9.97 K/9 and 2.47 BB/9. That, my friends, is an elite reliever and a bullpen ace.
Jeff Samardzija has taken several steps forward as a relief arm; especially in August when he posted a 1.13 ERA (3.12 xFIP), a 2.83 : 1 K/BB ratio, and six holds in sixteen innings. He's made some huge strides in terms of trusting his stuff, and his control has gotten better each month, improving from 9.39 BB/9 in March and April to 3.38 BB/9 in August. With Marshall and Wood as the two primary set-up men, Samardzija is a nice luxury to have around in the event of an injury.
If you look at James Russell's 4.21 ERA on the year, you would hardly think he would be thought of as a promising arm, but since being moved to the bullpen this year, he's thrown for a 2.06 ERA, 3.63 K/BB, and has decreased his home run allowed total over three times. Mike Quade has wisely used Russell as a left-handed specialist, but he is very capable of getting right-handers out as well. The depth of the bullpen has allowed Quade to use Russell's abilities in a more versatile role.
Cubs closer Carlos Marmol hasn't pitched as well as he did in 2010, but on a pathetic Cubs team that has managed 59 wins, Marmol has closed out 52% of their victories (31 saves). Look past his high walk total and relatively high ERA–the save total is impressive on such a paltry team.
The Cubs have a strong bullpen for the 2012 season, yet it will largely go to waste for a non-competitive team.