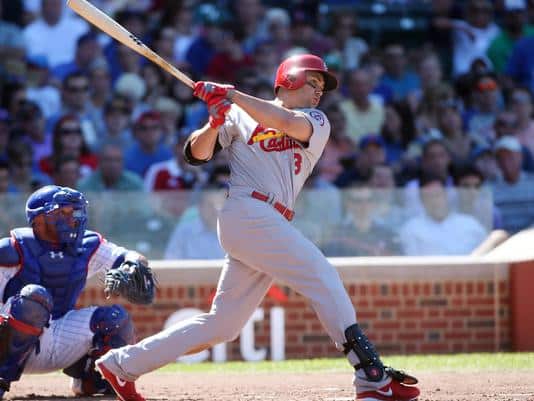 To put it simply, the Cubs were out hit on a day where offense was hard to come by. Carlos Villanueva and Joe Kelly both made a day out of it, yet the Cardinals starter came out on top ever so slightly.
St. Louis came a knocking in the first when Matt Carpenter singled to left and all-star Carlos Beltran tripled to bring him home. Beltran would end the game a homerun shy of the cycle. Allen Craig would send one up the middle to score the center fielder and make it 2-0 early.
Despite the rocky start, Villanueva would settle in and allow just one other hit to a Cardinal in the third. Following that single, he would keep everything on the ground or on a fly and retire the final 12 batters he faced. The starter did his best to keep the Cubs in it before leaving after six due to a 90-pitch count restriction.
As much as Villanueva did his job, so did Kelly. All that the Cubs managed to squeeze out of the righty was a run in the third after Alfonso Soriano singled to score Valbuena. That sent Anthony Rizzo to second, but the Cubs failed to make it count.
They also couldn't cash in on Rizzo's leadoff double in the sixth. Cardinals' staff pulled Kelly shortly after but Randy Choate wouldn't allow the Cubs to move him up a single base. Instead he walked one and forced Brian Bogusevic to ground out into a double play to wash away the scoring opportunity.
Matt Guerrier replaced Villanueva in the seventh and quickly gave up a triple to Rob Johnson and a double to Carpenter (28) to make it a 3-1 lead. Starlin Castro would soon after send one into the baskets in left-center off of Kevin Siegrist in the eighth to cut the lead to 3-2, but that's all they could muster up against St. Louis' pen.
In spite of the loss, Villanueva seemed to be regaining his starting rotation stamina and will hopefully be able to go deeper when he returns after the break. But for tomorrow it'll be Lance Lynn (11-3, 3.67) and Matt Garza (5-1, 3.22) for a 6:15pm start.