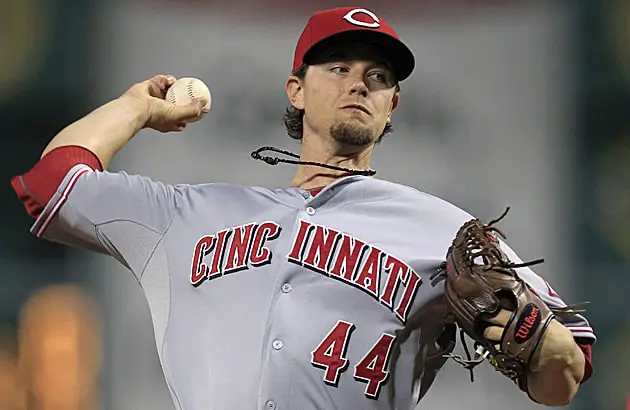 Cincinnati loves Chicago. Living up to their reputation today were the Reds as they reined victorious in their 12th straight win at the Friendly Confines.
In this outing it was their pitching that stunned the Cubs. An impressive performance from starter Mike Leake had the Cubs mesmerized. Cubs came in with six batters hitting over .333 against him but it didn't show one bit as they failed to ever put a man in scoring position.
The lone run came from Nate Schierholtz early in the second when he drove the ball into the stands in right. That was not an indication of how the offensive production would go for the Cubs today.
Leake had everything working, including his slider, which limited them to just three hits all afternoon. He walked just one and struck out six over eight brilliant innings, his longest outing of the year. It would be his sixth win after Aroldis Chapman who, just as filthy, nearly struck out the side for the save (17) in the ninth.
With the Reds pitching squared away, all they needed were a few hits here and there to take it. Early on, it appeared as if Travis Wood wouldn't allow them to get any. His elevated cutter managed to earn many quick fly ball outs as not much made it onto the ground. Cesar Izturis finally broke up the no-hit bid with two outs in the fifth with a deep infield single to short.
The Reds took that momentum into the sixth when Brandon Phillips singled to center scoring Shin-Soo Choo whom reached on a double just before. Wood would maintain composure until an inning later when Todd Frazier took a cutter past the ivy to give the Reds a 2-1 lead.
Despite the couple mistakes, it was another quality loss for Wood. He went 7 innings allowing just 4 hits, 2 runs, and striking out 4. His record doesn't show it but he's pitched 12 solid of 13 this season. Dale Sveum began the press conference saying, "I feel like a broken a record," in reference to yet another strong starter's outing without enough support to raise the W. We couldn't agree with you more Skipper.
Cubs will face the Reds once more as they look to avoid the 4-game sweep and end Cincinnati's streak. Mat Latos (6-0, 2.87) takes on Jeff Samardzija (3-7, 3.18) tomorrow at 1:20pm.