As Ken Rosenthal first reported, the Chicago Cubs have extended first baseman Anthony Rizzo to a seven year, $41 million deal. When the Cubs made the trade to get Rizzo, it was evident that they expected him to be a big part of their future. Now, the Cubs can guarantee that he will be with them long-term.
The deal also includes two club options and escalators that could extend the deal to 2021 and bring the total value of the package to $73 million, sources said.Rizzo, who has just over a year of major-league service, is earning $498,000 season. His new deal will include an immediate increase for 2013 while covering all four of his arbitration years.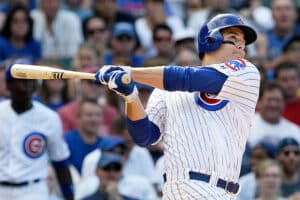 Rizzo has been one of, if not the hottest in all of baseball over the past week. He got off to a very slow start to the 2013 campaign as his average sat below .200 for a few weeks in April. But Rizzo started to make adjustments to his approach at the plate and now has his average up to .280. He is also tied for first amongst National League first basemen with nine home runs, second in RBIs with 28, and first with 10 doubles.
Compared to a lot of big money deal for first basemen such as Prince Fielder, Albert Pujols, Ryan Howard, and Joey Votto, the Cubs appear to be getting a big steal here if Rizzo continues his production. Having that big power bat in the middle of the order locked up for years to come, the Cubs will be able to start adding hitters around him and look to strengthen the pitching staff.
Now the Cubs have tow cornerstones of their future locked up in Starlin Castro and Rizzo. It appears their focus will shift to locking up starter Jeff Samardzija for years to come as he approaches free agency as well.
For More Great Chicago Sports Content
Follow us on Twitter at @chicitysports23 for more great content. We appreciate you taking time to read our articles. To interact more with our community and keep up to date on the latest in Chicago sports news, JOIN OUR FREE FACEBOOK GROUP by CLICKING HERE